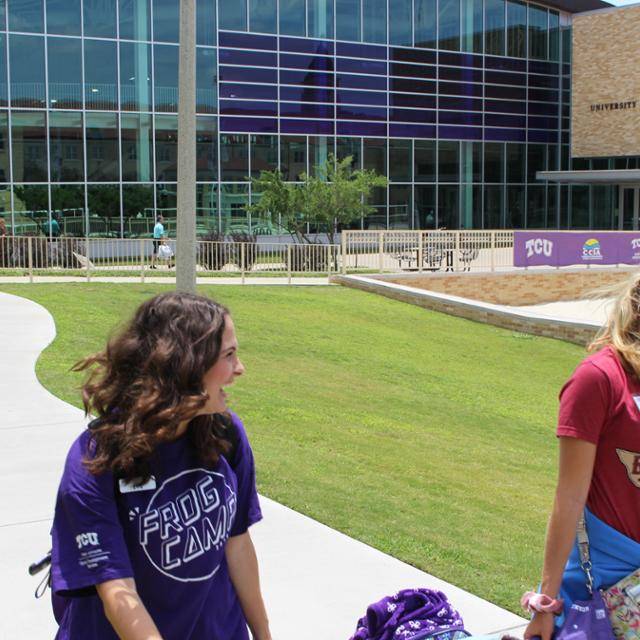 Frog Camp 2020 Provides New Students First In-Person Experience
July 22, 2020
As with so many things these days, Frog Camp will look different this summer, but it will retain the same focus on fostering connection for new Horned Frogs.
"Our goal is to help students build a community at TCU that includes support, role models and friends," Brian McDermott, assistant director, First Year Experience, said. "While it will look different, this goal is unchanged."
Frog Camp also has the opportunity to make a bigger impression than ever, since it will be new students' first face-to-face encounter.
"So far, incoming students have had an almost completely virtual experience with orientation being online," McDermott said. "Frog Camp gets the opportunity to be their first in-person experience as an official Horned Frog."
It also will be a more intimate experience than past years since there will be no large-group gatherings in order to promote safety. For the same reason, traditional off-campus excursions to local tourist attractions will not be included. Instead, McDermott said fun activities such as a low-ropes challenge course and other teambuilders will be included on campus.
"The program still will allow incoming students to make connections with members in their small group, including upperclassmen leaders, as well as faculty and staff," McDermott said.
Those faculty and staff connections will be particularly valuable this year because new students have not had a typical onboarding experience and are bound to have a unique first semester.
"I hope that all faculty and staff will be even more conscientious about checking in with students about their transition to TCU and help support those who are struggling to build community in this new reality," McDermott said.
Frog Camp will host four two-day sessions Aug. 12-16. Students will be assigned a session the day after their move-in date. Incoming students living off campus also will be assigned a session.