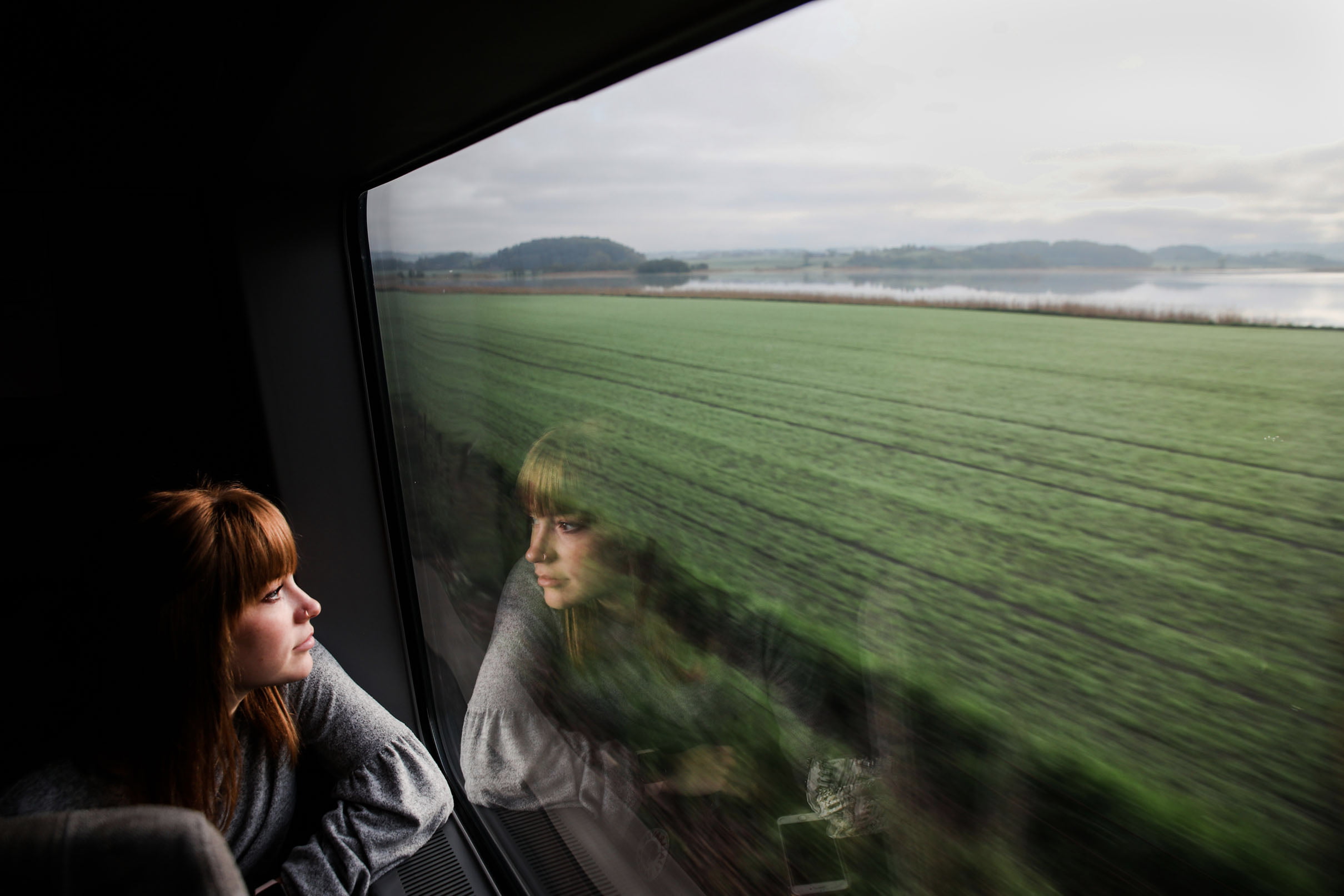 A Surprising Intellectual Journey
TCU Students Explore Crime, Justice in Scandinavia and the Netherlands
Questioning Norms, Broadening Perspectives
"Who determines what is normal?" the sex worker asks the class.
This is not the first time the 16 students from Texas Christian University have been asked to consider concepts of boundaries. They've spent the week examining judicial systems by meeting criminals where they live—some of whom have committed serious transgressions that have significantly affected the lives of others.
The students are not here to judge, but to think more deeply about their home country, their own values, and their place in an evolving world.
Five thousand miles from Texas, the students traverse Norway, Denmark and the Netherlands on an itinerary designed to make them question everything they previously knew about crime and punishment.
They visit prisons without guns or barbed wire, a government-subsidized clinic assisting heroin addicts with their fix and a global headquarters protecting the rights of prostitutes. They listen, ask questions, discuss, write papers and think.
This kind of journey of the mind is practiced daily at TCU, where a liberal arts tradition informs the kind of intellectual discipline and critical thinking so crucial to shaping the leaders of tomorrow.
Three Countries. 17 Days. Countless New Ideas.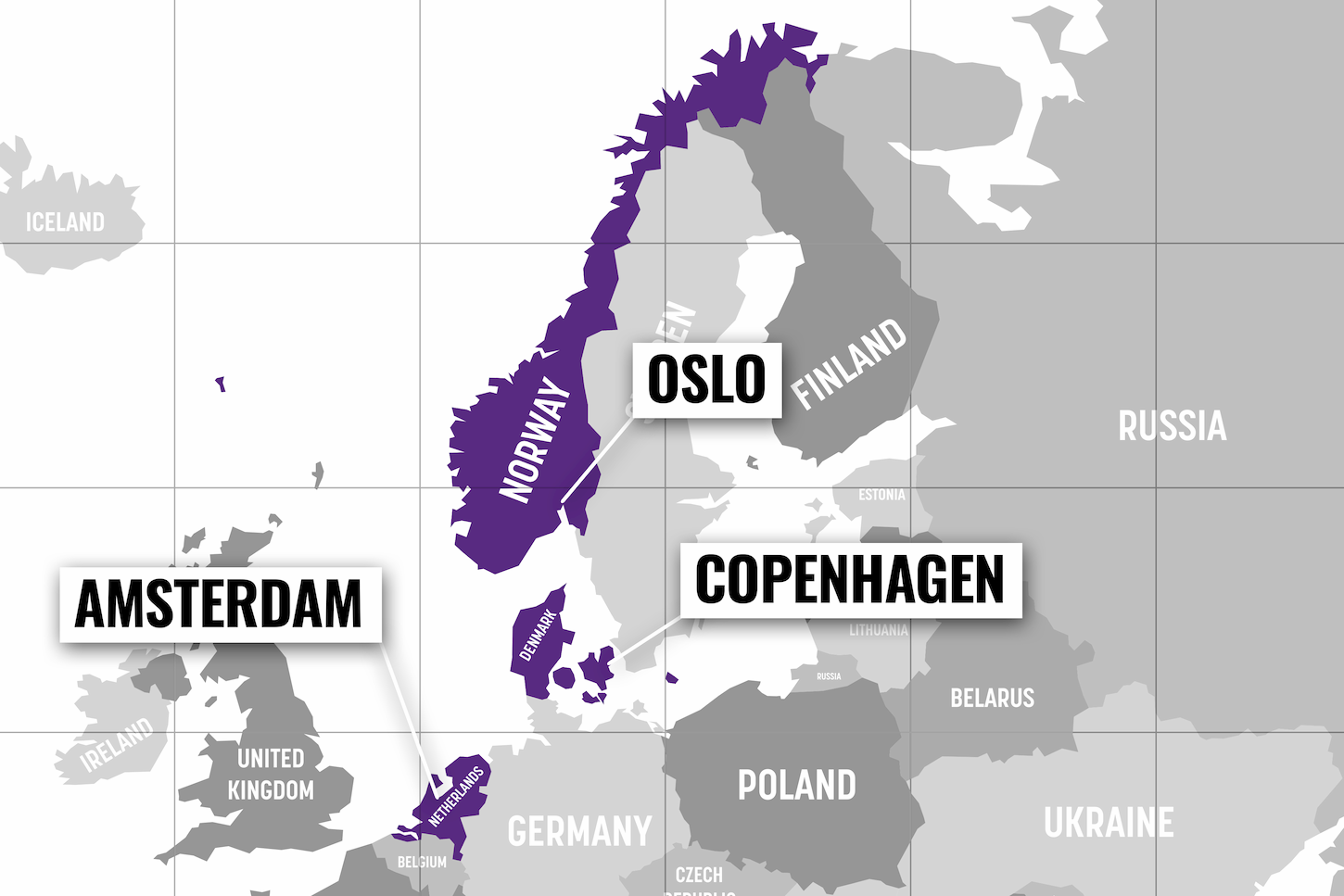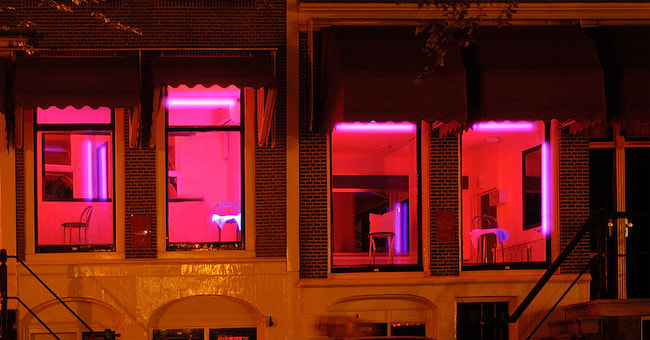 Tourists see a red light district. Our professors see a classroom. TCU's criminal justice program uses study abroad to showcase the value of the liberal arts.
Imprisonment with Humanity
The jet-lagged students fight sleep on the two-hour train ride through lush Norwegian fields. Even though only about 10 percent of visit requests are accepted, professors Kendra Bowen and Ronald Burns have arranged for the group to tour Halden Prison, famous for its humane treatment of inmates.
Halden's forest location makes it feel more like a state park than a maximum-security institution. Deputy Warden Jan Stromnes leads the students to a large conference room warm with strong coffee.
Soft-spoken but passionate, Stromnes has visited American prisons—whose system is among the most punitive—numerous times, advocating for prison reform. He clicks a PowerPoint to life, titled "Punishment that works—change that lasts" and faces the class.
"Halden's purpose is to answer the question, 'What kind of neighbor do I want?'"
Already the students sense this is no ordinary prison.
Stromnes continues, "We do this through four things. Normalcy, humanity, dynamic security, and reintegration."
Four decades ago, Norway's prison model looked much like America's, with 1970s recidivism rates nearing 91 percent. After adopting a model based on rehabilitative justice, the country now boasts one of the world's lowest recidivism rates at 20 percent.
The prison's award-winning 2010 architecture embraces concepts considered basic to the Nordic quality of life: exposure to light, nature, public art, communal living and the physical routine of walking.
"We teach the prisoners how to live a normal life," Stromnes explains.
To reduce the "power distance," guards work alongside the inmates, playing sports, cards and board games, talking, engaging and mentoring. These interactions are what is meant by "dynamic security."
Forty percent of Halden's staff is female. "Women are better communicators, and communication prevents problems, "says Stromnes. "We're dealing with people."
Correctional officers are trained in psychology, ethics, law, criminology and human rights. Their job is to resolve conflicts early, motivate prisoners and present social role models to help guide prisoners toward reintegration into society. That path begins the day an inmate checks in.
Halden has been called "the Ikea prison" for its stylish appearance. Home to 251 inmates and at least as many staffers, there are no guns, tasers or barbed wire. Guards have access to pepper spray and batons, and riot gear waits in an underground tunnel in the rare case a cell extraction is needed.
The students enter a cheery family visitation suite where visits of up to six hours may be scheduled twice a week. Prisoners with families from other countries are permitted two-day visits. There are colorful children's toys and a baby crib. Free contraceptives are supplied for private conjugal meetings. Inmates may worship and marry in the prison's nondenominational chapel.
The idea behind generous visitation is normalization for both inmates and families. Keeping relationships intact through the incarceration is less disruptive to society.
Inmates attend vocational classes or work daily. There's a music recording studio, wittily named Prison Records. There's also a library, a ceramics studio and a woodworking and fabrication space.
Prisoners earn low wages to spend on food in the on-site grocery. They plan and prepare group meals in their living quarters, where tethered kitchen knives are the only visual reminder of incarcerated life. The men live, work and learn together in small groups responsible for keeping their areas clean.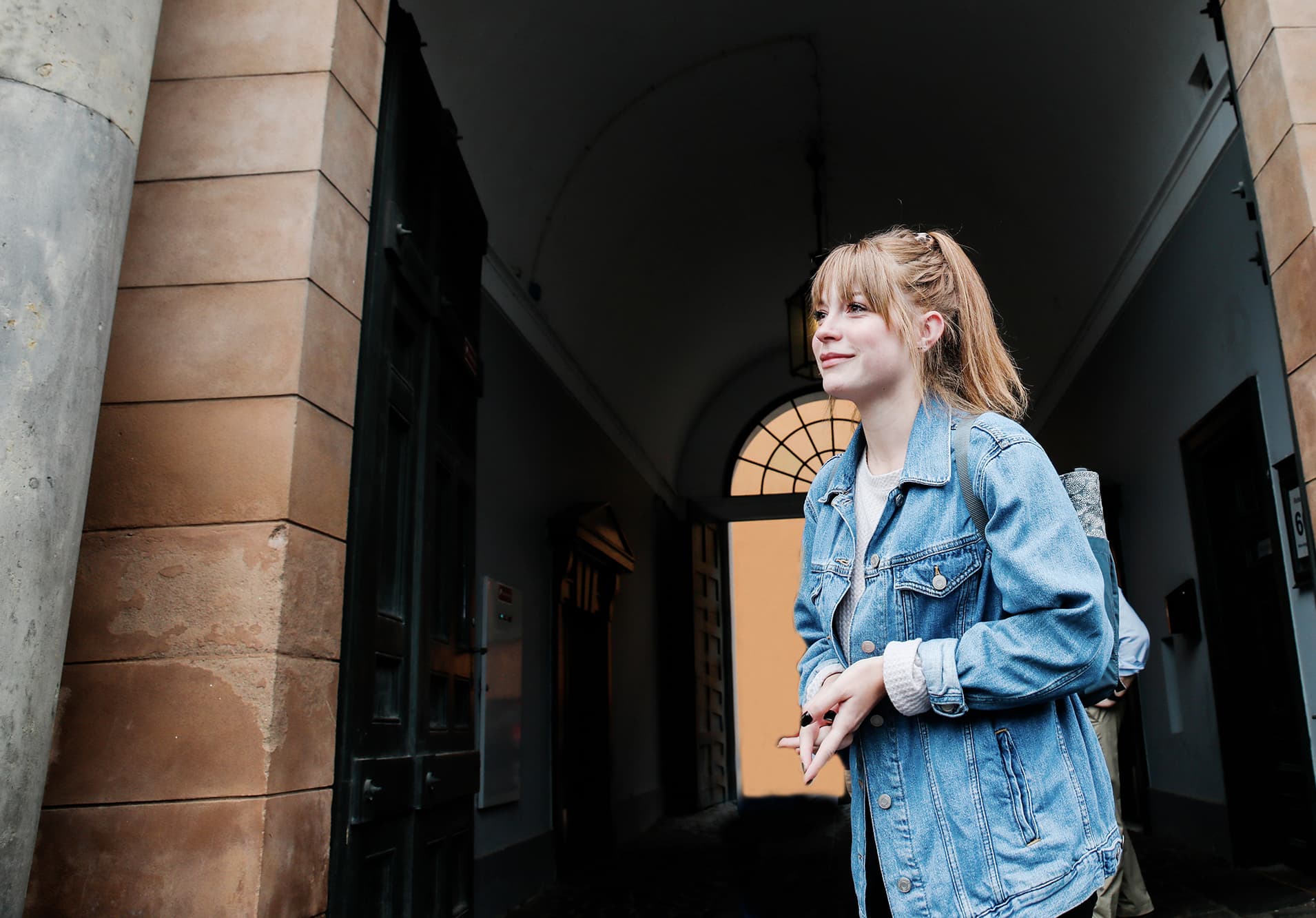 "Seeing these prisons and institutions firsthand transformed the learning experience. When you sit with an inmate, and hear his story, it really brings home the realization that criminals are humans."
Ashley Travis, Criminal Justice/ Psychology Major
John V. Roach Honors College
Halden's halls are quiet while the residents work. Stromnes has arranged for the students to meet an inmate.
Richard, a 30-something Swedish father of three, stands shyly, hands in pockets. To maintain "normalcy and humanity" there are no uniforms, so Richard wears a T-shirt, hoodie and jeans. He apologizes for his English, though he speaks it well. He recounts his years as a rowdy teenager who turned to dealing drugs, and quietly mentions he is in for murder.
The students silently absorb this before asking questions.
"How old are your children?" a student asks.
"At an age where they really need a father."
"What could society have done that might have helped you take a different path?" asks another.
Richard shrugs. "I had undiagnosed ADHD, misbehaved in school. I had bad parenting." He expresses gratitude to be incarcerated at Halden, where he has "made a choice to change my ways."
He has a life to look forward to, a reason to stay straight. In Norway, the average sentence is 3-5 years. The maximum is 21 years, even for murder.
Built for $250 million, Halden is Scandinavia's newest, most costly prison. The next stop on the students' journey is 400 miles away to Denmark's Nyborg Prison, built in 1913. Despite the century-wide age difference in the two facilities, the amenities, rules and philosophy are nearly identical.
Deputy Warden Henrik Marker buzzes the group through security, shaking each student's hand. His skinny jeans and jacket make him look more like a young professor than a warden. He asks if we like chocolate. The prison's specialty businesses, Tuff Food, creates gourmet bonbons—and a smiling prisoner in a black chef's coat offers samples to each student.
Like Halden, there are no guns or barbed wire, only bright, inviting spaces, natural areas, murals and paintings.
There's also a gym, treatment programs for addiction, medical services and vocational training; car repair and landscaping are popular trades. Upon release, prisoners are provided travel money and appointments with possible employers. Job applicants in Norway and Denmark are never asked if they have committed a felony.
The students walk past prisoners playing soccer and working in the shops. No one seems scary. Or scared.
Someone has neatly lettered a sign:
Think less. Do more.
Talk less. Listen more.
Judge less. Accept more.
Complain less. Appreciate more.
Hate less. Love more.
"The inmates created that," Marker tells the students, adding "I like for my job to mean something to me—I would never have a job than doesn't matter."
A Normal Day in Halden Prison
Designed to Let Inmates Grow, Heal and Return to Society
America is the world's biggest jailer.
The numbers at home present a startling study in contrast among civilized nations. Next to other stable democracies, the United States' incarceration rate is off the charts.
Incarceration
With less than five percent of the world's population, the United States holds 25 percent of the world's incarcerated people, with 1 in 100 adults behind bars. Black Americans are six times more likely to be incarcerated than white: 1 in 4 black children in America experience the imprisonment of a parent.
Sentencing
In a world where only 20 percent of countries have life sentences without parole, America issues life sentences even for single, nonviolent offenses. The United States is one of only nine nations who use both life sentences and the death penalty, and Texas is among the more punitive states in the American criminal justice system.
Recidivism
While rates of released American prisoners returning to criminal behavior have declined slightly in recent years, a 2005 study showed nearly 68 percent were rearrested within three years, and 77 percent were rearrested after five. Recidivism rates for comparable lengths of time in Norway and Denmark are 20-25 percent, the world's lowest.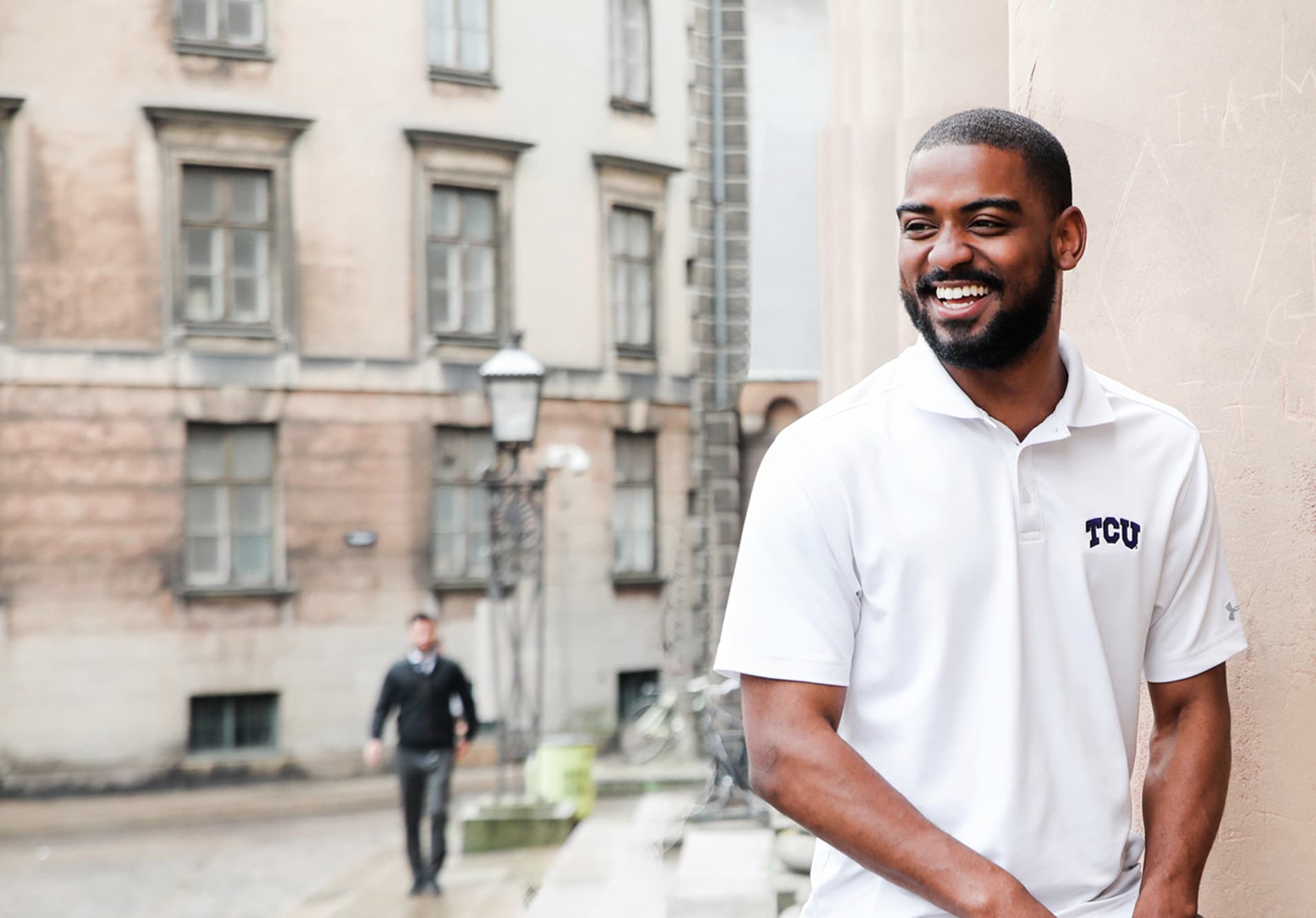 "I've learned treating people with respect —and communicating —can let you see what the root of the problem really is."
Derrick Haggard, Criminal Justice Major
Courts & Constitution
In the people-centered Norwegian court system, politeness and civility are the norm—inside and out of court. The students tour Oslo's stately courts building and meet Supreme Court Justice Cecile Berglund.
Berglund invites the group to her home for a Constitution Day celebration cookout the following day. Norway's constitution is the second oldest in the world, adapted from the oldest—that of the United States.
On Constitution Day, the students wake to an unforgettable sight: the streets are filled with revelers in traditional 1800s garb—long skirts, knee pants, buckle shoes.
A 40-Year Experiment in Cannabis
According to the FBI, there were 663,367 marijuana arrests in America in 2018, despite a rising number of states legalizing the personal use of cannabis. Today the U.S. finds itself at a crossroads regarding marijuana and the law, but the Netherlands committed to their path four decades ago.
Amsterdam is home to about 250 coffee shops dedicated to the purpose of enjoying marijuana. In this part of the city, spelling is everything: a kaffe shop sells caffeinated beverages, while a coffee shop sells smokable cannabis and edibles.
The students file into Siberie, a sunlit shop in a lively Amsterdam neighborhood. Swag awaits on the tables: pens and notebooks branded with thecoffeeshops.com.
Henry Decker, who owns this shop with four others, greets the students with enthusiasm. His sativa product has won the Jack Herer Cup, an international trophy revered among café owners.
Decker and his associate Guus try to explain the business of decriminalized marijuana, which has some strange loopholes.
"Amsterdam is a 40-year experiment in cannabis," intones Decker, a licensed seller for 35 years. He calls the laws for growing and transporting cannabis "liberal, yet hypocritical."
Twenty kilos of product are needed weekly—but shop owners aren't allowed to bring the cannabis in, so staff collects it clandestinely, working around restrictive growing laws. Random yearly inspections ensure no more than 500 grams of product are on the premises, a routine Decker calls "invasive and false." But despite a regular bust cycle, "generally, police protect the cafes."
Decker, a cannabis entrepreneur since 1984, acknowledges that while decriminalized cannabis is the "biggest boon to Amsterdam tourism since tulips," a certain stigma exists among local leadership. He's especially bitter about being excluded from a recent chamber of commerce event.
"It's a plant." Decker rolls his eyes. "Marijuana is grown on five continents, for thousands of years." He references Genesis 1:29: "And God said, behold, I have given you every plant yielding seed."
Guus confesses she is not a regular user. 'It makes me giggly and not good to be around."
She explains the coffee shop's purpose is to provide adults with a quiet, enjoyable social encounter, since cannabis is illegal on the streets, in a car or in a workplace.
"People in coffee shops are polite. It's a social thing. That's why you shouldn't smoke so much." She laughs describing how overzealous tourists and rowdy bachelor parties draw ire from the locals, as well as the regular siren of an ambulance.
When Heroin is Medicine

Government-Funded Danish Clinics Quietly Accommodate Addicts
In Copenhagen, the students follow Associate Professor Kendra Bowen into an unmarked building for a tour of a government-funded heroin clinic.
The clinic serves 63 clients who arrive daily for free injections of pharmaceutical (synthetic) heroin. There are five such clinics in Denmark, based on a successful 20-year-old Swiss model. The idea is to reduce crime and harm to individuals. Thirteen nurses and one doctor work in the clinic, and a psychiatrist visits once a week.
Ditte, a pleasant middle-aged nurse, guides the tour.
"I love my job. I'm never afraid of coming to work," she tells the students.
The facility's panic button has only been used once in six years. Medical emergencies are rare— about once yearly.
"No one has died here," Ditte says. "It's very quiet. The neighbors don't even know we are here."
Enjoying This Story?
Subscribe to receive notifications when we publish stories similar to "A Surprising Intellectual Journey." You may unsubscribe at any time.
The synthetic heroin administered by the clinic is produced in Switzerland and costs the Danish government 1 million kroner (just under $150,000) per quarter.
To enter the program, addicts take methadone for one year in an effort to detox. They must be free of other addictions, mentally healthy and able to help themselves. Doses are monitored by the doctor. Staff may not inject the patients but can assist—there's even a device to help patients visually locate their veins, which the students take turns trying.
A student asks, "Is the goal of the clinic to wean the patients off?"
"No," Ditte answers, explaining that while some clients do get clean, the goal is to reduce crime in the community and protect the health of the users, who are "grateful for their medicine."
"So, a patient could conceivably come here forever?" presses another student.
"Yes."

A few months after TCU's visit, the Prostitution Information Center (PIC) plans to discontinue public tours. Not for lack of interest, but to avoid disrupting the Amsterdam neighborhood. The center sits between a 600-year-old church and a pre-school.
Visible from the PIC's front door, public service ads tell visitors to "Enjoy yourselves, but please remember we live here."
Signs instruct tourists to "respect sex workers" by refraining from photographing the women in the windows.
"Don't pee in the street," commands a whimsical banner on a picturesque bridge.
It's mid-morning in the famous Red Light District, so the streets are quiet. Walking to meet the tour guide at the center, the students pass a dozen scantily clad women posing in windows like living mannequins. Cell phones respectfully tucked away, the students try not to gape at the "independent entrepreneurs" who rent window space from the landlords of the 500-year-old buildings.
Sex work is a unionized trade here, and prostitutes are registered, tax-paying professionals. The government-subsidized Dutch sex workers' union is called PROUD, and the PIC is its home. The PIC office also houses The Red Umbrella, a global fund established in 2012 to provide grants and legal resources to prostitutes and advocates worldwide.
"Karen," the tour guide is not a window girl, but an escort. She requests photographs of her face not be shared, respecting the double life she leads with two cell phones, two emails, two identities. Middle-aged and petite, Karen wears jeans, sneakers and a hoodie over a shirt featuring "Belle," Amsterdam's statue symbolizing sex work.
Karen, who once worked as a registered nurse, says compassion for a patient with a spinal injury led her to what she considers a calling—servicing men with physical and intellectual disabilities.
"They're still human," she tells the students. "and sexual intimacy is a human right."
She left her hospital job to administer what she refers to as home care. Selective about her clientele, she keeps her schedule open to 18 men, the oldest of which is 93. Not all sessions involve sex—sometimes a client just desires company.
"Often we just go to dinner. Last week I went to the zoo," Karen smiles.
The Red Light District originated centuries ago, welcoming sailors to Amsterdam's busy harbor. Karen theorizes red light "makes you look younger." The fall of the Berlin Wall in 1991 saw the profession explode with new tourism. January and February are slow months—"until the farmer convention," Karen laughs.
Tests for sexually transmitted diseases are mandatory, she tells the group, adding, "STD-wise, the sex worker population is probably healthier than the student population."
A few students' eyes widen.
"How many local sex workers are victims of human trafficking?" a student asks.
Karen's expression turns serious, citing that an estimated 10-19 percent enter the trade against their will.
"Forced labor exists in all lines of work," she adds. Several students discuss this figure, thinking it too low, despite the legitimacy of the profession.
The PIC is an odd mix of business and pleasure. A reading section filled with books, magazines and brochures displays a photo essay book featuring striking portraits of prostitutes. Mannequins in lingerie peer over bowls of complimentary condoms and buttons with the Red Umbrella logo and the tagline, 'Sex Work Is Work."
On the wall hangs a charming photo of a grandmotherly woman and a uniformed policeman sitting on a bed, laughing together. Karen notices the students trying to make sense of what they're seeing.
"She had been a career prostitute for many years, and here she is reminiscing with the chief of police," Karen explains.
There are many framed articles about the center's founder, Dame Mariska Majoor.
A former sex worker, Majoor created PIC and PROUD in 2014 to promote understanding of sex work as a profession and to advocate for workers' rights. In 2017, she was knighted by the Dutch monarchy for her efforts to help empower women globally.
The students leave the PIC for a look at Belle. The bronze statue of a woman in high heels stands proudly on the worn cobblestones of the Oudekerksplein, or "Old Church's Square," in front of the center. Commissioned by Majoor in 2007, Belle represents the dignity of sex workers everywhere.
She's not the grandest monument in the city, but she is well-known. Belle's image appears on gifts and clothing throughout Amsterdam.
Her simple plaque proclaims, "Respect sex workers all over the world."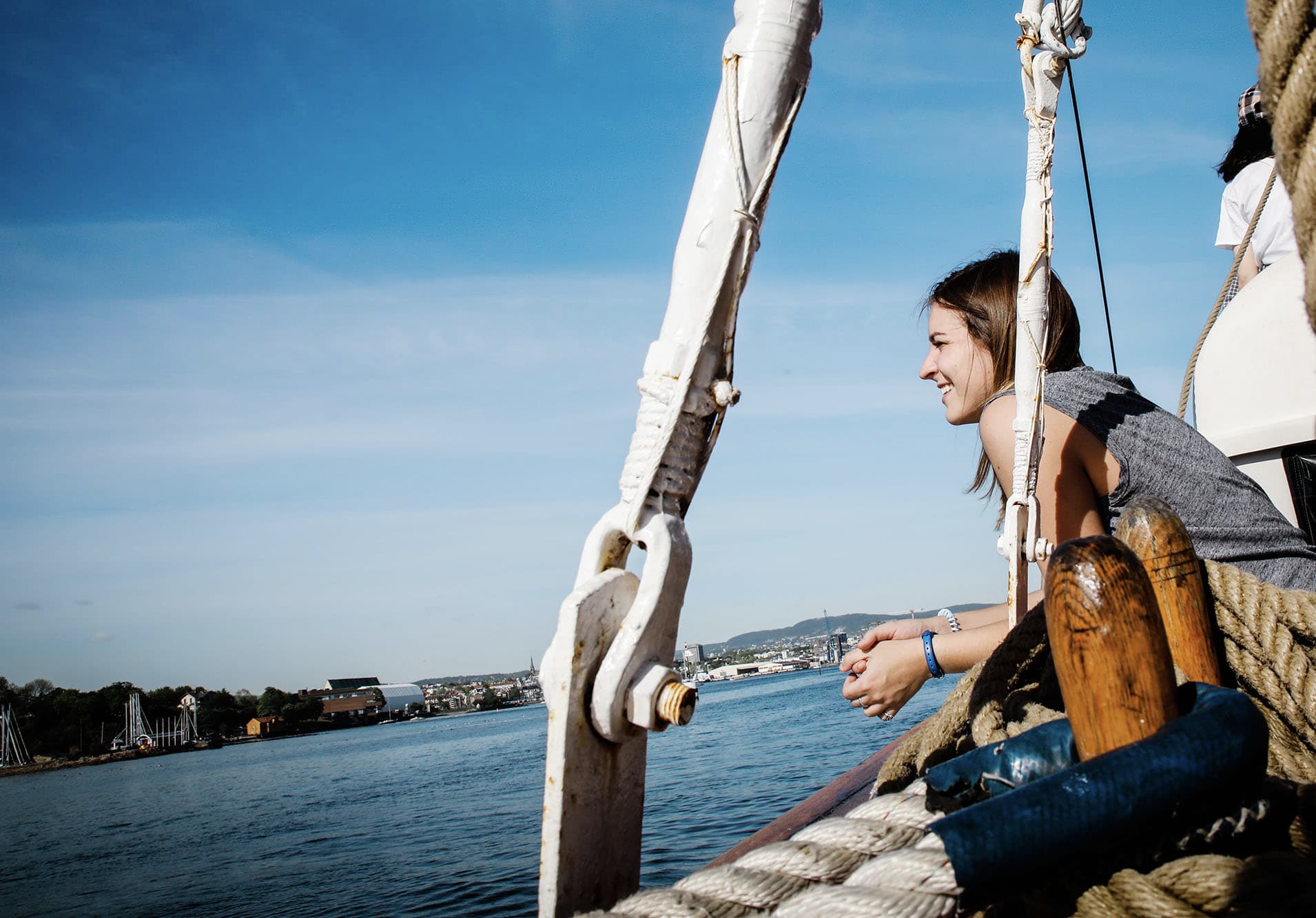 "It's important to learn about other ways of doing things. I was pleasantly surprised to learn a country could change, based on evidence and what wasn't working."
Renee Smith, Criminal Justice Major/Communication Studies Minor
Our growing Criminal Justice program was recently named the best in Texas by College Factual and No. 8 in the nation by Niche.com.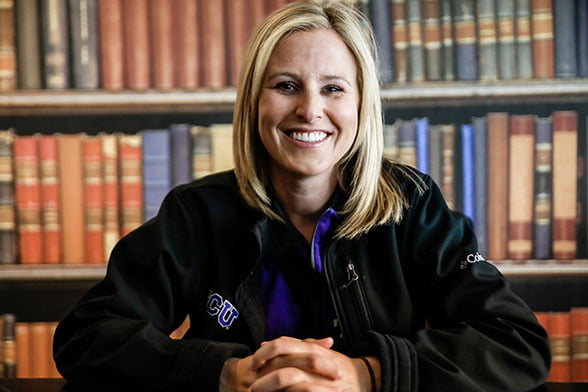 Kendra Bowen
Associate Professor of Criminal Justice
Associate Professor Kendra Bowen never forgot the semester she studied abroad in Europe as an undergraduate. "Coming from a small Texas town, it totally changed my life." This was her second time to create a TCU program in Scandinavia and the Netherlands. Her research areas focus on prisoner reentry and sex offenders.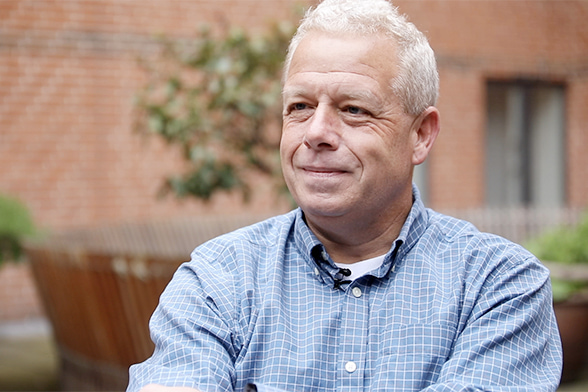 Ronald Burns
Professor of Criminal Justice
Professor Ronald Burns has served as chairman of the Criminal Justice program since 2012. His areas of academic focus include policing, multiculturalism in the justice system and white-collar crime. He has published recent works on school violence and has held leadership positions on numerous criminal justice associations.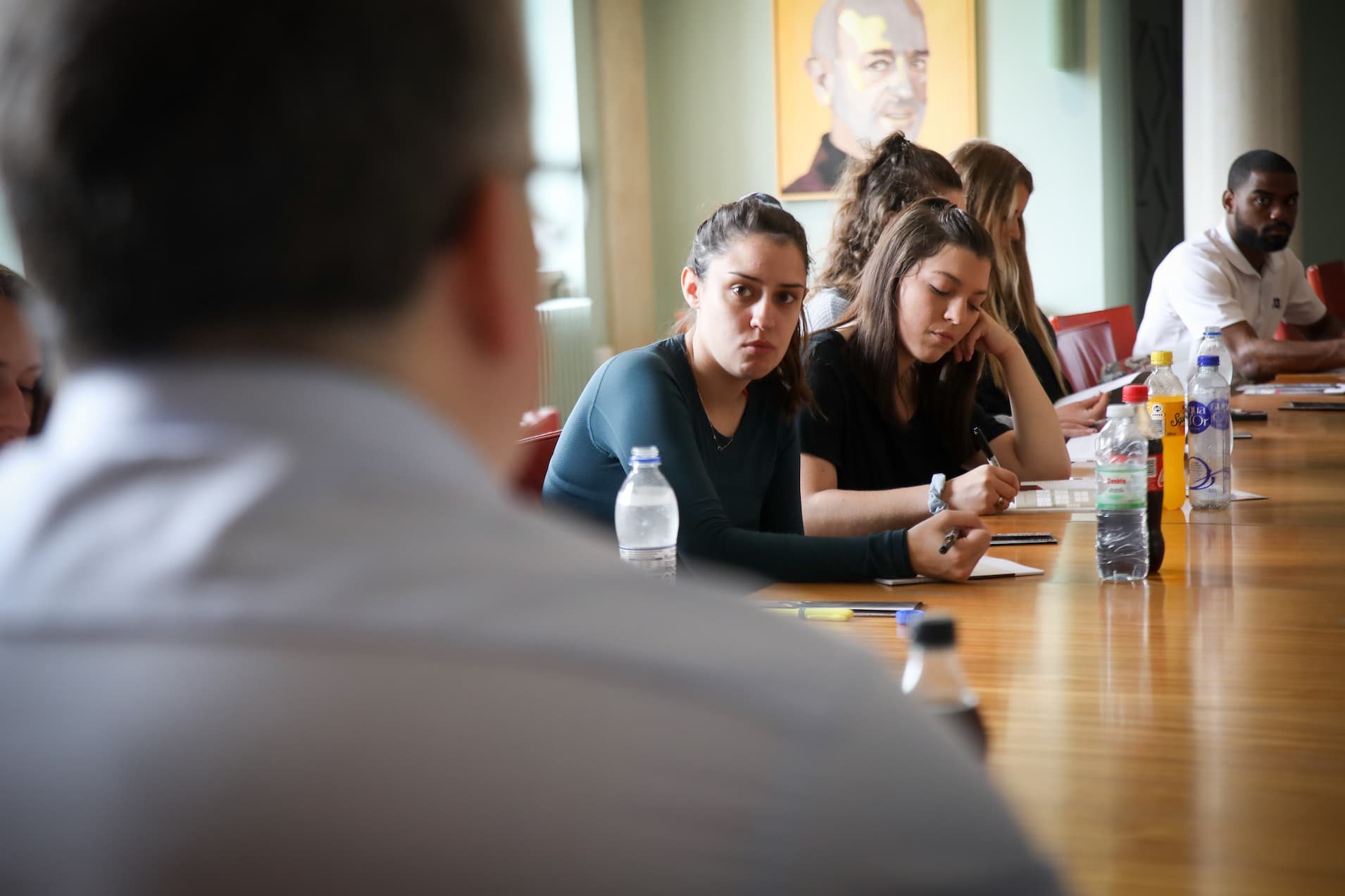 "Our criminal justice program extends TCU's mission — creating ethical leaders who will use their knowledge and experience to promote fairness and equity in the justice system and in society."
Kendra Bowen, Associate Professor of Criminal Justice