Main Content
Commencement at TCU is a proud and joyful tradition where family and guests gather to celebrate our newest graduates.
Graduate Checklist
Chancellor Boschini Commencement Update
May/August Commencement FAQs
August graduates' diplomas will be available for pick up in the Registrar's office in M.E. Sadler Hall, Room 1006, the week of Aug. 11-14. Any diplomas that are not picked up will be sent by certified mail to the permanent address listed in the system.
The May 2020 graduates' deluxe diploma cover will be mailed to their permanent address along with a copy of the Commencement program and tassel.
There will not be a virtual ceremony in place of the Aug. 8 ceremonies. Graduates will receive the deluxe diploma cover that is typically handed out during the ceremony, a copy of the Commencement program and a tassle. We hope to celebrate in-person together and welcome all our graduates and their families back to campus in the near future.
The Aug. 8 Commencement ceremonies were canceled due to the surge of COVID-19 cases across the country. Three Commencement ceremonies were scheduled for Aug. 8 – all to be held inside Ed and Rae Schollmaier Arena with capacity limited to 50 percent of the indoor arena's capacity and physical distancing in place.
Read the news story.
No. TCU will be refunding the May 2020 and August 2020 graduation fees. TCU will proceed to reverse/refund the graduation fees that have already been collected. These credits are already on the students' accounts.
Information regarding caps and gowns rentals will be posted to this website in the coming days.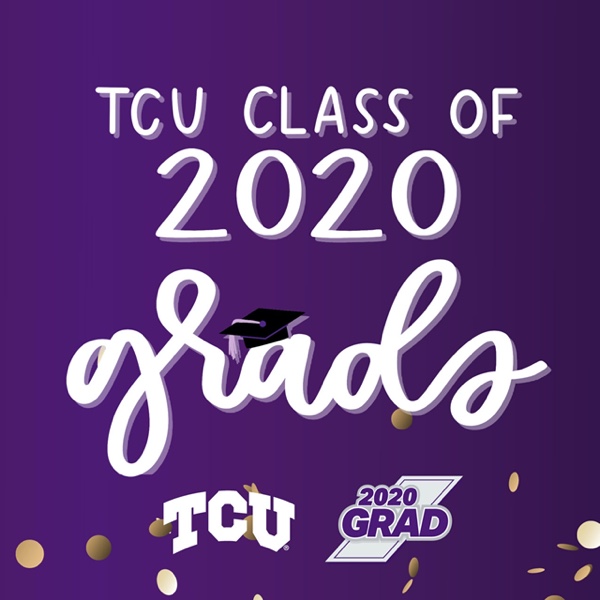 Tell the World You're Graduating!
Your Spring 2020 Commencement is coming later this summer, but why wait to celebrate? Download some fun embellishments for your social media
and let everyone know congratulations are in order.
Lead On #TCUgrad