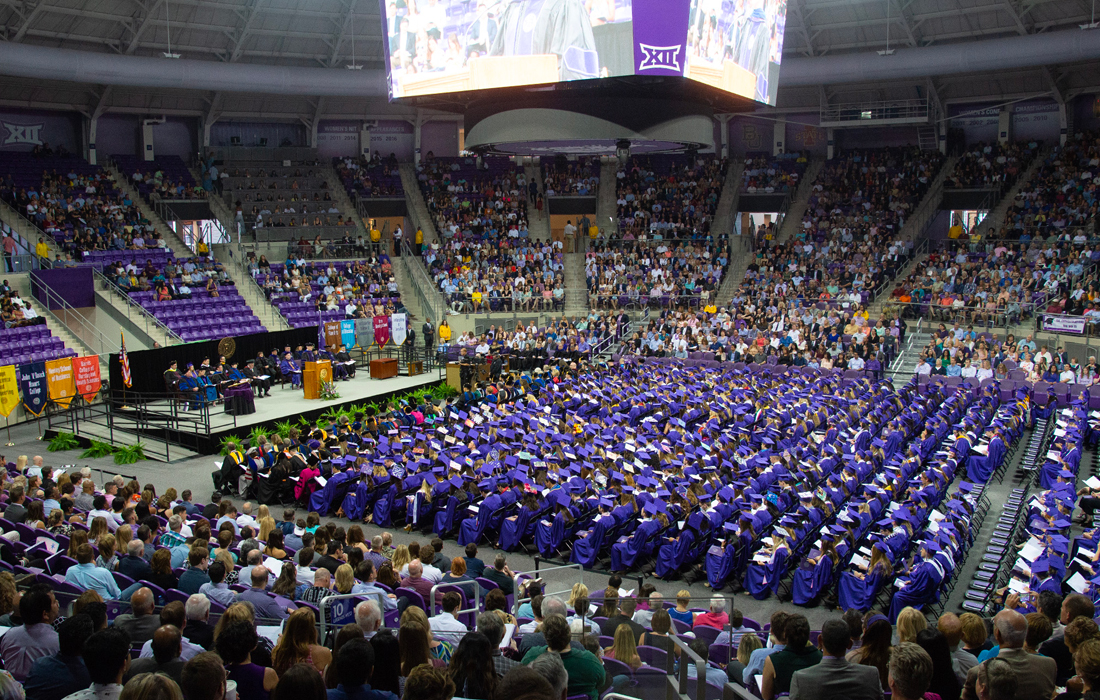 TCU Graduated 750 at Fall Commencement
December 18, 2018
August and December degree candidates participated in ceremony
Texas Christian University and Brite Divinity School today bestowed degrees on 750 students from 40 states, including Texas, and from 22 foreign countries in two formal ceremonies held in the Ed and Rae Schollmaier Arena on the TCU campus. Graduates in the morning ceremony received their diplomas from Provost R. Nowell Donovan, and graduates in the afternoon ceremony received their diplomas from Chancellor Victor J. Boschini, Jr. The two also delivered the commencement address in their respective ceremonies.
Of special note during the morning ceremony, Katherine Spillar, executive director and one of the founders of the Feminist Majority Foundation and Feminist Majority, national organizations working for women's equality, empowerment and non-violence, and executive editor of the iconic Ms. Magazine, was presented with the degree of Doctor of Letters, honoris causa. Spillar graduated magna cum laude from Texas Christian University in 1975 with a Bachelor of Science degree in Urban Studies. She also holds a Master of Science interdisciplinary degree in Economics and Urban Studies from Trinity University. Of the total number of degree candidates, 546 earned bachelor's degrees, 125 were master's degree candidates, 73 doctoral candidates and six Brite Divinity School graduate candidates. One hundred thirty-five graduated with Latin Honors: 67 cum laude, 54 magna cum laude and 14 summa cum laude. Two students earned a perfect 4.0 grade point average.
The morning ceremony featured 330 students receiving degrees from AddRan College of Liberal Arts, College of Fine Arts, Neeley School of Business and School of Interdisciplinary Studies. The afternoon ceremony highlighted 420 candidates receiving degrees from Brite Divinity School, Bob Schieffer College of Communication, College of Education, College of Science & Engineering and Harris College of Nursing & Health Sciences.