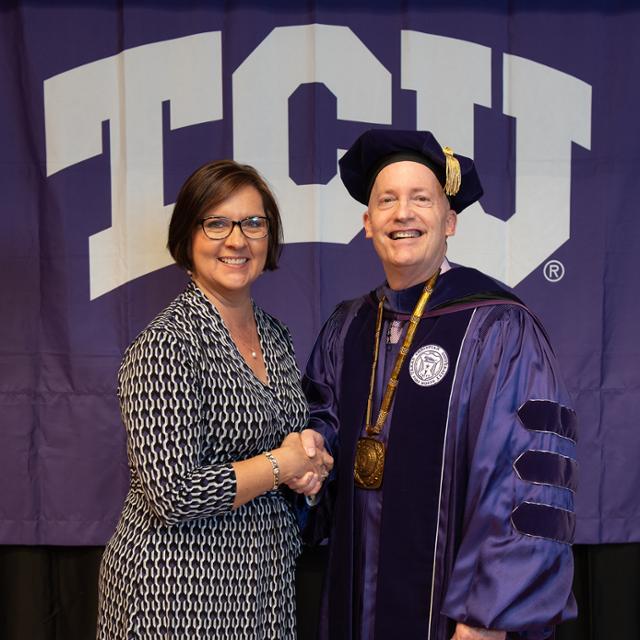 Diversity, Equity and Inclusion Award Finalists Make Campus Better for All of Us
September 2, 2020
In addition to fulfilling our mission "to educate individuals to think and act as ethical leaders and responsible citizens in the global community," TCU aspires to create a world-class university building on a heritage of inclusion.
Created in 2017, the annual Diversity, Equity and Inclusion Award honors an individual who has provided a critical voice to foster change and who has worked to further a campus environment that advances conversations about diversity, equity and inclusion. Following are this year's finalists and a little bit of their stories.
Martha González
Leave Management Administrator, Human Resources
Joining TCU in 2009 as a human resources specialist, González was promoted to training specialist and then benefits compliance coordinator before assuming her current role as leave management administrator in 2018. With a lifelong commitment to serving the underrepresented minority, she performs many tasks in an unofficial capacity to meet needs, bridge gaps, encourage participation and create and maintain an inclusive environment. Navigating easily between English and Spanish, she is determined to tear down language barriers so that employees feel welcomed and have a sense of belonging. González is a certified mediator for the state of Texas and since 2019 has been a board member of Dispute Resolution Services of North Texas Inc., a nonprofit that provides affordable mediation services and training.

Zoranna Jones, Ph.D.
Assistant Dean, School of Interdisciplinary Studies
The inaugural assistant dean for the School of Interdisciplinary Studies, Jones brings extensive experience and a deep commitment to student success and community engagement via a wide array of contributions across campus. She previously served as director of advising in Harris College of Nursing & Health Sciences. Jones established the STEM Scholar Program at TCU and continues to serve as director. She also is a longtime instructor in the student success course University Life, contributed to the creation of Comparative Race and Ethnic Studies and African American and Africana Studies, and as a core affiliate in CRES and Women and Gender Studies, has taught courses in both departments. Jones works tirelessly to advance DEI on campus while building intentional, sustained, mutually respectful relationships between TCU and Fort Worth communities.

Nada Elias-Lambert, Ph.D.
MSW Program Director, Associate Professor of Social Work, Harris College of Nursing & Health Sciences
Before joining the TCU family in 2013, Elias-Lambert served in the Peace Corps as a youth development volunteer. She has many years of social work practice experience with a variety of populations, including developing and implementing gender-based violence prevention programs. Her research focuses on upstander interventions to prevent gender-based violence in university settings. She developed and implemented "Bystander to Upstander: Transforming Culture," an upstander intervention program that uses a "train-the-trainer" component to help participants transform from bystanders to upstanders to build communities that support difference and unify against intolerance. In April she was named Social Worker of the Year by the North Central Texas-Fort Worth Branch of the National Association of Social Workers.
Adam McKinney
Assistant Professor of Dance, College of Fine Arts
Joining TCU in 2016, McKinney is a former dancer with the world's most prominent dance companies, including Alvin Ailey American Dance Theater (New York), Béjart Ballet Lausanne (Switzerland) and Alonzo King LINES Ballet (San Francisco). An acclaimed artist and activist, he has presented his social justice work around the world and served as a U.S. Embassy Culture Connect Envoy to South Africa though the U.S. State Department. McKinney is co-director of DNAWORKS, an arts and service organization committed to healing through the arts and dialogue, and serves as president of Tarrant County Coalition for Peace and Justice, a social justice organization that works to remember histories of anti-Black racial terror in Texas. His recent project — Fort Worth Lynching Tour — is a community-based augmented reality bike tour around Fort Worth to remember traumatic sites associated with the racial terror lynching of Fred Rouse.
Chancellor Boschini will announce the winner of the Diversity, Equity and Inclusion Award at a virtual convocation on Tuesday, Sept. 15. Read TCU Today for more details about the convocation.