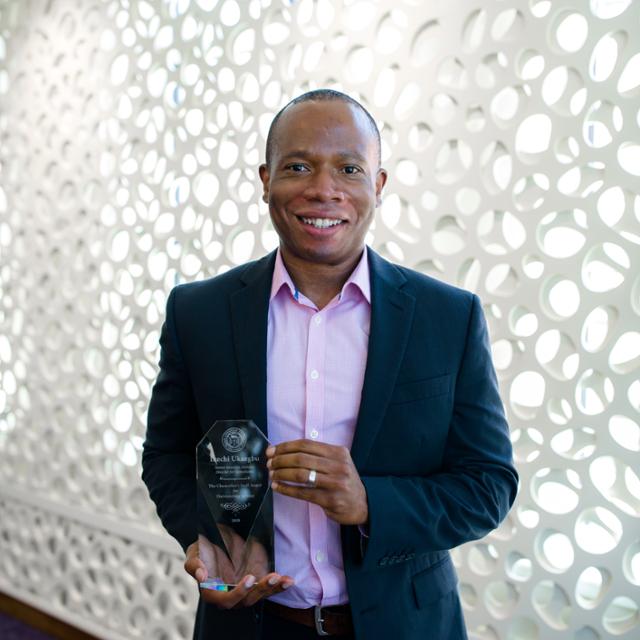 Going Beyond 'No:' Chancellor's Staff Award Recipient Focuses on Finding Solutions
August 18, 2020
The most successful compliance administrators are focused on finding ethical solutions — not just saying no, said Ike Ukaegbu, TCU's senior associate athletics director for compliance.
"You need to have a thick skin to work in compliance as you're not always giving the answers people want to hear, but you also need to be willing to work on building relationships," he said. "Coaches, staff and student-athletes need to feel like you're on the same team and willing to work toward a common goal — not that you're just the person saying no all the time or sharing bad news."
Ukaegbu is the 2020 recipient of the TCU Chancellor's Staff Award for Outstanding Service. Created in 2003, the award recognizes a staff member for exemplary service and contributions to the welfare of the campus community.
"I am very grateful for this honor and still surprised to have received it. I wouldn't have received this honor if it wasn't for my amazing compliance staff — Brent Cunningham, Erin Brown, Megan Munce, Taryn Beverly, Stephanie Key and Max Doctor — who have bought into the customer service-based culture I have tried to create over the last six-plus years," Ukaegbu said. "We have tried to create a culture in which we understand the expectations of our coaches, staff and student-athletes; provide them with accurate, consistent and timely information about NCAA rules; maintain professional and respectful relationships with them; deliver what we promise; communicate clearly; and solve problems."
Ukaegbu, who is also the sport administrator for the Swimming & Diving Program, joined the TCU staff in May 2014. He was associate athletics director for compliance and student services at Virginia Commonwealth University when his mentor, TCU alumnus John Cunningham, tipped him off about the Horned Frog job opportunity. The two had formed a strong bond when Cunningham (now AD at the University of Cincinnati) was Ukaegbu's supervisor in the compliance office at Boise State University earlier in his career.
"While we worked together at Boise State University, he always spoke so highly of TCU as an institution and as an athletics department," Ukaegbu said. "Therefore, when the position came open, I knew I just had to apply. I am now in my seventh year at TCU and fully understand why John always spoke so highly of this institution and athletics department."
Now Ukaegbu oversees all areas of TCU's comprehensive athletics compliance operations for the department's 21 sport programs and is a member of the athletic director's executive team. In addition, he is one of 20 individuals participating in the 2020-2021 NCAA Pathway Program, which prepares senior-level athletic administrators for future roles as AD or conference commissioner, while building their skills to thrive in their current duties.
"The active learning curriculum features a diverse mix of case study assignments, higher education and athletics leadership engagement, exploration of culture development and insight into hiring practices and interview preparation," he said. "This opportunity will play a major role in my hopefully becoming a director of athletics someday."