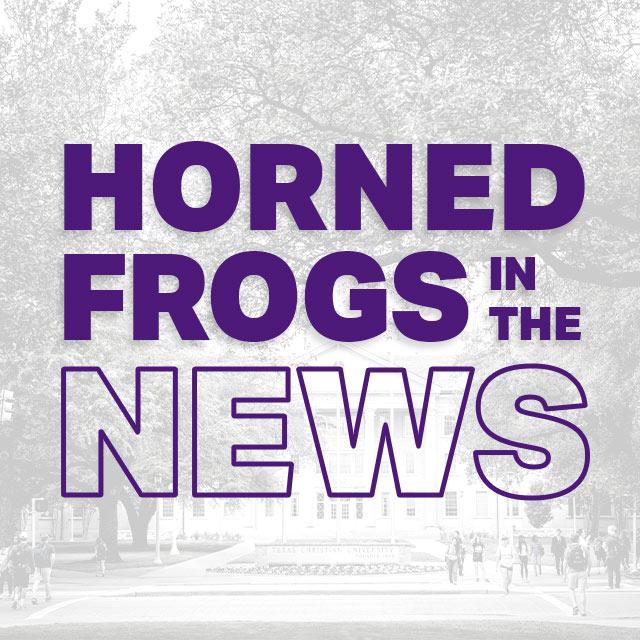 Horned Frogs in the News, July 13 Roundup
July 11, 2020
Horned Frogs continue to make the news both locally and nationally. From mushy peas to steamboats on the Mississippi, check out the latest roundup of newsworthy Frogs.
Of Steamboats and Fireworks: The Great Mississippi River Race of 1870
History News Network
Eric Simanek, Robert A. Welch Chair of Chemistry, recounts a lesser-known historical event that occurred on the Fourth of July: a 1,200-mile steamboat race between Captain Tom Leathers of the steamboat Natchez and John Cannon of the steamboat Robert E. Lee.
MCBH Pathway
Insights from the late Karyn Purvis of the Karyn Purvis Institute of Child Development continue to ring true in this piece about addressing childhood inquiries.
The Rebound: What we learned from the last recession
Modern Materials Handling
In a podcast, Morgan Swink, James L. and Eunice West Chair of Supply Chain Management, weighs in on his research about what went right and what went wrong after the "Great Recession" of 2008.
Business Daily podcast
Neeley professor of marketing Eric Yorkston provided branding insights to create a new line of mushy peas (also known as Yorkshire caviar).
'Front Yard Museum' treats nature as art in Elmwood
The Advocate Oak Cliff
TCU graduate student Doug Land created arboretum-style signage for flora in an exhibit called "Front Yard Museum" at Terrain Dallas.
Conversation With: Southern Dallas Developer Terrence Maiden
D Magazine
TCU alumnus Terrence Maiden reflected on his work in commercial real estate and development. Maiden touched on his thoughts about the impact of COVID, gentrification and the revitalization of the Dallas community.
The Confederate Legacy In Texas Has Left More Than Monument Across The State
KERA News
As more and more Americans call for the removal of Confederate statues, Gregg Cantrell, Erma and Ralph Lowe Chair of Texas History, discusses the historical importance of some of the associated historical figures.
Black Lives Matter Protests Are Shaking Up How This Young Latino Voter Views US Politics
KERA News
As the Black Lives Matter movement continues to sweep the country, Max Krochmal, professor of history and chair of the Department of Comparative Race and Ethnic Studies, reflects on this new wave of activism, comparing it to the civil rights movement of the 1960s.