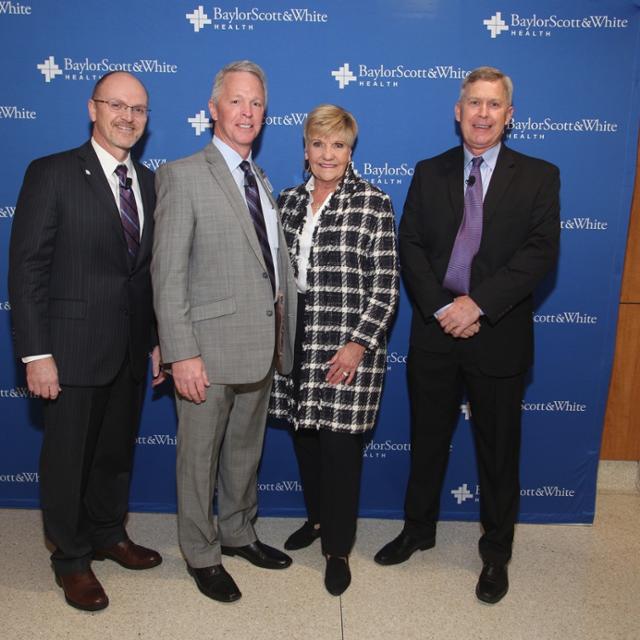 TCU and UNTHSC School of Medicine Establishes Local Residency Program
February 6, 2020
The TCU and UNTHSC School of Medicine will officially be sending doctors into the Fort Worth community. The medical school announced a residency training program with Baylor Scott & White All Saints Medical Center that will eventually train more than 150 physicians annually.
"We are honored to be working alongside a like-minded organization in Baylor Scott & White – Fort Worth," said Dr. Stuart Flynn, dean of the TCU and UNTHSC School of Medicine. "With the combination of both organizations' available resources and aligned mission, we can create a robust and rich academic environment in the Fort Worth community."
The residency program—accredited by the Accreditation Council for Graduate Medical Education—will select its first cohort of medical school graduates this year. They will then begin their residencies in internal medicine and emergency medicine at Baylor Scott & White Fort Worth in July 2021, adding residents each year. Adding general surgery, anesthesia, obstetrics and gynecology and other specialties, the residency program is projected to top out at 150 in the 2027-2028 academic year. Fellowship training programs in fields such as cardiology, oncology and nephrology also will be considered.
The residency program will provide much-needed doctors to the Fort Worth area. Texas currently ranks 41 out of the 50 states with 219.4 physicians per 100,000 residents. According to the American Association of Medical Colleges, the national median is 257.6.
Texas medical school graduates have been leaving the state for residencies due to a shortage of programs. And data shows that residents tend to stay in-state. According to the medical school's press release, in Texas, 59 percent of residents remain after training. If they attend medical school and do their residency in Texas, that number jumps to 81 percent. This new collaboration is an academic-aligned program, allowing for competitive recruitment of top medical school graduates from Texas and across the United States.
"We understand the importance of creating opportunities for the next generation of medical providers, and we are excited to serve as a TCU and UNTHSC School of Medicine medical education site," said Dr. Kollier Hinkle, the residency program's lead physician. "We are committed to teaching best practices through evidence-based medicine and research."