Junior Noah Skolnick and Sophomore Garrett Torres, two students who recently revived the bass fishing club on the TCU campus, just claimed a national championship. They competed against hundreds of the nation's top collegiate fishing anglers to win the 2021 BoatUS Collegiate Bass Fishing Championship presented by Bass Pro Shops on Lake Murray in South Carolina. The TCU duo weighed in a day-two total of a winning 32.51 pounds.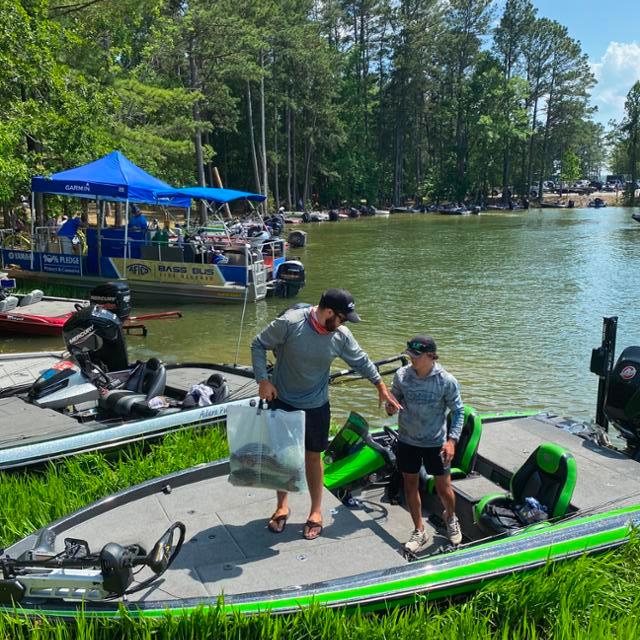 After Day One of the tournament, Skolnick and Torres were in 15th place with 13.53 pounds caught. On the second day, they were the last team to weigh in. They needed 18.26 pounds to win, according to a press release, but surpassed that with 18.98 pounds to take the championship. Skolnick and Torres were awarded a grand prize of $5,000.
Skolnick said he believes one of the reasons they were able to do so well in this particular tournament is because classes had concluded and they were able to participate in the pre-fish, which, in laymen's terms, amounts to the two days of on-site practice fishing in a tournament. Since bass fishing is not a university-sponsored sport at TCU, it is not an excused absence from class, and therefore trips are kept to a minimum. And for these two competitors, academics come first.
"I came to TCU first and foremost to be a student," said Skolnick.
His college search led him to TCU for that very reason. He and his family were determined to find a school that would provide excellent academics.
Torres – who had fished alongside Skolnick in their high school days in Kansas – agrees that studies are top priority.
"I'm focused on academics first and fishing second," Torres said. But the fact that TCU at least had the potential for a bass fishing team was ideal.
The students described that TCU had a framework for a bass fishing club; the club had existed in the past but gone dormant. They praised TCU for empowering students and encouraging initiative and then praising their success. They received a personal message from Chancellor Victor J. Boschini, Jr. for their accomplishment.
Skolnick and Torres, both business majors, see much potential for growing the club at TCU.
"I want to put together the framework of a strong program at TCU and leave a mark," Skolnick said.
Other colleges competing in the tournament included second and third place winners Newberry College and the University of Tennessee, respectively.