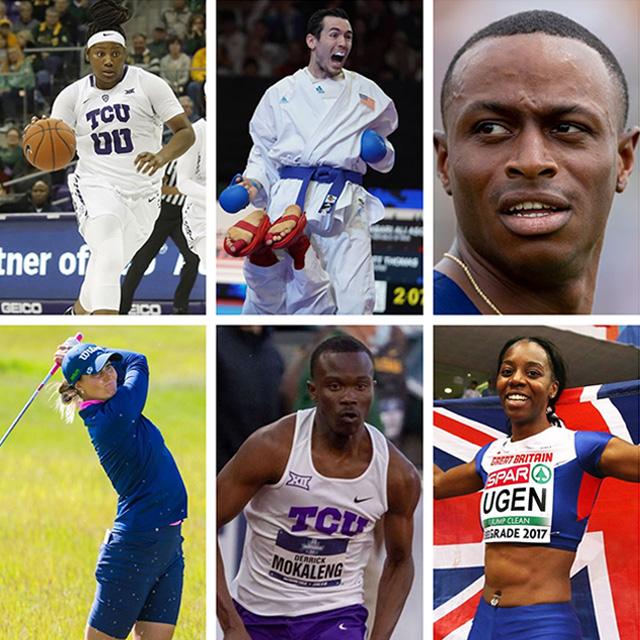 Six Horned Frogs Among Summer Olympians
July 21, 2021
Keep your eyes out for purple. When the delayed 2020 Olympics launch with its Opening Ceremonies July 23, six known Horned Frogs will represent five countries and four sports in the 2021 Tokyo Games.
Here's a rundown of Olympic athletes from TCU:
Basketball
Amy Okonkwo '19 was named to the Nigerian National Team, becoming the first former TCU women's basketball player to complete in the Olympics. At TCU, she was a two-time All-Big 12 selection and earned the league's Sixth Man of the Year Award following the 2017-2018 season. Nigeria will face USA in its opening game July 27.
Golf
Sanna Nuutinen '14 will represent Finland and TCU as the first player in women's golf program history to be an Olympian. She ranks ninth in TCU history and is a three-time all-conference selection. She was the 2012 Mountain West Individual Champion, winning the title in a four-hole playoff to lead the Horned Frogs to their second straight team championship.
Karate
Tom Scott '12 will represent USA in karate's debut as a summer Olympic sport. A national karate champion and instructor, he will compete in kumite (fighting) karate. "As a kid, I dreamed about this before I was ever good enough and before karate was ever close to being included in the Olympics," he said. "This is our debut as a sport, and I can't explain how special it is to be in this historic event for my sport."
Track and Field
Ronnie Baker '16 will represent Team USA after clocking a personal best 9.85 for second place in the 100m in qualifying. The 12-time All-American is a two-time national champion in the 60m. His indoor personal-best time is 6.40, slotting him as the third-fastest man in the history of the event.
Derrick Mokaleng '20 will represent South Africa in the track and field 4x400 relay team. The 10-time All-American is also a graduate student and was a member of TCU's 4x400m relay team this season, recording a season-best time of 3:03.59.
Lorraine Ugen '14 will represent Great Britain in long jump. The two-time Olympian placed 11th in the sport in the 2016 Rio Olympics. The appearance represents a comeback for the athlete who underwent surgery in 2020. "Less than 9 months ago I was on a surgery table feelin like my career may be done," she tweeted upon her qualification. "It's crazy how ur perspective can change in just a couple of months. NOW IM GOING TO TOKYO!!!..STORYTIME"
These Olympians were compiled as of July 20. Do you know of another Horned Frog in the Tokyo Olympics? Email Today@tcu.edu.