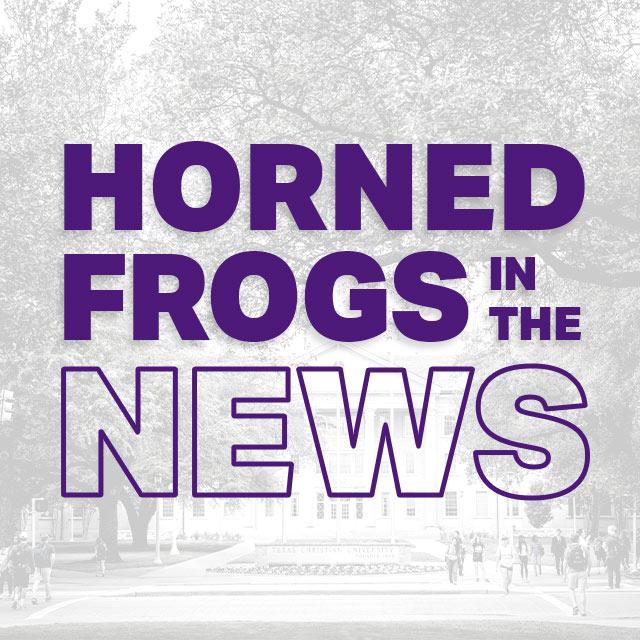 Horned Frogs in the News Roundup, Nov. 15-Nov. 30
December 1, 2021
From a treatment for COVID-19 to inflation and "toxic masculinity," TCU Horned Frogs are in the news.
INSTITUTIONAL
National Adoption Month - Here's how to connect children in need with forever families
Nov. 27, 2021
Fox News
Every child has the inherent right to be a part of a loving, caring and secure family. It's a truth that we have championed for more years than we can count, yet it is juxtaposed with the reality that some 15 million children around the world are living outside the love, security and permanency of a family. The Karyn Purvis Institute of Child Development at TCU is a leading voice in science and research related to children impacted by foster care and adoption and how to better serve and meet their complex needs. Developed by Drs. Karyn Purvis and David Cross, the institute's care model has become a leading standard in the adoption and foster care communities and offers a holistic approach to caring well for children – a model that is not only embraced by parents and caregivers but one embraced by professionals here in the U.S. and around the globe.
New Bible translation has a Texas touch
Nov. 28, 2021
The Dallas Morning News
Eight Texans rewrote the Bible, but in a good way. The New Revised Standard Version, one of the most popular translations of the Bible ever published, got an update recently. Eight of the scholars who worked on this update are Texans, representing Baylor, Southern Methodist University, Southwestern Baptist Theological Seminary, Rice University, Texas Christian University and Austin Presbyterian Theological Seminary. Print editions should start hitting shelves next year.
Artist Woodrow Blagg reveals his large-scale drawing, "The Rescue," celebrating the heroic
Nov. 19, 2021
Fort Worth Report
In a reception at the Brown-Lupton University Union, renowned Western artist Woodrow Blagg unveiled his massive mixed-graphite drawing, "The Rescue." It masterfully captures a team of TCU students on the Amakhala Game Reserve assisting in rhino conservation procedures. To accurately capture the experience in his piece, Blagg visited South Africa with Mike Slattery, director of TCU's Institute for Environmental Studies, and a group of students. "He was transfixed. During his 10-day stay at Amakhala, he came out with the students on all procedures, but he also spent some 'alone' time with our rangers among the rhino crashes. On the actual procedure, he simply stayed 'in-the- moment,' and I think that emotion and connection come across in the drawing," Slattery says.
Top 50 Best Undergrad Programs for Entrepreneurs in 2022
Nov. 16, 2021
Entrepreneur Magazine
The Princeton Review and Entrepreneur have again partnered to rank the top programs for studying entrepreneurship as an undergraduate. No. 37 (No. 12 in the West) is the TCU Neeley Institute for Entrepreneurship and Innovation. Number of Entrepreneurship Courses Offered: 38; Tuition: $51,660; Companies Started by Graduates Over the Last 5 Years: 77; What Sets Us Apart: There are three distinctive features of our program: our effort to ensure that all students are led on a personal journey to identify, expand and integrate their core identity into the creation and appropriation of economic and societal value; our focus on encouraging entrepreneurship through the university; and the teacher-scholar model.
FACULTY
Pulling punchlines: Comedy can be offensive. But should it be reined in?
Nov. 29, 2021
Christian Science Monitor
Comic Dave Chappelle recently contended that some people appear to get more upset about transgender issues than they do about racism. "He draws a kind of proverbial line in the sand against Black people and Black communities and queer communities. That line in the sand has massive erasure for Black queer folks," said Brandon Manning, an assistant professor of Black literature and culture. "Even his ability to bring in Daphne Dorman towards the end, in many ways that's the equivalent of saying, 'I have a Black friend, so I can't be racist.'"
Will Beto O'Rourke's run for Texas governor help Tarrant County candidates on the ballot?
Nov. 19, 2021
Fort Worth Star-Telegram
"The key is the atmosphere next November, and it's hard to project what that would be," said Political Science Professor Jim Riddlesperger. "But certainly the political climate right now doesn't appear to be favorable for Democrats nationally or within the state of Texas. And, of course, the history of midterm elections is that the president's party does not do well."
Pills that treat COVID-19 could be available soon
Nov. 18, 2021
KDFW-TV
Pills that treat COVID-19 could be available soon. Two experimental pills could have a major impact on the pandemic. Good Day gets more information about the clinical trials and how the pills might be a game changer from cardiologist Dr. Mohanakrishnan Sathyamoorthy. He's the department chair of internal medicine at the TCU and UNTHSC School of Medicine. "These are absolutely incredible advances in science being brought to medicine and clinical care very soon," he said.
Bill Containing Draft Mandate For Women Advances In Senate, Likely To Pass Despite Conservative Opposition
Nov. 18, 2021
The Daily Wire
The Senate advanced the National Defense Authorization Act (NDAA), part of which would mandate the military draft for women, moving the legislation to the floor debate stage, and amendments to remove the provision on drafting women for the military might still be made. "Attaching it to NDAA basically ensures that it will [pass], barring a massive herculean effort to get it unattached somehow," said Kara Vuic, the LCpl. Benjamin W. Schmidt Professor of War, Conflict and Society in 20th-Century America. "I think it's going to pass."
Mild brain injury leads to early cognitive decline, study in veterans finds
Nov. 17, 2021
United Press International
Military veterans who suffer a mild traumatic brain injury during combat experience early cognitive decline within seven years of the incident, a study published Wednesday by PLOS One found. "We found that young veterans with mild traumatic brain injury are exhibiting some specific premature cognitive aging effects," researchers from the University of North Texas Health Science Center and Texas Christian University wrote. "[This] might be considered a possible phenotype linking remote mild traumatic brain injury to Parkinson's disease in later years," they said.
The 2021 Health Professions HEED Awards: Community Outreach
Nov. 17, 2021
INSIGHT Into Diversity
The TCU and UNTHSC School of Medicine recently held a Mini Medical School program in collaboration with Tarrant County College and its Latina STEM Fellowship. The LSF program encourages young Latinx girls and women from area schools to become interested in STEM through skill-building, career exploration, education planning and mentorship. The innovative Mini Medical School offered unique, hands-on health care experiences for LSF participants with the assistance of medical students.
Amon Carter Museum of American Art announces 2022 Carter Community artists
Nov. 16, 2021
Fort Worth Report
The Amon Carter Museum of American Art is thrilled to announce its 2022 Carter Community Artists, including Dan Jian, assistant professor of art. The Carter Community Artist (CCA) initiative was established to collaborate with and support local artists, to enhance the Carter's events, and to bring together practicing artists and the North Texas community. Jian is a visual artist who works across painting, drawing and animation. Her awards and endorsements include a recent Research and Creative Activities Fund (RCAF) project grant from TCU.
What If We Lose Faith in the Dollar? with John Harvey
Nov. 16, 2021
Macro & Cheese podcast
John Harvey, professor of economics, is back to answer a question that's usually accompanied by much wailing and gnashing of teeth: "What happens if people lose faith in the dollar?" The question contains all sorts of assumptions and intentions, which the "Cowboy Economist" proceeds to dismember, dispelling all sorts of myths.
Is Toxic Masculinity Real?
Nov. 16, 2021
FOX Soul
Has the idea of masculinity gone too far in the Black community? Why should Black men care? Brandon Manning, assistant professor of English, said, "I think one of the most important parts to talk about when we talk about masculinity is that we haven't really thought about masculinity in and of itself because it is generally considered the norm. The reason why Black communities need to care about toxic masculinity is the reason why a group of Black women in the late 1970s said that, in order for us to fully liberate, they felt like it's Black women that have to look out for themselves. Part of what's wrapped up into that is that Black men need to also self-reflect about their role in some of that."
Beto O'Rourke to run for governor of Texas in 2022 election
Nov. 15, 2021
The Guardian
Beto O'Rourke, a former congressman, Senate candidate and contender for the Democratic presidential nomination, will run for governor of Texas next year. O'Rourke is seeking to take on Greg Abbott, the Republican governor who is pursuing a third term. "If you go back, election after election, newspapers always write the headline, 'Will this be the election that Texas turns blue?'" said Emily M. Farris, associate professor of political science. "And it hasn't happened yet."
STUDENTS
Natural steps such as planting trees can fight climate change
Nov. 18, 2021
Fort Worth Star-Telegram
A group of more than 30 volunteers from Texas Christian University and the American Conservation Coalition recently installed 13 carbon sequestration devices in the Fort Worth Botanic Garden's Japanese Garden. The devices, when fully mature, will suck dozens of pounds of carbon dioxide out of the atmosphere. These "devices," of course, were trees. Loblolly pine trees, to be exact, and they are now on display in the garden for all to see.
ALUMNI
The Hunt Family's Rosewood Ranches Is Bringing the Pasture to the Table
Nov. 16, 2021
D Magazine
Kenneth Braddock ('75 RM) is exactly what you'd imagine when picturing a Texan rancher — thick white mustache, Stetson hat, and all. He grew up in the Panhandle with his dairy-farmer father. Following in his father's footsteps, he went to Texas Christian University to study ranch management and had a short-lived career with a dairy farm before venturing into embryo transplants in cattle. Now his 29-month Texas Wagyu process is being perfected south of Dallas.
ATHLETICS
Sonny Dykes introduced at TCU Horned Frogs' new coach
Nov. 30, 2021
ESPN
Sonny Dykes got an up-close look at TCU during one season working as an offensive analyst for the head coach he would replace four years later. The Texas native and son of a former Southwest Conference coach knew a lot about the school long before then. "Growing up in Texas, I always knew what this place could be," Dykes said as he was introduced as the Horned Frogs new coach. "It was the best hire for us, the best fit," athletic director Jeremiah Donati said. "Best short-term and long-term fit for TCU, Sonny Dykes was that guy. When you talk about his plan to recruit DFW, and the fact he knows this place, he knows what it's going to take to win here."
From inevitable to official: When TCU got its chance to land Sonny Dykes, they made sure not to miss
Nov. 30, 2021
Dallas Morning News
Truth be told, TCU athletic director Jeremiah Donati said he didn't view Sonny Dykes as the next possible head coach of the Horned Frogs until recently. Having a coach didn't stop Donati from following what was occurring 40 miles east at SMU, though. "When you start looking at the numbers, and you start looking at the talent in the Dallas-Fort Worth Metroplex that wasn't coming to TCU, I just marveled at what SMU has been able to do the last couple of years," Donati said.
TCU introduces its new football coach Sonny Dykes in style
Nov. 29, 2021
Fort Worth Star-Telegram
Sonny Dykes arrived in style. TCU officially welcomed its new football coach to campus on Monday night as Dykes and his family touched down at midfield of Amon G. Carter Stadium via helicopter. Once he landed, Dykes stepped out with a big smile and waved to the several hundred fans in attendance.
TCU football: Meet tight end, ROTC scholar Dominic DiNunzio
Nov. 19, 2021
Fort Worth Star-Telegram
Sophomore Dominic DiNunzio had no desire to play football when he arrived on TCU's campus four years ago. The Cleveland native didn't play in high school, opting for basketball and rugby, and was drawn to Fort Worth for an Army ROTC scholarship. But DiNunzio has gone from club rugby player to walk-on football player to a starting tight end. It's been a remarkable journey to date and the story keeps getting better.
Micah & David Peavy: Father and son help TCU Basketball rise to new heights together
Nov. 18, 2021
KTVT-TV
Sophomore Micah Peavy is trying to help TCU rise to new heights. His dad, David Peavy has the best seat in the house to extend their ultimate bond. "It means a lot … that played a big factor in me coming home and playing for TCU," Micah said. "He was my coach, but now to have him as my dad at all my games … I'm fortunate to have him in my life and ready to show him what I can do."