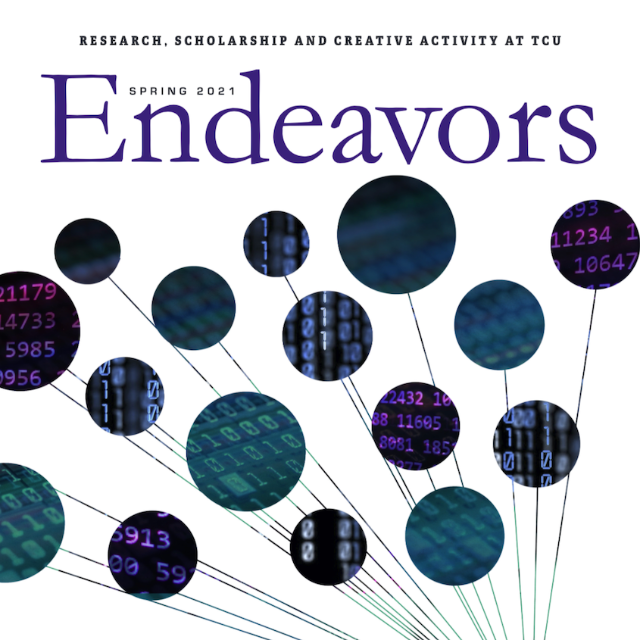 New Edition of Endeavors — TCU's Research Magazine — Now Live
February 10, 2021
Now available online, the latest issue of Endeavors highlights a cross section of the ambitious academic research and scholastic inquiry happening throughout the TCU community. The 2021 issue spotlights the ways Horned Frogs are utilizing big data, TCU's own emerging experts in health care communications, the Texas roots of populist ideology, anti-oppressive systems in public education, the resilience of human trafficking survivors and much more.
"This is by far the most expansive issue of Endeavors that we've published to date," said Caroline Collier, editor. "Dr. Wormley brought in a lot of expanded ideas and set the foundation with his vision for where research at TCU is headed. I think part of what he's trying to accomplish here is building a culture of forward-thinking, interdisciplinary, relevant, student-involved research, which makes TCU a distinctive place to talk about research in the context of the teacher-scholar model."
"The strength of our teacher-scholar model is that it uses cutting-edge research experiences to develop our students' critical-thinking skills and to provide the practical hands-on experience that employers have grown to expect from our graduates," said Floyd Wormley, Ph.D., associate provost for research, dean of graduate studies and publisher of Endeavors. "As illustrated throughout Endeavors, the scholarship and creative works produced by our faculty, staff and student teams are impacting lives for the better and provide real-world solutions to solve the real-world problems of today and tomorrow."
In addition to sharing research advances within the campus community, Endeavors now showcases TCU's innovative research and academic excellence to an expanded international network of researchers, academic leaders and media.
"We've completely changed the mailing list and marketing plan for Endeavors," Collier said. "We've updated the people who are going to be receiving it to include academic administrators at the top research universities across the country as well as influential media members. And we have some multimedia, Facebook Live, videos and podcasts in the works that will highlight several of the stories."
In the new issue, the Endeavors cover story explores the role of big data in research and teaching in the College of Science & Engineering, Neeley, AddRan and the MD School. For example, English Assistant Professor Gabi Kirilloff, Ph.D., is using big data to analyze older literature and even clean up 19th century literature — where the use of well-placed quotation marks is often lacking. In Neeley's marketing department, Assistant Professor Sarang Sunder, Ph.D., uses big data to understand the buying behaviors of consumers using cash — transactions that can otherwise be a blind spot when companies are trying to conduct market research. The story also highlights AddRan's new minor in data analytics.
A panel Q&A discussion with deans who oversee various pre-health programs addresses the importance of research in training future health care practitioners, illustrating the power of the teacher-scholar model to transform future health care delivery.
A large feature story spotlights Schieffer College faculty who are experts in the emerging field of health communications. Among them, Jie Zhuang, Ph.D., an assistant professor of communication studies, found interesting yet counterintuitive results with her work studying the relationship between people's compliance with social norms and how threatened they felt by Covid-19.
In his new book The People's Revolt: Texas Populists and the Roots of American Liberalism (Yale University Press), Texas historian Gregg Cantrell, Ph.D., a professor and director of graduate studies in AddRan, compares the modern ideology of "populism" to its historical roots as an agrarian-labor coalition that began in Texas.
Examining inequalities that start in the classroom, Miriam Ezzani, Ed.D., an assistant professor of educational leadership in the School of Education, conducts powerful research on how school leaders can institute anti-oppressive systems. In her recent study addressing unconscious biases, principals met one-on-one with teachers, mirroring their behaviors so teachers could understand what it felt like to be a student in their classroom.
In the Harris College, Mary Twis, Ph.D., assistant professor of social work and the MSW Program director, is studying resiliency in people who not only survived human trafficking but are now involved in the anti-trafficking movement as survivor-advocates.
Other Endeavors stories explore research focused on ketogenic versus high-carb diets, families of unsolved murder victims, improving the efficiency of solar-generated power, neural circuity underlying the decision to make sound, innovation in the boardroom, mindfulness and self-compassion in health fields, consumer loyalty during crises, the vocal health of opera and musical theatre students, and high school higher ed prep programs.
"Our faculty and students have displayed tremendous resiliency during this pandemic to sustain and grow their scholarship," Wormley said. "It has been my privilege to serve this community, and I am extremely excited to learn what the future holds for the research and scholarly enterprise at TCU."