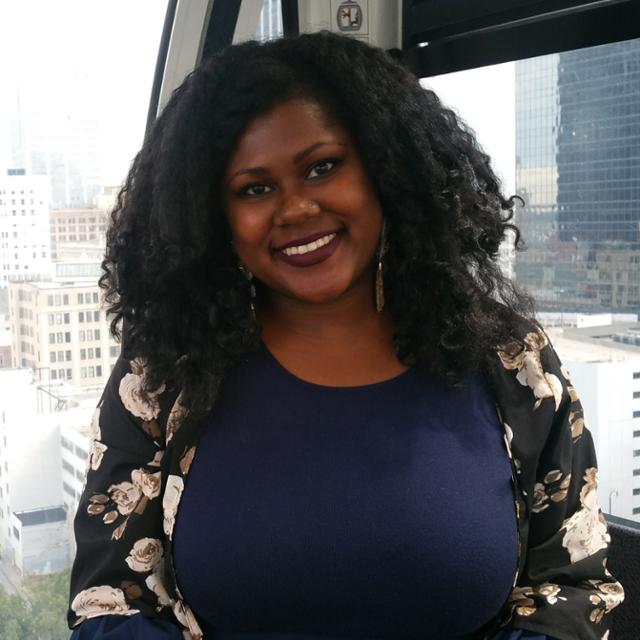 Norrell Edwards, Ph.D., Named Chancellor's Postdoctoral Fellow for 2021
January 14, 2021
TCU is pleased to announce interdisciplinary scholar Norrell Edwards, Ph.D., is the recipient of the 2021 Chancellor's Postdoctoral Fellowship, which reflects the university's emphasis on the teacher-scholar model. In her role, which begins January 2021, Dr. Edwards will join the English Department and will engage TCU students and faculty with her academic research on memory, trauma and migration in the 20th and 21st century African American and African diaspora as well as teach a Global Women's Literature undergraduate course.
With a background in criminal justice reform, advocacy and public-facing writing, Dr. Edwards' scholarship and work reflect her commitment to Black communities and culture. She currently serves as the volunteer director of communications for the Next Step Forward Initiative, a New York-based grassroots organization focused on making progress to eradicate systemic racism. The organization recently launched social media campaigns to bring awareness to important topics like police reform and gentrification in Dr. Edwards' hometown, New Rochelle, NY.
"I am honored and excited to be welcomed into the TCU community. I believe many of the important conversations TCU has begun around race, reconciliation and the Civil War will serve as a foundation for further discussions I hope to have with students and faculty about memory and trauma in the broader Black diaspora and its relevance today," Dr. Edwards said.
She joins TCU from her previous position as assistant director of education for Georgetown University's Prisons and Justice Initiative, which brings together scholars, practitioners and students to tackle the dual crisis of incarceration and recidivism. While in that position, she provided programmatic support for Georgetown prison education and re-entry programs while also teaching a remote course "Black Diaspora Literature in Chocolate City" to incarcerated students in the DC jail.
Drawing from her diverse experiences and interdisciplinary interests, Dr. Edwards creates a culture of interaction and participation in her classroom. In spring 2019, she was awarded a "Beyond the Classroom" grant from the University of Maryland, College Park's English department, which she used to bring a facilitator from the DC Coalition Against Domestic Violence as well as a domestic violence survivor to her Global Literature by Women course, so students could hear from those directly impacted. In 2017, she was awarded the University's James A. Robinson Award for Excellence in Undergraduate Teaching.
"We are excited to welcome Dr. Edwards to campus this spring," TCU Chancellor Victor J. Boschini, Jr., said. "She creates an inclusive and engaging teaching environment, while her nonprofit work highlights the ways that scholarly research can be a force for the greater good in public discourse."
Dr. Edwards received her doctorate in English literature with a specialization in 20th century Black diaspora literature from the University of Maryland, College Park. In her dissertation, "The Unhealed Wound: Contemporary Black Diasporic Literature and the Continuing Memory of the Duvalier Dictatorship," Dr. Edwards investigates how memory, history and literature shape the physical and imagined cityscapes of New York, Port-au-Prince and Paris and implores readers to question what it meant to be a Black immigrant body and a Haitian body in these cities in the 1980's, 1990's and early 2000's.
Among recent scholarly activities, Edwards was selected to participate in the Black Europe Summer School's "Interrogating Citizenship, Race and Ethnic Relations" International Institute for Research and Education in Amsterdam as well as the National Endowment for the Humanities' "The Art of Survival: Recasting African Cities" summer program at Indiana University.
In addition to her doctoral degree, Dr. Edwards received a graduate certificate in Engaged and Public Humanities from Georgetown University, and a bachelor's degree in English Literature and Criticism from CUNY Macaulay Honors College: Hunter College, City University of New York.
To engage further, Dr. Edwards' invites students, faculty and staff to engage by following her on Twitter @Norrellexplains.
About the Chancellor's Postdoctoral Fellowship
TCU is pleased to offer a postdoctoral fellowship committed to enhancing its steadfast commitment to inclusive excellence through engaging with preeminent diverse scholars who continue to contribute to and transform the world through research and teaching. This fellowship, which may last up to two years, also is important to the university's strong teacher-scholar model, which emphasizes the creation and dissemination of knowledge in equal measure. Applications to host the 2022 Chancellor's Postdoctoral Fellow are available now. Please contact Whitnee D. Boyd, coordinator of special projects for the Office of the Chancellor.