As part of TCU's ongoing efforts to strengthen its academic profile and reputation, Sadler Hall is being renovated to provide a home for the John V. Roach Honors College, School of Interdisciplinary Studies, the Center for International Studies and Academic Advising, as well as classrooms and other needed space.
"The new Sadler Hall will help us recruit, retain and support even more academically talented TCU students," Teresa Abi-Nader Dahlberg, TCU provost and vice chancellor for Academic Affairs, said. "Honors, SIS and our international program play a prominent role in telling our story of academic excellence. A new, designated, exceptional home at the center of our campus speaks to the importance of student success and academic achievement."
Brooke Ruesch, director of project management, said the aesthetic of Sadler will be very different from what it was previously.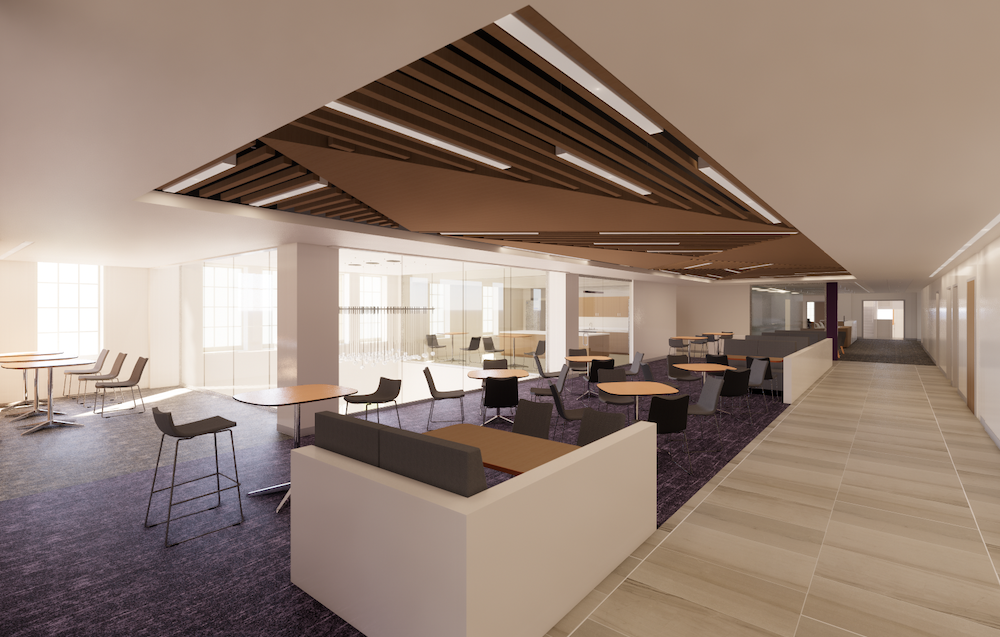 "The new renovated Sadler Hall is focused on bringing in much more natural light and uses lighter woods and materials to brighten up the space," she said.
Sadler will include 17 classrooms as well as student lounges and team rooms.
"A few of the features that I am most excited about are the accessible ramps that we will be adding to the east side of the building to provide more abundant access options as well as the plan for the main entry lobby," Ruesch said. "To create more of a grand space, we will actually be creating a double level entry verses the existing single level entry. This will not only bring height to the lobby but will bring a level of activity to the space and connect the third and second floors visually. I expect it to be really amazing once complete."
Construction is scheduled for completion in November 2022 with move-in projected for January 2023. Sadler's renovation follows the 2020 completion and move of administration offices to The Harrison, which brought together administrative departments into a single location, returning valuable square footage to academic use across several facilities and creating a new campus entrance from West Berry Street. The Facilities Master Plan demonstrates campus potential that aligns with the university's strategic plans.
Built in 1960, Sadler Hall was named in honor of Chancellor MacGruder Ellis Sadler, who led the university from 1941 to 1965. Before his retirement, the campus grew from eight buildings to 29.