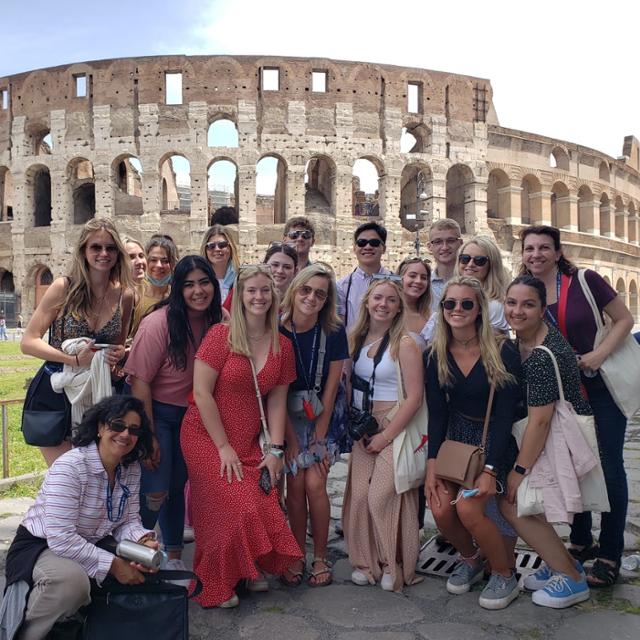 Study Abroad: 'Summer of Discovery' Pilot Opportunities Deemed a Success
August 4, 2021
Study abroad programs returned for TCU this summer, taking students and faculty on educational journeys to Italy.
It was a celebratory moment for Horned Frogs when the TCU Center for International Studies announced to students and families in spring 2021 that, yes, there would be study abroad opportunities available for summer 2021. After a year of cancellations due to the global pandemic, study abroad would return for "TCU in Europe 2021: Summer of Discovery."
"Learning and living abroad is such an amazing opportunity for our students and faculty, and we were so thrilled to be able to bring it back this summer," Sandra Callaghan, director for the Center for International Studies, said. "Our TCU mission statement is to educate students to be ethical, responsible citizens in the global community, and studying abroad is one of the most effective ways to achieve this."
The summer 2021 programs were focused on Italy with two locations – Rome and Sicily. (Due to international COVID-19 restrictions and health and safety protocols, the center focused on one country only, where they were also able to provide onsite TCU staff support.) Condensing to one location also allowed TCU to be among the first universities to offer study abroad again.
"The pandemic gave us the chance to reevaluate, think outside the box and pilot new opportunities," Callaghan said. "We evaluated program lengths and partner university collaborations and were able to introduce new things that were very successful and customizable for students – definitely offerings we will repeat."
In all, 75 students participated in study abroad in variety of formats. In years past, summer programs were primarily concentrated on faculty-led programs, whereas this summer expanded beyond that to new internship opportunities and a summer "semester abroad" in line with the traditional spring and fall abroad programs.
"We've had wonderful feedback from our students, faculty and partners," Callaghan said. "Most of all, our students liked the variety of options and lengths of stays – including the ability to live as a resident in Trastevere, the charming Rome neighborhood of John Cabot University, for a meaningful period of time."
TCU in Europe 2021: Summer of Discovery offered the following programs:
"Our goal is to make study abroad possible for all TCU students – through offering a variety of opportunities and program lengths and providing financial support when needed," Callaghan said. "Studying abroad is an amazing learning opportunity for students, and we are dedicated to supporting all Horned Frogs who are interested."
During the 2021-2022 academic year, TCU will continue to expand its opportunities for students to study abroad. The center is currently accepting applications for spring 2022 TCU In Semester programs in Florence, Rome, Madrid, Seville and London. Visit studyabroad.tcu.edu for more information.