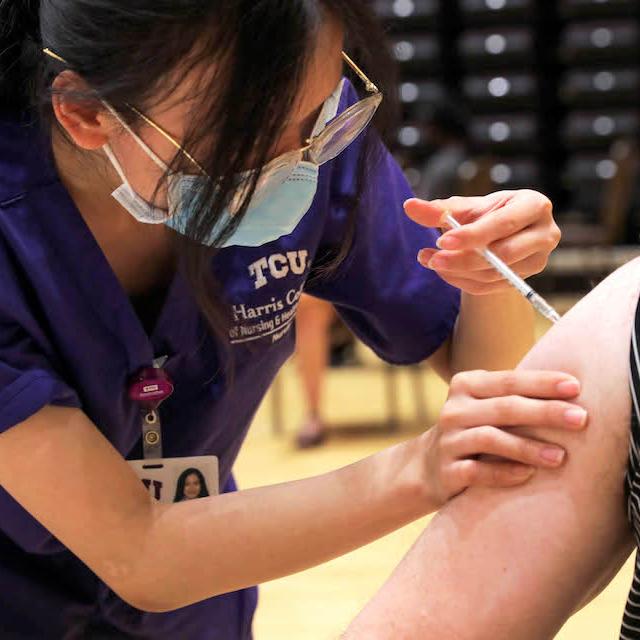 TCU Nursing Holds Flu Vaccine Clinic Oct. 6
September 29, 2021
TCU Nursing expects to administer 3,500 flu vaccines at its annual flu clinic for TCU faculty, staff and students from 8 a.m. to 4 p.m. Oct. 6 in the University Recreation Center. Vaccines are free for these Horned Frogs in a year where public health is more critical than ever.
"In the midst of the pandemic, I think it is crucial to be proactive by getting the flu shot to protect yourself and your community," said Regina Meade, senior II nursing major and part of the marketing team for the TCU flu clinic.
Nursing students and faculty understand that there may be several questions surrounding the flu vaccine while we are still in the midst of the COVID-19 pandemic and have developed a flu shot FAQ to help.
In addition to vaccinating the campus population for influenza, the clinic serves as a massive service-learning project. Nursing students assemble every aspect of the clinic from marketing and planning to Spanish translation and logistics and, of course, administering the vaccine.
"Nursing faculty and students have been providing this service for the last 15 years and it gives the students an opportunity to learn to manage the delivery of a mass event to the community by conducting marketing and outreach, learning management skills and implementing safe practice, procedures and quality care," said Sharon Canclini, assistant professor of professional practice.
Masks are required, and registration is required.