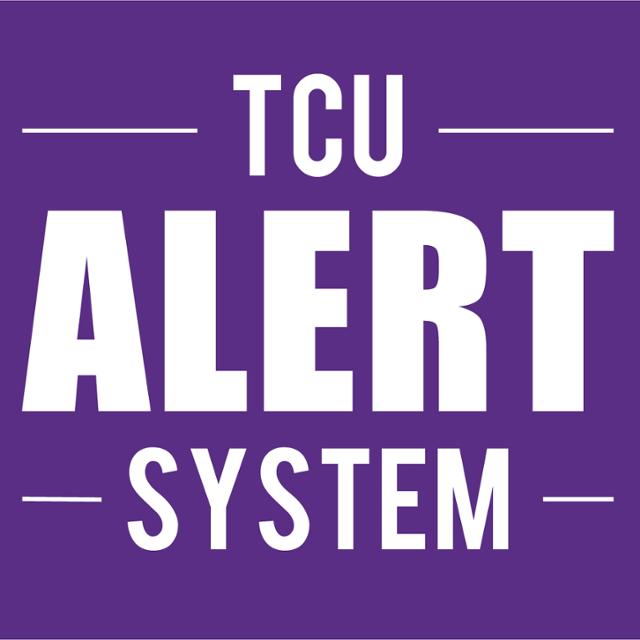 TCU Online-Only Monday, Feb. 15; Campus Closed
February 14, 2021
Texas Christian University will hold remote, online learning only for Monday, Feb. 15, 2021, due to the inclement weather and the Winter Storm Warning in affect for our entire region through 6 p.m. Monday.
Three to six inches of snow accumulation is expected, along with reduced visibility. Temperatures will be extremely cold, with near-blizzard conditions possible. We will continue to closely monitor the weather and will send another update Monday evening.
Updates to campus status will be announced via TCU Alert (text and email), posted on the TCU news site, shared on TCU social media and shared with local news outlets. The recording on TCU's main phone line (817-257-7000) also will be updated.
Please see following important information for students, faculty and staff:
Students:
All in-person classes that can pivot online will. Online courses will be conducted as scheduled unless otherwise announced by the instructor. Synchronous classes will be recorded in the event that students are not able to attend remotely due to weather conditions. All academic activities such as internships, clinicals, field trips, etc., will transition online if possible, or canceled or rescheduled if online is not feasible. Students should seek guidance from their professors.
On-campus student services such as dining for residential students will continue with modified hours; check the TCU Dining Instagram page and TCU dining website for updates. Virtual mental health support services are available here. If you have an on-campus emergency, call TCU Police at 817-257-7777. Our residence life team, maintenance and safety officers remain on call to support students.
Faculty:
Employees who are instructors-of-record for Monday classes are asked to deliver online classes in one of two ways: 1) synchronously, and record and post the lecture for students unable to access the synchronous lecture; or 2) asynchronously, either on Monday or at a time the faculty member determines appropriate for the class. Faculty are asked to communicate expectations with students.
Staff:
Staff-employees are asked to transition to remote work, unless they are employed in essential positions (supports the health, safety and welfare of a residential campus), or specifically requested to report by their supervisor. Do not travel to campus unless your supervisor specifically asks you to report.
------------------------------------------------------------------------------
Texas Christian University mantendrá el aprendizaje remoto en línea solo para el lunes 15 de febrero de 2021, debido a las inclemencias del tiempo y la advertencia de tormenta invernal en efecto para toda nuestra región hasta las 6 p.m.
Se espera de tres a seis pulgadas de acumulación de nieve, junto con una visibilidad reducida. Las temperaturas serán extremadamente frías, con condiciones de casi ventisca posibles. Continuaremos vigilando de cerca el clima y enviaremos otra actualización el lunes por la noche.
Las actualizaciones del estado del campus se anunciarán a través de TCU Alert (texto y correo electrónico), publicadas en el sitio de noticias de TCU,compartidas en las redes sociales de TCU y compartidas con los medios de comunicación locales. La grabación en la línea telefónica principal de TCU (817-257-7000) también se actualizará.
Consulte la siguiente información importante para estudiantes, profesores y personal:
Estudiantes:
Todas las clases en persona que pueden pivotar en línea lo harán. Los cursos en línea se llevarán a cabo según lo programado a menos que el instructor anuncie lo contrario. Las clases sincrónicas se registrarán en caso de que los estudiantes no puedan asistir de forma remota debido a las condiciones climáticas. Todas las actividades académicas tales como pasantías, clínicas, excursiones, etc., harán la transición en línea si es posible, o canceladas o reprogramadas si en línea no es factible. Los estudiantes deben buscar la guía de sus profesores.
Los servicios para estudiantes en el campus, como la cena para estudiantes residenciales, continuarán con las horas modificadas; consulte la página de TCU Dining Instagram y el sitio web de TCU para obtener actualizaciones. Los servicios virtuales de apoyo a la salud mental están disponibles aquí. Si tiene una emergencia en el campus, llame a la policía de TCU al 817-257-7777. Nuestro equipo de vida de residencia, los oficiales de mantenimiento y seguridad permanecen de guardia para apoyar a los estudiantes.
Facultad:
A los empleados que son instructores de registro para las clases de lunes se les pide que ofrezcan clases en línea de una de dos maneras: 1) sincrónicamente, y registren y publiquen la conferencia para los estudiantes que no pueden acceder a la conferencia sincrónica; o 2) de forma asíncrona, ya sea el lunes o a la vez que el miembro de la facultad determina apropiado para la clase. Se pide a los profesores que comuniquen las expectativas con los estudiantes.
Personal:
Se pide a los empleados de personal que pasen al trabajo a distancia, a menos que estén empleados en puestos esenciales (apoya la salud, la seguridad y el bienestar de un campus residencial), o que su supervisor los solicite específicamente a informar. No viaje al campus a menos que su supervisor le pida específicamente que informe.