The excitement builds now for TCU's 150th anniversary kickoff in January 2023
TCU is turning 150 and excitement is in the air. Starting this fall, TCU's celebrated Lead On marketing campaign, which highlights the university's culture of leadership, innovation and achievement, is pairing up with TCU's 150th to go bolder, brighter – and national. From new commercials, a dedicated 150th website and a campuswide opening celebration, to larger-than-life murals across the U.S. and the ringing of the iconic New York Stock Exchange Bell, Horned Frogs will see a refreshed and renewed Lead On campaign and TCU's Sesquicentennial come together to energize, inspire and connect the TCU community.
Lead On: Celebrating 150 Years of TCU
Since 1873, TCU has empowered Horned Frogs to lead on for the greater good. The 150th theme "Lead On: Celebrating 150 Years of TCU" connects our Lead On rallying cry with this special moment in Horned Frog history. And good news – the celebration starts now and will build throughout its culmination in late 2023.
A new TCU 150th website engages the entire TCU community with opportunities to explore our past, embrace the present and impact the future. Viewers will discover stories of Horned Frogs here and now, and stories of TCU's past – including a look back at how TCU came to Fort Worth and athletic conference alignments from TCU Magazine. You'll also find the latest 150th events from the TCU calendar, downloadable digital 150thswag, a 150th brand toolkit and information about how to get involved in the action. Check back to this page for new stories, videos, news and events posted regularly throughout this fall and 2023.
The official festivities kick off Jan. 23, 2023. Key to our connection, and supportive of our goal to lead on together, the on-campus activities will highlight our history and celebrate 150 years of all things purple and white. Additional city celebrations will highlight our commitment to the Fort Worth community.
'Lead On. Boldly.' is TCU's Moment to Shine
One of the most noticeable elements of TCU's national awareness campaign is the infusion of a vibrant, prismatic, multicolored gradient into our traditional TCU purple color – creating a bright sunburst that highlights our iconic purple. The new look is a bold, contemporary visual evolution of TCU's Lead On creative, reflecting the energy and diversity of the Horned Frog family over the last 150 years.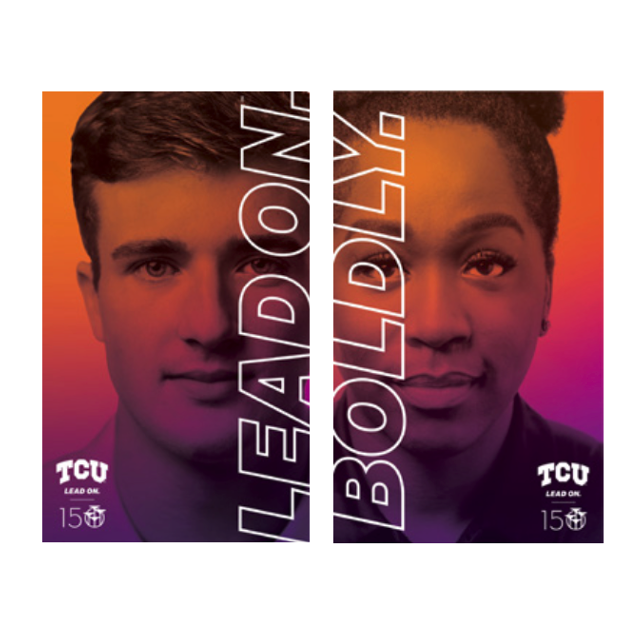 At TCU, leadership isn't a single person or a title — it's a behavior and a value that grows over time. Based on research and input from the TCU community, the new campaign goes a step further to define the many ways Horned Frogs are empowered to lead every day. Street banners were created to convey the powerful "Then and Now" connection between TCU leaders from yesterday and today with descriptors like "Boldly," "Compassionately" and "Authentically." An accompanying photo essay goes deeper, telling the story of everyone represented on the banners.
New commercials (a 60-second brand anthem and 30-second TV version) featuring TCU students, faculty and staff capture the boldness of TCU and promote its world-class academic and campus experience. The 60-second anthem premiered at the Chancellor's Assembly & Convocation. The 30-second commercial launched during TCU's season-opening football game.
Murals Celebrate Exceptional Alumni Leaders
As part of TCU's national campaign supporting "Lead On: Celebrating 150 Years of TCU," the university will highlight notable leaders who found their inspiration at TCU. These outstanding individuals and industry leaders represent the power of TCU's alumni leading on in extraordinary ways in their chosen fields. They will be recognized with larger-than-life painted mural portraits in select cities across the U.S.
The first Horned Frog spotlight is singer, dancer and actor John Devereaux '12 (College of Fine Arts) whose credits include performing with a touring production of Hamilton. Devereaux's mural will be unveiled in New York City Oct. 3. The art will include a QR code directing viewers to videos and other content featuring John, including a time-lapse of the mural's creation.
The second mural location will be unveiled in Los Angeles next spring and feature Katherine Beattie '08 (Bob Schieffer College of Communication), a producer/writer for NCIS and the first woman to land a backflip using a wheelchair.
Other mural subjects and locations will be announced soon, with the final mural debuting in Fort Worth in fall 2023.
TCU Rings the New York Stock Exchange Bell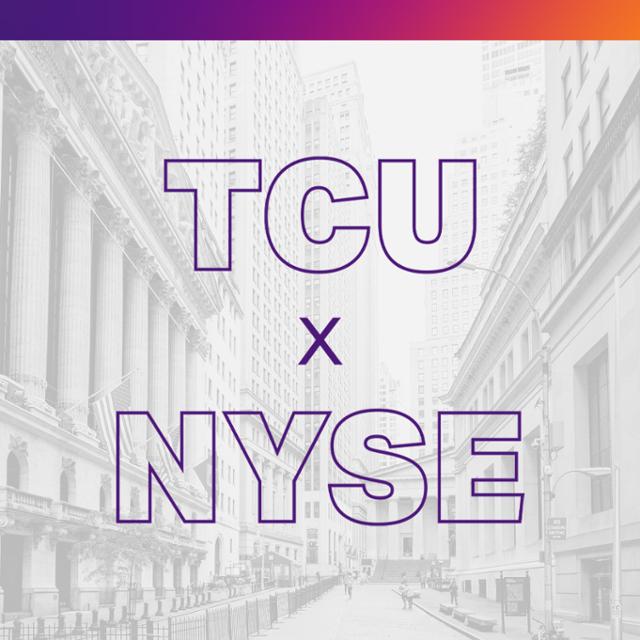 What better place to build excitement for TCU's moment to shine than on the national stage in Manhattan? TCU is headed to the nation's epicenter of media, business, and arts and entertainment to premiere its first Lead On mural and ring the iconic New York Stock Exchange Bell on Sept. 16.
At the NYSE, Chancellor Victor J. Boschini, Jr. will join Daniel Pullin, John V. Roach Dean of the Neeley School of Business, and other TCU leaders and alumni to celebrate 150 years of leadership and Neeley Horned Frogs leading in business and corporate roles.
TCU friends and family worldwide can be a part of this ceremonial event by watching a live stream of the NYSE bell beginning at 2:35 p.m. CST/3:35 p.m. EST on TCU's Facebook page. Students, faculty and staff are invited to watch from the Neeley School of Business Shaddock Auditorium.
TCU's Vision: A World-Class, Values-Centered University
TCU's 150th is a moment to engage and celebrate with all Horned Frogs – and we're just getting started. One key outcome is to invigorate our vision by re-examining, discussing and reaffirming TCU's values. This fall, TCU students, faculty and staff will participate in a campuswide exercise to set the stage for the next 150 years.
And in the final year of TCU's Lead On philanthropic campaign, we are closing in on our most ambitious goal of raising $1 billion to strengthen our people and our programs. Explore the transformative campaign that enables us to fulfill our commitment to our students – and our mission within the global community. Help us finish strong and celebrate the successful completion of this historic community effort in 2023.
Whether you're a new Horned Frog who's just getting started, a fourth-generation Horned Frog, a valued member of our faculty and staff, an honored alum or somewhere in between – this celebration is for you. Get ready, and join us this fall as we Lead On to TCU's 150th!