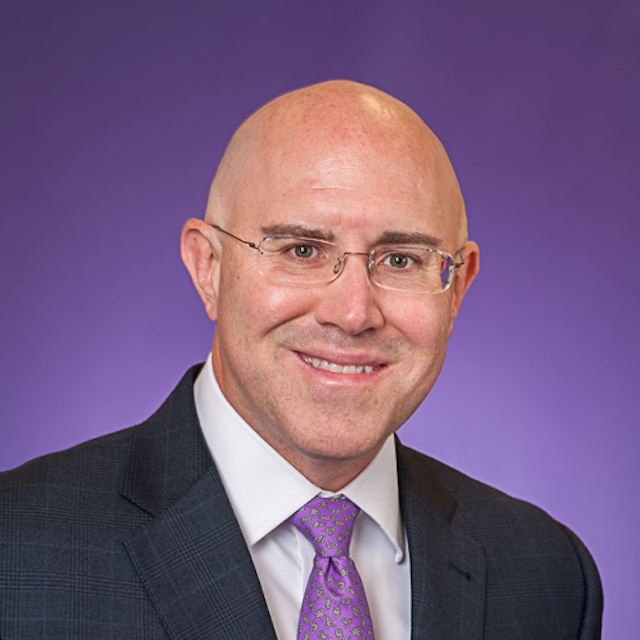 TCU announced Ron Pitcock, Ph.D., has been named Dean and Wassenich Family Endowed Chair of the John V. Roach Honors College following a nationwide search. Pitcock joined TCU in 2001 and has spent the past 15 years in the Roach Honors College.
"Dr. Pitcock is dedicated to enabling Honors students to reach their highest potential," said Provost Teresa Abi-Nader Dahlberg. "Over the past two years, he has excelled in leading the Roach Honors College as an interim dean. Dean Pitcock has the skills and commitment to lead faculty, staff and students in envisioning and realizing the aspirations of this diverse and dynamic intellectual community."
Pitcock will lead the Roach Honors College to strengthen student engagement and success; embrace and foster TCU's culture of connection; champion diversity, equity and inclusion; inspire innovation within the classroom; and identify philanthropic opportunities.
"As dean, I look forward to the continued work of forming and bolstering partnerships with faculty, college leaders, university programs and the Fort Worth community," Pitcock said. "Going forward, I will prioritize strengthening the Roach Honors College as a collaborative hub for high-impact learning and creative inquiry and propelling it to national and global prominence as a model of student engagement, innovative learning and academic and inclusive excellence."
"Dr. Pitcock's dedication to our students and their academic experience is a wonderful example of TCU's 'Lead On' spirit," said TCU Chancellor Victor J. Boschini, Jr. "His leadership honors the families that have generously supported the Honors College over the years. The Wassenich Family Endowed Chair, established by Linda and Mark Wassenich, is named for a family that passionately supports student success through mentoring and advising. The John V. Roach Honors College, made possible by Paul and Judy Andrews' generosity, recognizes Mr. Roach's longtime legacy of supporting academic excellence and his belief that through education, a person can achieve anything."
In his role as assistant dean and interim dean, Pitcock extended his pedagogy internationally, developed a nationally recognized philanthropy curriculum and created and administered a new, more equitable admissions process. Additionally, Pitcock served as the director of prestigious scholarships for TCU and held the J. Vaughn and Evelyne H. Wilson Honors Fellowship. He has taught interdisciplinary honors courses on topics ranging from giving and philanthropy to cultural memory and from writing to values. Pitcock's focus on enhancing teaching and learning for Roach Honors College students has received national attention. His Nature of Giving colloquium and his partnership with The Philanthropy Lab have helped influence curricula at universities across the nation.
Pitcock has received numerous awards for teaching, research and mentorship, including the 2002 Promising Researcher Award from the National Council of Teachers of English, the 2003 TCU Honors Professor of the Year, the 2009 TCU Inspirational Professor Award and the 2010 Wassenich Award for Mentoring in the TCU Community. In 2012, The Princeton Review named him among the Best 300 Professors in the United States, and in 2019 he was honored with the Fort Worth Business Press Corporate Philanthropy Award for the Nature of Giving colloquium.
Pitcock earned his A.B. at Wabash College, M.A. at Indiana State University and Ph.D. in English and American literature, with specializations in American rhetoric, literacy and culture at the University of Kentucky.
His term as dean will begin June 1, 2022.