Texas Christian University and Brite Divinity School bestowed degrees on 733 students from 40 states, including Texas, and from 25 foreign countries in two formal ceremonies held in the Ed and Rae Schollmaier Arena on the TCU campus. August and December degree candidates participated in the ceremonies. Students received their diplomas from Chancellor Victor J. Boschini, Jr., who also delivered the commencement address.
"Thank you for choosing Texas Christian University," he said. "We will continue to work hard to make you proud and increase the value of your TCU diploma."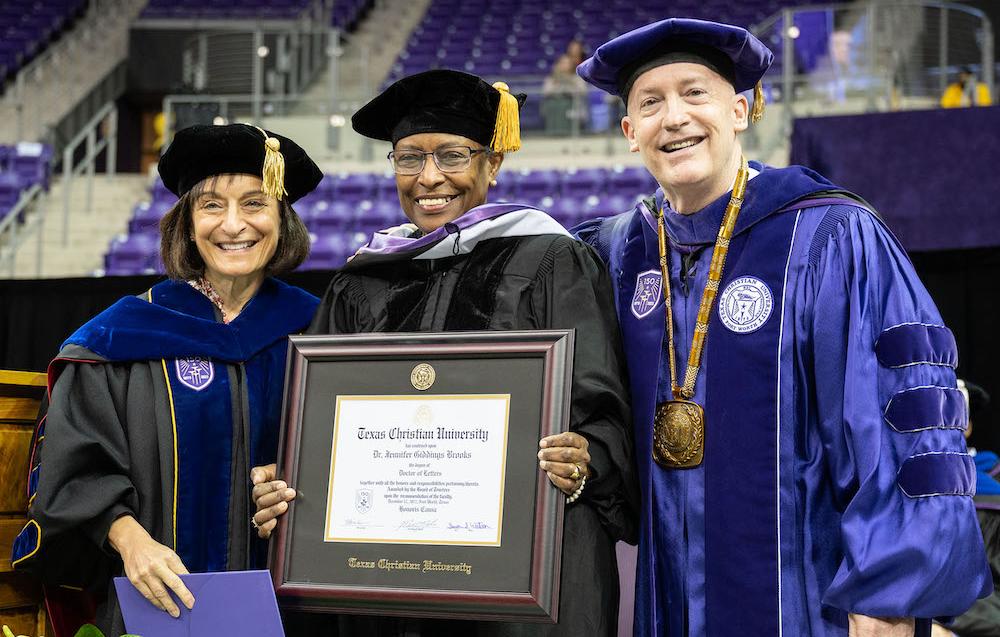 TCU presented a Doctor of Letters, honoris causa to Jennifer Giddings Brooks, Ed.D.
Brooks earned bachelor's ('71) and master's ('74) degrees in speech pathology from TCU and a doctorate in education from Texas Woman's University. During her time at TCU, Brooks was involved in student government and was the first Black TCU student tapped for membership in the Mortar Board national honor society. In 1970, she became the first Black homecoming queen at TCU and in the Southwest Conference. Brooks has a distinguished record in educational administration and is deeply committed to her community. In 2021, her portrait was unveiled at the Dee J. Kelly Alumni & Visitors Center at TCU.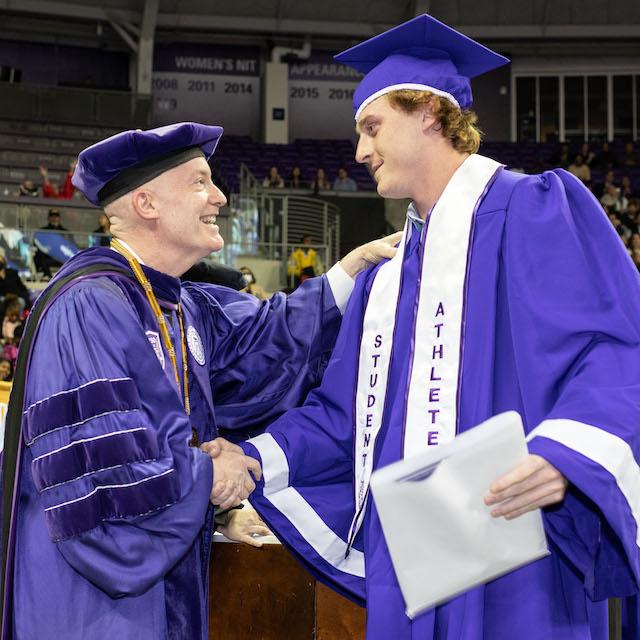 The day's ceremonies also featured 25 student-athletes, including Max Duggan, Heisman Trophy finalist, Davey O'Brien winner and quarterback of the College Football Playoff-bound TCU football team. Duggan earned his diploma from the TCU Neeley School of Business.
Of the total number of degree candidates, 527 earned bachelor's degrees, 104 were master's degree candidates, 86 were doctoral candidates and 16 were Brite Divinity School graduate candidates. One hundred fifty-one graduated with Latin Honors: 92 cum laude, 30 magna cum laude and 29 summa cum laude. Six students earned a perfect 4.0 grade point average.
"Good luck on your journey of life," Boschini said. "All of us left behind here on campus look forward to watching your success from afar."
The morning ceremony featured 299 students receiving degrees from AddRan College of Liberal Arts, the College of Fine Arts and Neeley School of Business. The afternoon ceremony highlighted 434 candidates receiving degrees from Brite Divinity School, Bob Schieffer College of Communication, the College of Education, the College of Science & Engineering and Harris College of Nursing & Health Sciences.