Eric Wood, director of counseling and mental health, is spending the summer months sharing his research and experience with his Comprehensive Collaborative Care Model with others.
"Our country's mental health crisis is one that will not be solved alone," said Wood. "In order to address the challenges of our college students, we must collaborate with others and share what we've learned with one another."
Wood has worked to collaborate with and host a day of information-sharing for regional universities, publish an e-book and give presentations and offer leadership in the college mental health space. The Comprehensive Collaborative Care Model focuses on the use of a multi-track system of counseling, dedicated triage and crisis response services, along with peer support communities and community partners to meet the needs of students.
University Collaboration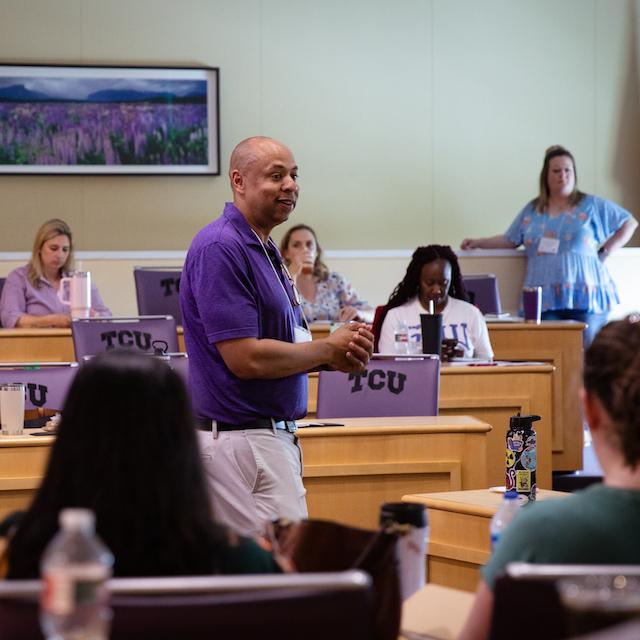 TCU hosted several universities this month to share its model and discuss mental health in higher education. Baylor, Southern Methodist, Texas Woman's and Tarleton State universities joined the University of North Texas, the University of Texas at Dallas, Texas A&M University-Commerce, Brigham Young University-Idaho and University of Texas at Arlington.
"My initial plan was to invite four to five schools, but the interest was high," Wood said. "It gave us an opportunity to discuss TCU's peer support communities, triage and crisis services and more. In turn, we were able to hear about other institutions and their programs – what's working well and what their challenges are."
The event also showcased TCU's partner programs, such as equine therapy, substance abuse counseling and intensive outpatient programs, displaying how working with community partners is part of successful collaborative care.
Sharing Knowledge
Wood recently presented at a meeting of the Statewide Behavioral Health Coordinating Council. This Texas appearance followed his presentation to a national think tank in Washington D.C. earlier this year. Additionally, he was named president of the Texas University and College Counseling Directors Association.
"I am pleased for the opportunity to elevate TCU among our peers and be a leader in this issue. First and foremost, however, I am pleased for the topic of mental health – specifically mental health in our college students – to be at the forefront," said Wood. "This is far too big and critical of an issue to be explored by one person or one institution in a silo. We must all work together."
Wood is also making available an e-book, in which 100% of the funds go to helping students receive specialized services on campus. A New Narrative for College Mental Health provides "four key objectives that every campus counseling center should obtain." This book highlights datapoints and national trends, while detailing how collaborations with community and campus partners can significantly increase the capacity of any campus counseling center.
On June 13, Wood will host a faculty/staff discussion and Q&A about college mental health and how you can to take action and support TCU's Comprehensive Collaborative Care Model.
Read more about the Counseling & Mental Health Center and the Comprehensive Collaborative Care Model.