NBA star and youth advocate Desmond Bane '20 was the latest Horned Frog to represent TCU alumni Leading On in their professions. Tennessee alumni joined TCU leadership to celebrate a stunning mural of Bane, also featuring his quote, "No one achieves their dream alone." The university is highlighting notable Horned Frog leaders with a series of hand-painted, large-scale murals in cities across America.
"In this room tonight, we have immense talent to celebrate TCU's 150th anniversary," said Chancellor Victor J. Boschini, Jr. to a crowd that included Nashville alumni, music and sports industry leaders, TCU families and donors. "I'm always proud to be a Horned Frog, but tonight I'm truly overwhelmed with the diversity of talent on display. We have a room full of thriving alums, parents and fans."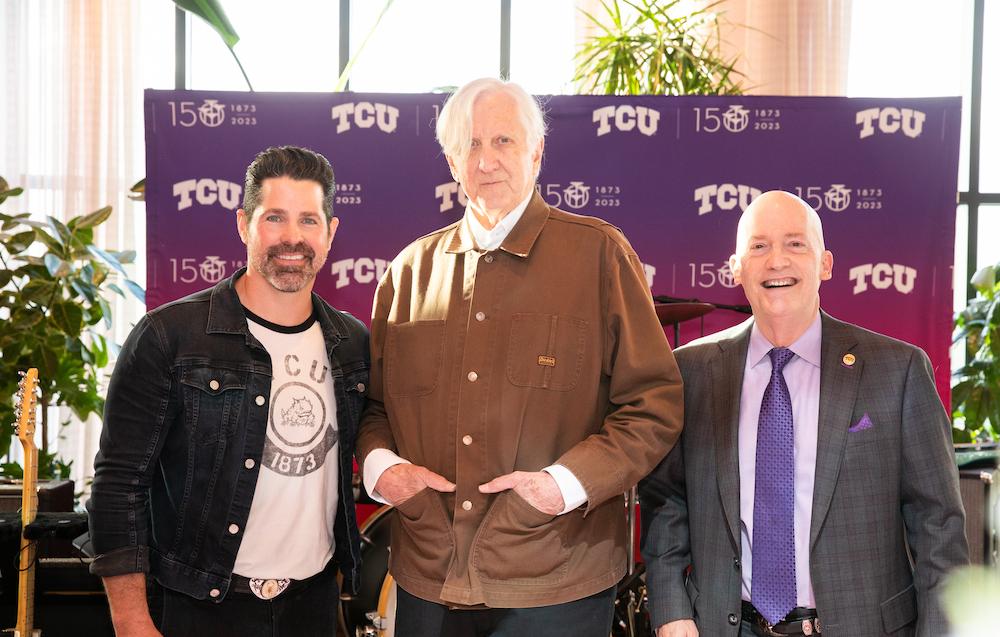 Other famous Horned Frogs joined in the evening, including legendary musician and producer T Bone Burnett and singer/songwriter JT Hodges '00, who performed with his band.
The star, of course, was Bane.
"I believe in all the kids who come to TCU. Every student has the potential to change the world, but we saw something special in Desmond," Boschini said. "Coach Jamie Dixon saw not just talent, but a spark of inspiration and humanity. And, since that time, Desmond has been inspiring others. Tonight, we're not just honoring him because he is a star athlete. We are honoring who he is."
The player for the Memphis Grizzlies is a College of Education graduate who is dedicated to helping generations of students build a better future. He sponsors basketball camps, backpack drives and other opportunities using his platform as a professional athlete to inspire and motivate kids. His major at TCU was youth advocacy.
"I chose youth advocacy because of my love for my community and my love for kids who are in the same position as I was growing up," Bane said. "I want to be that light and guidance for them to help them reach their goals."
Concluding the evening with TCU's alma mater, Bane, Boschini and Dixon were joined by several honored guests, including College of Education Dean Frank Hernandez, Director of Intercollegiate Athletics Jeremiah Donati and Tatum Talley '20, Bane's fiancée.
The mural featuring Bane is 20 feet high and 45 feet wide. It is located in Nashville and will be on display through May 1. The state capital provided a central location and large metropolitan area to recognize a star of the state's home team. The bold mural, painted in TCU's signature purple, is accented with the Sesquicentennial year creative featuring a prismatic purple sunrise gradient. It features a photorealistic portrait of Bane and unique, dynamic lettering featuring his inspiring quote: "No one achieves their dream alone."
It is the third mural in the TCU series recognizing outstanding individuals that represent TCU's alumni leading on in extraordinary ways. The first two murals were unveiled in New York City and Los Angeles and spotlighted alumnus John Devereaux '12 of "Hamilton" and alumna Katherine Beattie '08, a producer/writer for "NCIS" and wheelchair athlete.
The next mural project will take place in Chicago in June, and the final mural will debut in Fort Worth in fall 2023.