TCU leaders and California Horned Frogs celebrated Katherine Beattie '08 with the launch of her large-scale mural in Los Angeles as part of TCU's 150th anniversary. The university is highlighting notable Horned Frog leaders with a series of hand-painted, large-scale murals in cities across America. This mural focuses on the Bob Schieffer College of Communication graduate, wheelchair athlete and writer/producer of the popular TV show NCIS.
"Katherine is an amazing human being, and she represents what we believe is the power of all Horned Frogs out there," said Chancellor Victor J. Boschini, Jr. to a crowd of TCU alumni, Katherine's family and NCIS collaborators and area leaders. "After 20 years at TCU, I continue to be amazed at the talent I see in action every day."
As part of Beattie's work, she has become an advocate in Hollywood for inclusion and the portrayal of people with disabilities in film. The TCU event featured a special viewing of a mini-documentary on Beattie and surprise guest Kurt Yaeger, an actor who worked with her on NCIS.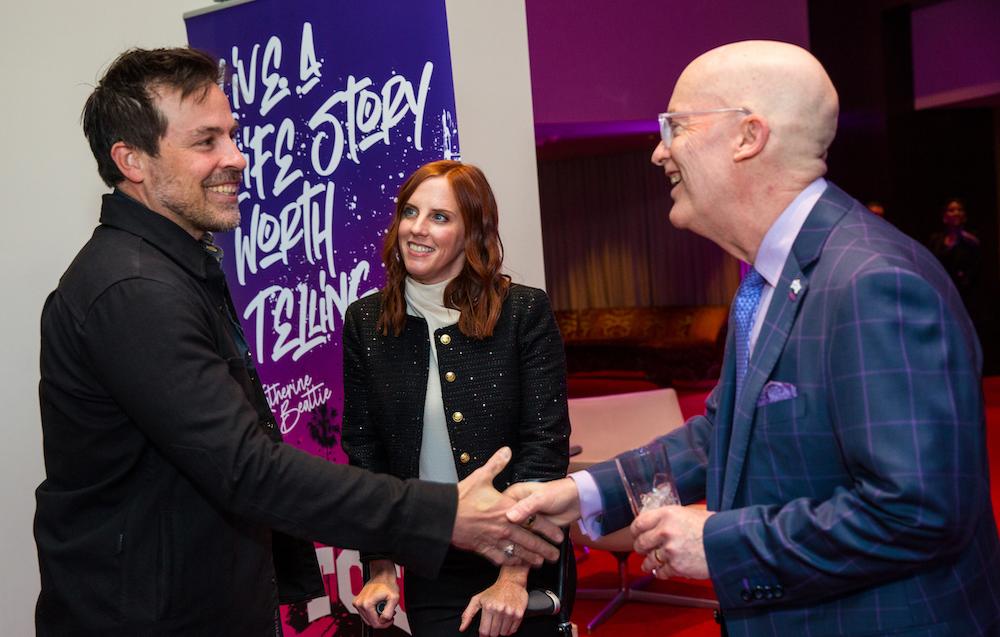 "She's an advocate by what she does in the film business, not by saying someone else should do it for her," Yaeger said. "She's actually doing it."
Beattie credited her TCU experience for contributing to her success.
"I am so grateful to everyone at TCU for broadening my worldview, helping me develop empathy, and tapping into the person I wanted to be," said Beattie. "It is so meaningful to be celebrated like this and to know that I am viewed as a leader in my community."
The ceremony concluded with a toast to Schieffer College, TCU board members and TCU alumni and, of course, a Riff Ram, which was led by TCU Trustee Glenton Richards. Also on site: SuperFrog.
The mural featuring Beattie is 56 feet high and 32 feet wide and is located on Hollywood Boulevard and N. Gower Street on the side of the iconic Fonda Theatre. The bold mural, painted in TCU's signature purple, is accented with the Sesquicentennial year creative featuring a prismatic purple sunrise gradient. It features a photorealistic portrait of Beattie and unique, dynamic lettering featuring her inspiring quote: "Live a life story worth telling."
The first mural in the series was unveiled in New York City and spotlighted alumnus John Devereaux of "Hamilton." Other mural subjects and locations will be announced soon, with the final mural debuting in Fort Worth in fall 2023.