TCU brought its 150th anniversary festivities to the nation's capital this week. In one visit, the Student Government Association returned to Big 12 On the Hill, TCU was recognized on the House floor, and TCU leaders and D.C. Horned Frogs gathered to celebrate.
"TCU's rise from a regional college to a nationally recognized university with one of the strongest academic missions is no accident," said Chancellor Victor J. Boschini, Jr. "I'm particularly proud of our student participation and alumni engagement in all of our Sesquicentennial events at our nation's capital. We are here because of the incredible leaders who came before us, as well as the leaders who sustain us today."
Big 12 on the Hill is a two-day opportunity for student government leaders to meet with a variety of legislators to discuss issues related to higher education. It was the first convening since the event was suspended for the COVID-19 pandemic.
An American flag that was flown over the Capitol Feb. 27 will now be proudly displayed at a to-be-determined location on TCU's campus. Later this Sesquicentennial year, the flag will be added to a time capsule containing TCU artifacts.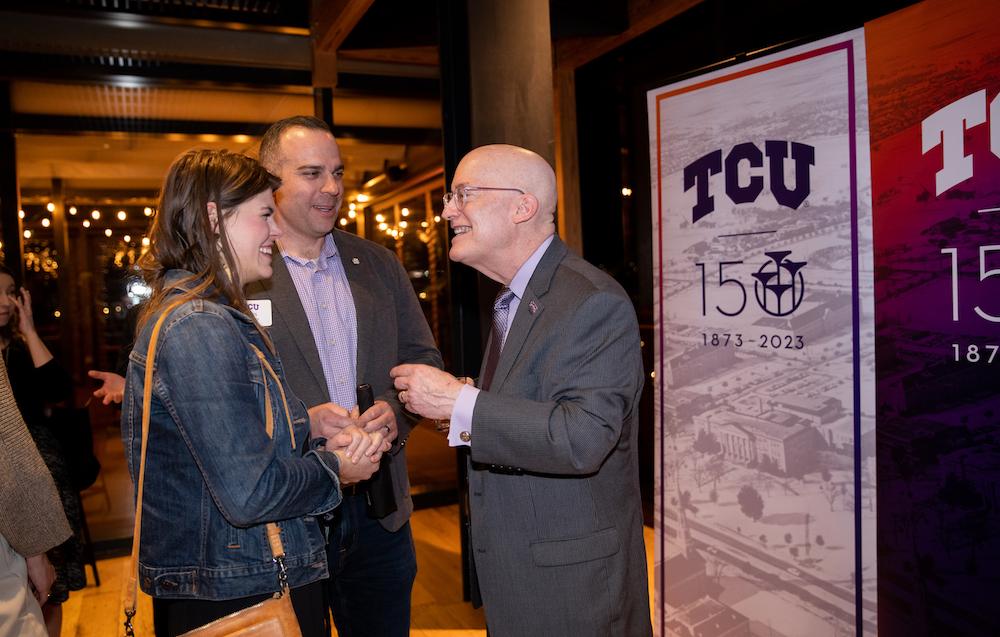 The visit featured a small reception to engage and gather TCU leaders and D.C.-area alumni, as well as thank special guests, including the Honorable Congresswoman Mariannette Miller Meeks '76, the Honorable Congressman Jake Ellzey and the Honorable Congressman and TCU Trustee Roger Williams '72, who delivered the recognition of TCU on the House floor beforehand.