The renovated Sadler Hall is now open and holding classes. The building provides a new home to the John V. Roach Honors College, Academic Advising, TCU Global, the Faculty Affairs Office, and the departments of Comparative Race & Ethnic Studies and Women & Gender Studies – now within the AddRan College of Liberal Arts. Also located in Sadler is the Koehler Center for Instruction, Innovation & Engagement. The building includes classrooms, team rooms, student lounges and other needed space.
Among its features, the construction added accessible ramps on the east side of the building, new finishes and aesthetics and a reworked lobby.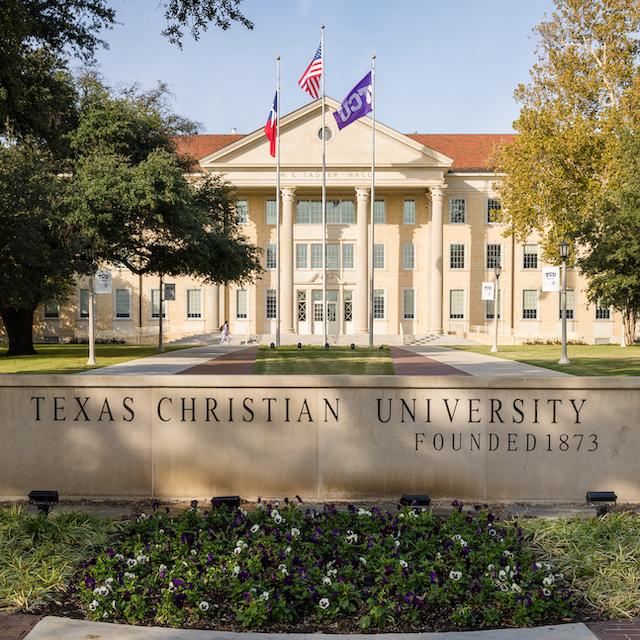 "The lobby is such a significant change from the prior design that it still takes my breath away," said Brooke Ruesch, director of project management. "I think the natural light, views and overall quality of the classroom spaces in this building will make it highly desirable for class scheduling.
She said that, in many ways, it exceeded her expectations.
"Overall, it's a beautiful building that our team is very proud of and hopes the university enjoys," Ruesch said.
Teresa Abi-Nader Dahlberg, TCU provost and vice chancellor for Academic Affairs, said the new home elevates TCU academically.
"A new, designated, exceptional academic home at the center of our campus speaks to the importance that TCU places on student success, faculty development and academic achievement," Teresa Abi-Nader Dahlberg, TCU provost and vice chancellor for Academic Affairs, said. "The new Sadler Hall will help us recruit, retain and support even more academically talented faculty and students."
Sadler's renovation follows the 2020 completion and move of administration offices to The Harrison, which brought together administrative departments into a single location, returning valuable square footage to academic use across several facilities and creating a new campus entrance from West Berry Street.
Built in 1960, Sadler Hall was named in honor of Chancellor MacGruder Ellis Sadler, who led the university from 1941 to 1965. Before his retirement, the campus grew from eight buildings to 29.