Horned Frogs showed up from coast to coast to support TCU Football at their first appearance in the College Football Playoff National Championship game. While the Jan. 9 game didn't end the way anyone hoped, TCU fans were happy to cheer them on from near and far.
"I'm so excited to be here cheering on the Frogs. I love being surrounded by people rooting for the team," said Kayla Sobyak, a junior traveling with her family. "At the first of the season, my dad said, 'You need to go to every game this season. This is a special team.' We ended up going to almost every game, home and away. It brought my family together as well as my friends."
Evie Richardson, directory of treasury and finance at TCU and a 16-year employee, made the trip to Los Angeles, as she did to the Rose Bowl in 2011. But this one was bigger.
"This is the College Football Playoff. This is the big one, she said. "Us being here isn't just for us. It's for all the small private schools."
TCU was the first team in Texas to reach the playoff or the championship. Ashley Bigbee '05 traveled with her husband from Kansas City and was thrilled for the unofficial reunion it provided.
"It's so fun to be here," she said. "I'm running into so many people I went to school with."
The Los Angeles weekend brought Horned Frogs together all weekend with an official tailgate hosted by the TCU Alumni Association and a pep rally on the Santa Monica Pier where thousands of attendees created a sea of purple. Fort Worth Mayor Mattie Parker and numerous special guests representing the university and the city joined several TCU leaders, such as Chancellor Victor J. Boschini, Jr.
"TCU has had an incredible season, and we are proud of every moment that got us here today. This was a tough game, but our team showed their grit on the field and off – we couldn't ask for more. Their heart and character won us fans across the globe," he said. "I speak on behalf of every Horned Frog everywhere when I say, congratulations on a game-changing season, and thank you to our student-athletes, to our coaching staff led by Sonny Dykes, fans and especially to our students for their support and spirit. We're just getting started – go Frogs!"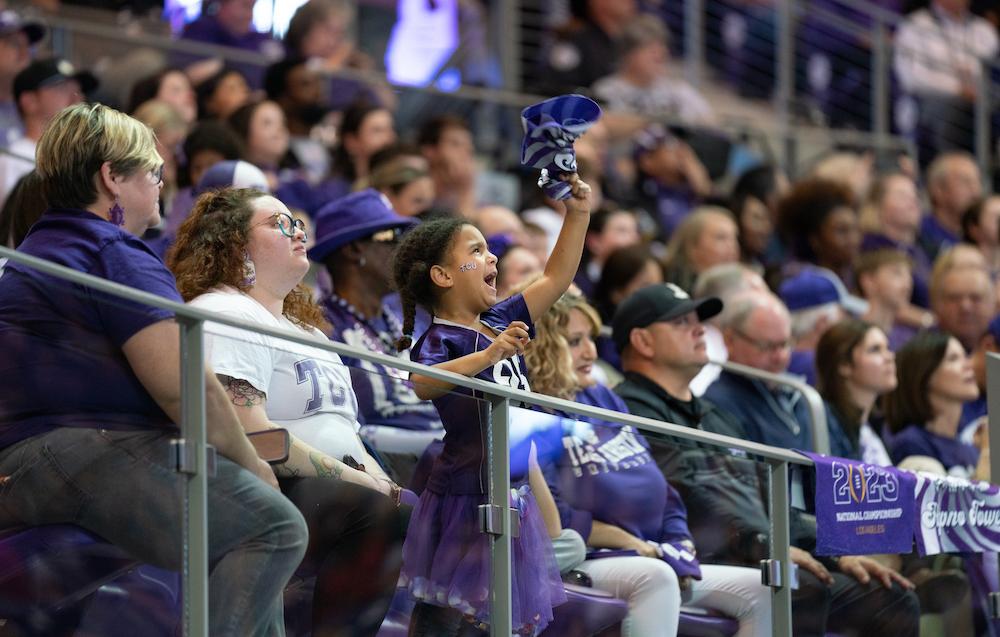 At home, a watch party at the Ed and Rae Schollmaier Arena hosted Horned Frogs to cheer on the team. Paula Richardson, a TCU staff member attended with her grandson.
"I'm so excited that we made it to the championship. My grandson was so excited about coming to the arena and the event. He's 8, and he just bleeds purple," she said. "I've always been close to the Horned Frogs. I had friends graduate from here and I work a lot of the events here. I love the people. I love the employees. It's great."
Susan Rahrovi '17 and an advisor in the Harris College of Nursing & Health Sciences, also attended the watch party.
"I didn't necessarily think TCU would make it this far, but I've always had faith in the Frogs," she said. "I'm most excited about the national coverage that this opportunity gave to our small school in Fort Worth."