Main Content
Native American & Indigenous Peoples Initiative
The Land that Became the TCU Campus Was Native Americans' Home For Millennia. That's Important to Know.
Because our campus sits on ancestral homelands of Wichita and Affiliated Tribes who lived here for generations, the ground we walk on daily at TCU serves as a teaching tool for empathy, reverence and understanding.
We're developing programs to help Horned Frogs learn and respect the sovereignty and contemporary presence of Native American nations and the historical trauma of Native Americans and Indigenous Peoples.
This is how we work together to find a healing path forward.
Our Native American and Indigenous Peoples Monument
Before TCU came into existence on the Texas prairie, this land had been an ancestral homeland for generations. In October 2018, following years of collaboration, TCU dedicated a monument acknowledging all Native American peoples who have lived in this region, especially the Wichita and Affiliated Tribes.
Physical forms can be a powerful teaching tool, and the monument's placement on campus has meaning on many levels. It offers learning opportunities related to diversity, equity, and inclusion, including understanding the monument itself, the process behind its design, and the broader historical context it represents.
Native American and Indigenous Peoples Day Symposium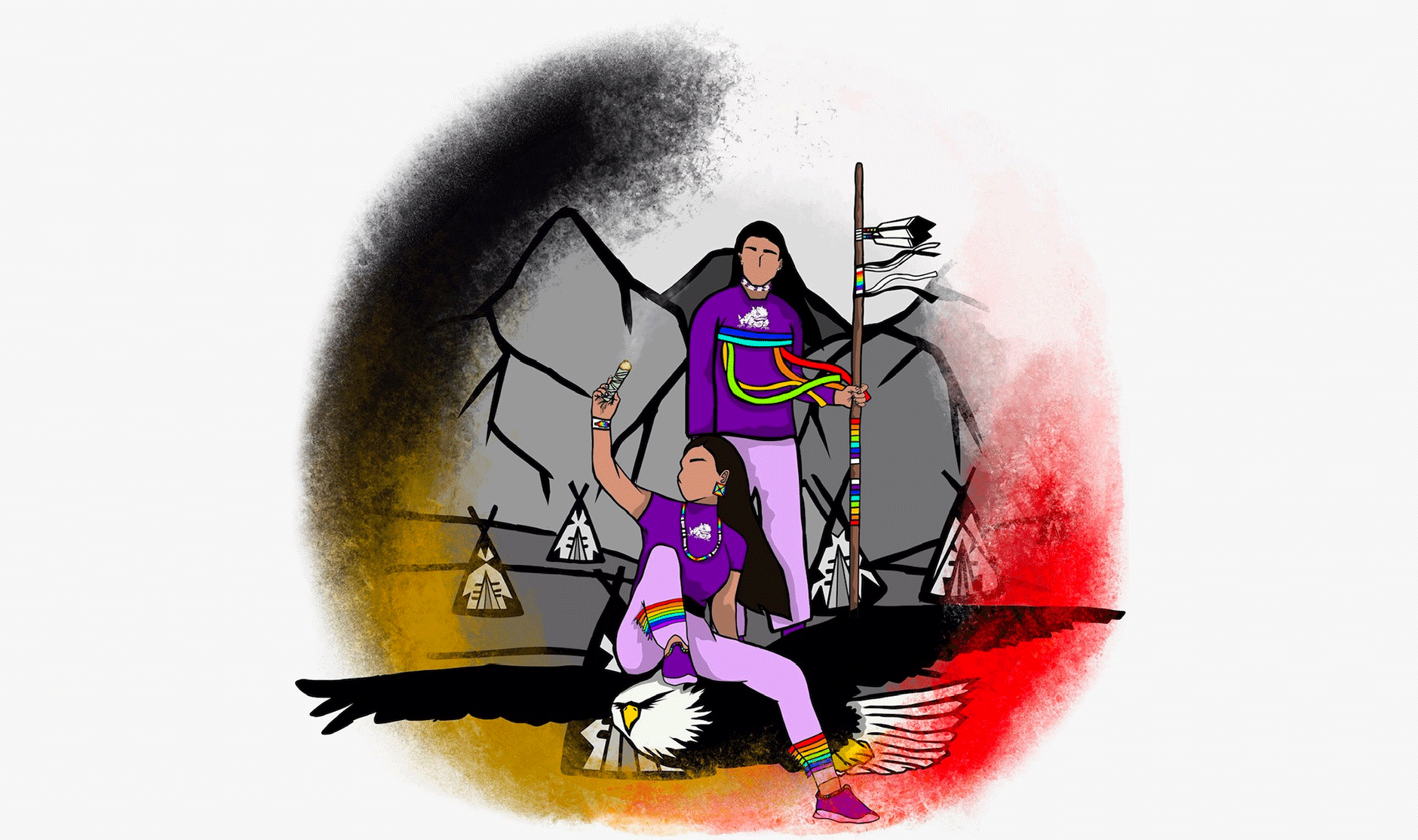 TCU's sixth annual Native American and Indigenous Peoples Day symposium will be held on Monday, October 3, 2022.
We thank our generous sponsors: Office of the Provost, Office of Student Identity & Engagement, Women & Gender Studies, and Native and Indigenous Student Association
About the symposium logo

The image includes a native man and woman who are in shades of purple to highlight TCU's pride and color. They are wearing urban traditional clothing such as a ribbon shirt, ribbon pants, and beadwork jewelry. The Indigenous man is holding a prayer stick to signify that our journey is guided by prayer and by our ancestors to help guide us through the future decisions we make. The woman is holding burning sage to represent the healing and blessings that we strive for as we continue to thrive and increase representation in every aspect that we want to be included in. Both the Indigenous people are riding on top of an eagle which is a sacred animal to many tribal nations and also is a way of prayer and blessings. I wanted the image to be of the past, present, and future all in one image. The medicine wheel is included as the portal between the past and future in this artwork. The black and white image inside the portal shows teepees and mountains and land to signify both how some tribes in the area we reside once lived and also how the common perception of Native Americans is viewed in society. As Native people, we are always looked at as something of the past and everything is typically black and white. I included multiple colors on the regalia of the Indigenous people to signify how rich and diverse our cultures are. We are people of different nations, cultures, customs, and symbols that are sacred to us. If you attend powwows you would see the different uses of colors and I believe incorporating colors is important when thinking about Native people because we have a bright future and have always been prideful, beautiful, and expressive.
My name is Deante' Moore and I am an enrolled member of the Gila River Indian Community. I am Black, Akimel O'odham and Tohono O'odham. I have been creating art since I could write, and it is important for me to incorporate all aspects of myself when I create a piece.
"Don't be afraid of history's facts. Great nations, great people, take responsibility."
— Scott Langston, liaison for Native American Nations and Communities
Leadership & Advisory Circle
In 2020, Provost Teresa Abi-Nader Dahlberg appointed Scott Langston, religion instructor and leader of Native American programs at TCU, to a newly created three-year position as liaison for Native American Nations and Communities.
Dr. Langston has established an advisory circle comprising Native Americans from within and outside of the university. This group will help guide TCU on positive ways to make Native Americans feel seen, respected, supported and part of the campus community by:
Developing partnerships between TCU and Native American nations and communities
Educating our campus regarding Native American history and perspectives
Reaching out to Native American communities about TCU
Helping guide curriculum with courses and programs reflecting Native American perspectives
Imagining new spaces to support Native American students, faculty, staff and alumni