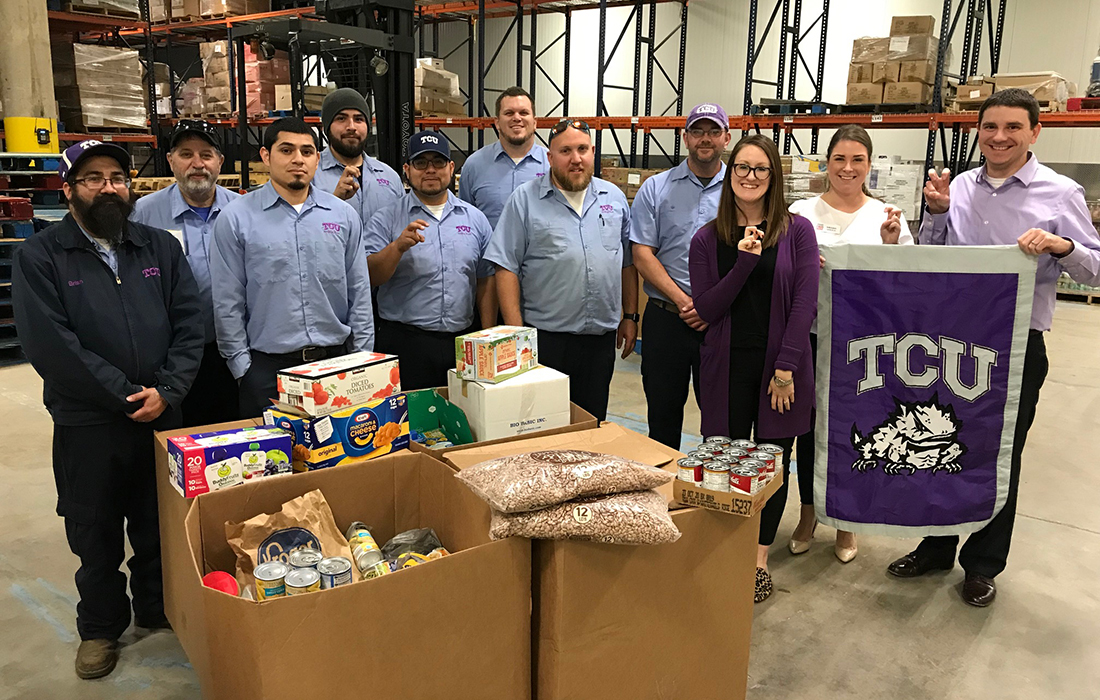 Frogs Feed the Fort Food Drive Generates 19,290 Pounds of Food
November 27, 2018
(This article by Shelley Hulme was originally published in TCU This Week on Nov. 26.)
The Center for Connection Culture's inaugural food drive, Frogs Feed the Fort, has set a high bar for future events as faculty and staff donated 26,477 canned goods and other non-perishable items to benefit the Tarrant Area Food Bank.
That donation equates to 19,290 pounds of food and will provide more than 16,000 meals for hungry individuals and families in our community.
A component of the food drive was a friendly internal competition among the 34 employee teams. Team Neeley #2 took first place with 2,728 donations, and they will enjoy lunch with the Chancellor at his home in January. Team Enrollment took second place with 2,326 donations and Team HR/Marketing & Communication took third place with 2,292 donations. Special thanks to Facility Services for delivering the items to the food bank.
"Our goal is to bring about connection and camaraderie among faculty and staff in fun and, sometimes, competitive ways. The food drive necessitated working together to have a chance to win, and many people got to meet co-workers they didn't know," said Dana Sweatman, executive program specialist. "The overwhelming response demonstrates not only the generosity and passion of our faculty and staff but our desire to make a positive impact in our community."
Read more in TCU This Week.