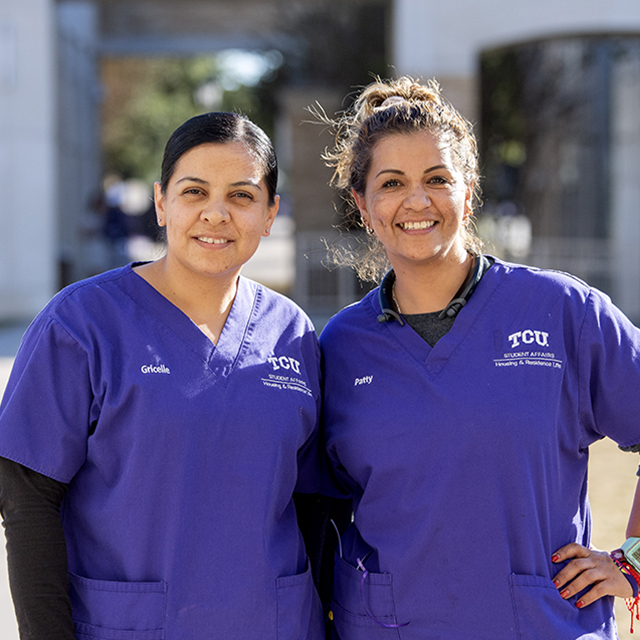 Texas Christian University a Great College to Work For
September 16, 2019
TCU repeats as an Honor Roll institution
For the ninth consecutive year, Texas Christian University has been selected as one of the 2019 Great Colleges to Work For® with special designation as an elite Honor Roll institution. TCU was one of 85 institutions recognized (out of 236 that participated), and one of 42 represented on the Honor Roll as being stand-outs in their size categories.
TCU was recognized in eight categories this year:
Collaborative Governance: Faculty members are appropriately involved in decisions related to academic programs.
Professional/Career Development Programs: Employees are given the opportunity to develop skills and understand requirements to advance in their careers.
Teaching Environment: Faculty members say the institution recognizes innovative and high-quality teaching.
Compensation & Benefits: Pay is fair, and benefits meet the needs of employees.
Facilities, Workspace & Security: Facilities adequately meet needs, the appearance of the campus is pleasing, and the institution takes steps to provide a secure environment.
Job Satisfaction and Support: Provides insight into the satisfaction with job fit, autonomy, and resources.
Confidence in Senior Leadership: Leaders have the necessary knowledge, skills, and experience for institutional success.
Supervisor/Department Chair Relationship: Supervisor makes expectations clear and solicits ideas.
Chancellor Victor J. Boschini Jr. said, "It is a tremendous honor to be recognized again as one of the Great Colleges to Work For,® and it is especially meaningful that this acknowledgment comes directly from our faculty and staff. We invest in our people, harnessing their potential and supporting them to make a difference in the world. This award demonstrates significant progress in our continuing journey to be a world-class, values-centered university, and I am grateful for everyone's contributions."
The Great Colleges program included a two-part assessment process: a survey (ModernThink Higher Education Insight Survey©) administered to faculty, administrators, exempt professional and non-exempt staff, as well as adjuncts at two-year colleges, and an institutional questionnaire that captured employment data and workplace policies and practices from each institution. The primary factor in deciding whether an institution received a Great College to Work For recognition was the employee feedback.
Rich Boyer, senior consultant at ModernThink, said, "The institutions recognized in this year's Great Colleges to Work For program don't wait for problems to occur to pay attention to their people. Conversely, they're intentional (and successful!) in being good stewards of their institutions' cultures and shaping the day-to-day experience of their faculty and staff to the ultimate benefit of their students."
TCU, with a student population of more than 10,000, is one of the Top 100 Universities as ranked by U.S. News & World Report and employs 3,184 full- and part-time faculty and staff. TCU's Board of Trustees is working to expand the University's strategic plan, Vision in Action: Lead On. The expanded vision focuses on key areas that will strengthen the academic profile and reputation of the university; strengthen the endowment to provide more student scholarships and endowed faculty positions; strengthen the TCU experience and campus culture; and strengthen the workforce, both employees and graduates.
For more information and to review all the results of the survey, visit the Great College Program website.