Department of Social Work Partners to Impact Community's Mental Health
February 25, 2020
The TCU Department of Social Work is joining The Morris Foundation and Mental Health Connection of Tarrant County in an effort to bring meaningful training to the Fort Worth community and help local agencies become more aware and responsive to the impact of psychological trauma.
"This is an excellent partnership where a TCU unit, a foundation and a local provider are coming together to serve the community in an innovative way," said James Petrovich, Ph.D., associate professor and chair of TCU's Department of Social Work.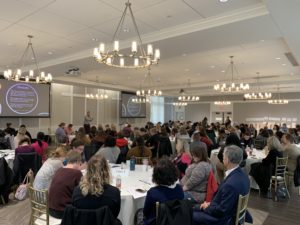 The initiative kicked off this month with a public lecture via the Green Honors Chair, a program sponsored by the Office of the Provost that brings distinguished guests to campus to provide new ideas and stimulation.
A two-and-a-half-day training followed for about 40 agencies and 150 people, including the Fort Worth and Birdville independent school districts, Fort Worth Police Department, JPS Health Network, ACH Child and Family Services, SafeHaven of Tarrant County and Lena Pope Home.
"Trauma affects our community at every level, and Fort Worth has done a lot to train practitioners on how to work with patients and clients in a more trauma-informed way," said Petrovich. "However, by ensuring organizations themselves are trauma-informed, it strengthens the care survivors receive, and it promotes a healthier workforce."
This training was made possible by a $15,000 grant from The Morris Foundation, a local private foundation dedicated to making a path of success for the community's most vulnerable.
"The Morris Foundation recently unveiled their new strategic plan, and one of their initiatives is that Fort Worth become a more trauma-informed community," Petrovich said.
The partnership will continue for a year, providing continuous support and evaluations in order to gauge the benefits.
"We have a long history of partnership and collaboration with The Morris Foundation," said Jason Byrne, TCU's senior director of corporate and foundation relations. "They identified a couple of key areas to help with, and one was homelessness, specifically as it relates to mental illness."
Byrne said he believes the partnership is full of potential in multiple ways: for students to engage in research and connection opportunities; for the community to benefit from added focus on such a broad issue; and for TCU to offer the expertise of the social work faculty through professionals like Petrovich.
Petrovich is leading the training and designed the subsequent evaluation. A member of the Mental Health Connection's learning committee, he is working in collaboration with the group, whose purpose is to revolutionize the local mental health service system by focusing on long-term change, as well as emerging needs.
"I came up with the concept for the training through my research that focuses on homelessness, my role in helping local homeless assistance agencies design and evaluate their programs and my past practice experience with groups experiencing trauma," said Petrovich. "The Department of Social Work is working to be more trauma-informed, integrating content about psychological trauma, adverse childhood experiences and resilience into our curriculum."
Petrovich was familiar with the community's work in this area, but said he felt like a key missing piece was local organizations being structured to respond to traumatized individuals in an effort not to re-traumatize survivors.
"We also want to help raise awareness so we can begin preventing trauma in the first place," Petrovich said. "We do know, however, that true culture change takes three to five years, so we are hoping to plant a seed that promotes long-term change by training internal trauma-informed 'champions' that will go back to their agencies and lead the charge."
He said the effort aligns ideally with the department's and Harris College of Nursing & Health Sciences' strategic goal to do transformative work in the local community.
"I am a community-engaged scholar who cares deeply about Fort Worth, especially its most vulnerable citizens," Petrovich said. "To be able to leverage TCU's resources to provide this training to the community—and do it in a way that we will be able to evaluate the effectiveness of the training—is a tremendous privilege, and I love that TCU supports this kind of work."