Harris College's Rural Health Initiative Shines During Coronavirus
April 27, 2020
While many nursing training hours have moved to simulated experiences during the COVID-19 outbreak, TCU's rural health initiative is sending more nurses into the field.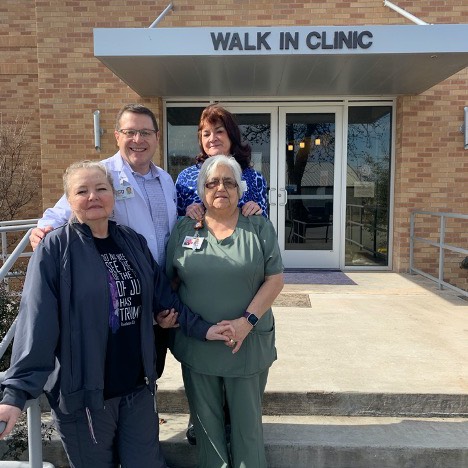 TCU is affiliated with 31 rural hospitals across the state of Texas, accounting for 62 percent of the clinical agreements for its Family Nurse Practitioner graduate program. FNP students were already completing clinical work in emergency departments, family clinics and long-term care facilities in these rural areas. Now their presence has added value.
"It has been a bit of a whirlwind with COVID," said Vicki Brooks, assistant professor of professional practice. "We did not pull them out but sent more into rural areas. Many of the local, larger health care systems and other large-city health care systems in Texas have not allowed students since COVID, but the rural areas have."
Most of these areas are single-hospital counties and are tagged a Health Professional Shortage Designation Area.
"This has been a big help in our current COVID situation," Brooks said. "I was able to move some other students to rural areas to complete their semester clinical hours. This is a bit ironic because my students are RNs and work in these larger health care organizations that have banned students."
The rural areas stood ready to accept their help. Texas has 254 counties, which average around 1,000 square miles geographically, Brooks said.
"Of that, 80 counties have five or fewer physicians, and 35 counties have no physician," she said. "Clinical shortage in rural areas is a leading driver to poor health outcomes in rural areas. These patients may travel hours to receive specialized care."
Because of this, the work students do is incredibly diverse.
"These students may see a 2-week-old infant and a 99-year-old geriatric patient in the same day," Brooks said.
Two hospital systems in Texas are supporting the rural health immersion for the TCU FNP students. Haskell Memorial Hospital in Haskell, Texas, and Rankin Hospital District in Rankin, Texas, provide food and lodging for students.
"Our goal is that one day, students will return to work in the rural health environment," Brooks said. "Times like this show just how very much they are needed."