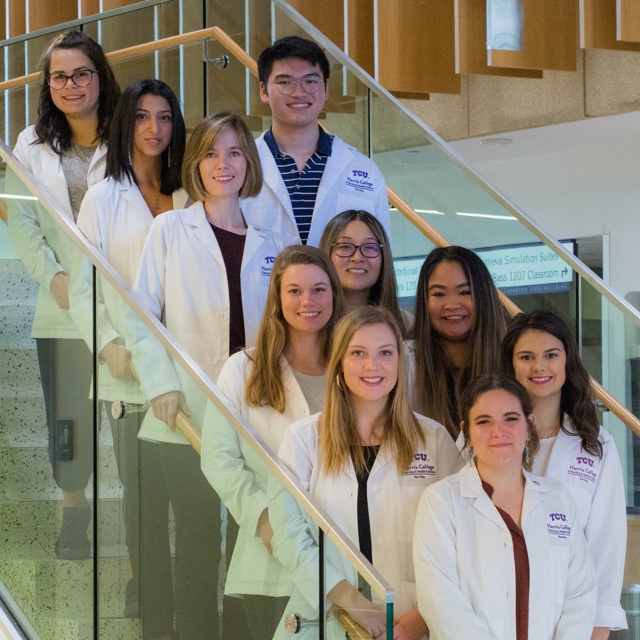 Harris Nursing Pioneers Geriatric Resource Nurse Credential
April 29, 2020
Caring for our community's older citizens is receiving unprecedented focus during the COVID-19 crisis. But focusing on seniors is not new for TCU. The university is the first known school in the country to offer students an opportunity to earn the credentials of a Geriatric Resources Nurse (GRN), allowing TCU to help fill a growing need.
The United States is on track to experience a "silver tsunami" when, by 2030, roughly 20 percent of the country's population will be 65 or older. This will bring a high demand for health care workers who understand how to work with an aging population who are living longer and dealing with increasing chronic health care issues.
"If you query nursing programs throughout the country, you'll find pictures of students with children, students with mannequins, but not with older persons. It's just not in vogue," said Diane Hawley, associate professor of professional practice in the Harris College of Nursing & Health Sciences.
When she surveys a room of students, she will often see hands go up for those interested in pediatric nursing or intensive care nursing, she said, but when asked about geriatrics, hands typically do not go up.
"We know it's not as glamorous, so we're trying to put the glitz in geriatrics for our nursing students," Hawley said.
The glitz may come in providing them the opportunity to graduate with enviable experience, marketability and employability. While most GRNs obtain their credentials only upon being employed at hospitals designated as NICHE (Nurses Improving Care for Healthsystem Elders), TCU's nursing students will have the opportunity to accomplish this during their two-semester clinical instruction.
Although clinical experiences are being fulfilled in other creative ways during this semester because of the COVID-19 outbreak, the clinical instruction is designed to include experience both in and out of the hospital setting.
It is often eye-opening.
"Students often only see older clients in hospitals when they are frail and sick. Many older patients are actually relatively healthy," she said. "It's a nice awakening for the students to see these older clients in more settings than the traditional curriculum allows. Although our creative instructional strategies are quality instruction, we look forward to getting this part of the program back on track following the unique coronavirus pandemic."
Geriatric nurses are asked to deal with a multitude of issues, including preventing falls, learning to communicate effectively, dealing with dementia and even caring for an older person's skin.
"This program is a huge value added to their resume," Hawley said.
The Harris program is officially called GET IN, which stands for Geriatric Enhanced Training In Nursing, and the effort started with the extension of a Health Resources & Services Administration (HRSA) grant in partnership with the University of North Texas Health Science Center, JPS Health Network and Texas Health Harris Methodist Hospital. Currently in its first year, the grant will fund the program for five years, producing 50 GRNs.
The pilot year accepted 10 students out of 17 applicants, a number Hawley considered successful out of 90 possible students. She expects the program to increase in popularity after the pilot students finish, and she hopes it will expand to allow for even more GRNs.
"I have the attention of Harris and TCU administration to consider expanding this," Hawley said. "We are filling a need in the community. I'm hopeful this need will now be more obvious than ever."
Photo by Alicia Hawley-Bernardez