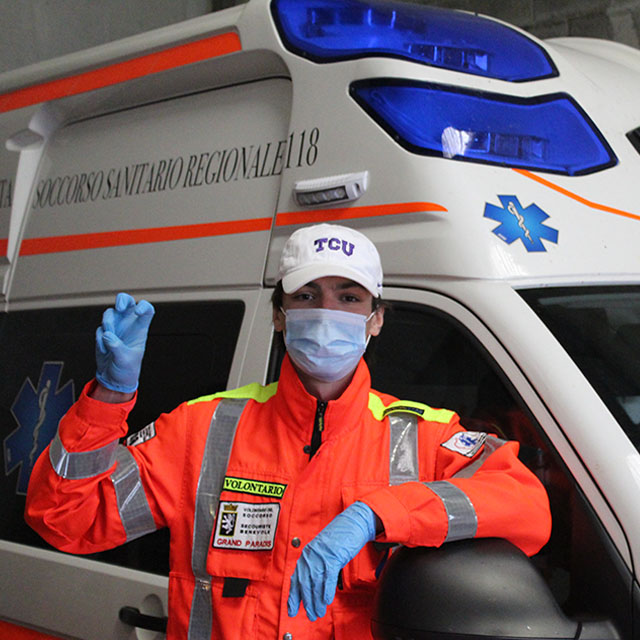 Horned Frogs Lead On, Wherever They Are
April 9, 2020
We're hearing stories daily of Frogs supporting their communities during these trying times. Here's a few that are sure to lift your spirit and inspire. If you have one to share, send it our way via news@tcu.edu.
TCU student offers assistance to neighbors in need
With on-campus events cancelled, classes moved online and social distancing implemented in the Fort Worth community, TCU student Katrina McCutcheon suddenly found herself with more time on her hands.
The senior biology major decided to use her newfound free time to offer assistance to her neighbors. She posted a message on her neighborhood Nextdoor site with her cell phone number and offered to run errands and deliver groceries for immunocompromised/elderly neighbors.
D. Jack Davis is a member of the Nextdoor page and was impressed with McCutcheon's offer. "My wife, a retired TCU faculty, and I are elderly. We have not contacted Ms. McCutcheon to date as we are doing well on our own, but I would not hesitate to get in touch if I had a need that I could not figure out a solution to," he said. "It certainly reminds us that there are still fine young people out there in spite of criticism which the younger generation often gets."
TCU student returns to Italian hometown; volunteers
Mere weeks before the COVID-19 pandemic escalated globally, TCU marketing student Paolo Bigiarinireturned to his hometown of Aosta, Italy, for a semester off. When he saw the impact the virus was having on his community, he decided to step in to help.
"Considering my experience as a firefighter and emergency medical responder (EMR) in Texas, I decided to do my part here as well," he said. Bigiarini is currently volunteering as an ambulance worker and is providing emergency medical care to the ill.
School of Medicine student sets up Facebook page to offer aid during pandemic
Not yet able to assist patients in a clinical setting, Juhi Shah is reaching out to help her local community through social media.
Upon returning to her hometown of Dothan, Ala., the first-year medical student at the TCU and UNTHSC School of Medicine, created a Facebook page titled "A Helping Hand: COVID-19 Errand Services by Juhi Shah" where she offers assistance to those impacted by the COVID-19 pandemic.
Visitors can fill out a Google form to request help, including delivery of supplies and groceries to front doors and assistance with running dire errands.
"I understand the havoc this pandemic has caused in our communities and throughout the world. Although I cannot serve patients quite yet, I have decided to help those in need in the best possible way," Shah said.
College of Science & Engineering donates PPE
The College of Science & Engineering is donating spare supplies of personal protective equipment (PPE), such as nitrile (exam) gloves, to three local agencies - Moncrief Cancer Institute, Tarrant County Homeless Coalition and Fort Worth Emergency Preparedness. Hannah Roth, a biology student, suggested offering donations and initiated contact with Moncrief Cancer Institute. "We were aware of the great work that Moncrief does and their potential need. They have been a great partner and welcome pre-health and nutrition students into their facility each semester to learn about cancer care and community health," said Matt Chumchal, director of the TCU Pre-Health Professions Institute and professor of biology.
Cook Children's Medical Center will receive a donation of new safety goggles from CSE's science labs.
Earlier this month, we reported on the Harris College of Nursing & Health Sciences donating PPE as well. Read the full story here.