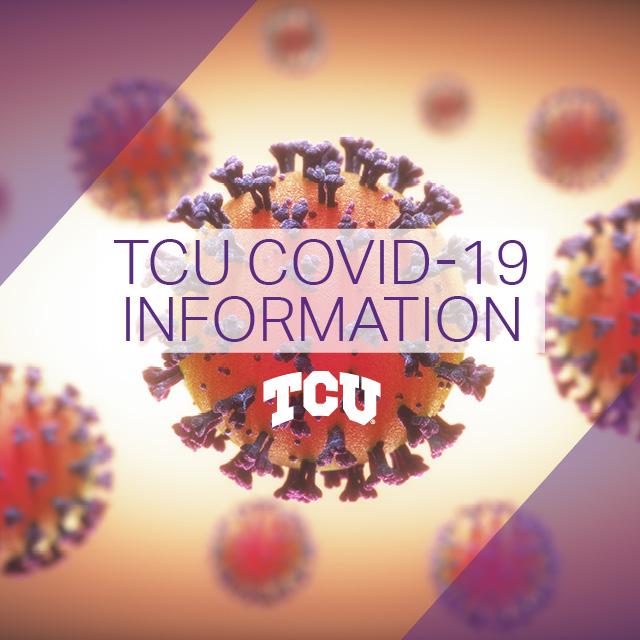 How TCU is Helping to Stop the Spread of COVID-19 with Tracking and Tracing
July 8, 2020
TCU Director of Emergency Management Sean Taylor is helping lead the charge to create the safest possible campus environment amid the coronavirus pandemic. Below he answers some frequently asked questions about TCU's current COVID-19 tracking and tracing procedures.
When did TCU start tracking COVID-19 cases?
ST: We technically started tracking the second we had our first identified case. We originally tracked it in a spreadsheet and released the positive test results one by one as they were reported. Once the number of cases in the Fort Worth area began rising, we started tracking the numbers in a software program we have for our Virtual Emergency Operations Center. We began posting the numbers on our COVID-19 microsite in mid-June.
Why is tracking so important now?
ST: There are so many cases within the Fort Worth community. With our workforce gradually coming back to campus right now and in order to be prepared for the return of students in the fall, we have to be able to isolate the people who are sick and ensure that anyone they were in contact with quarantines for 14 days to prevent any further exposure to the campus and keep everybody safe. Having a really good tracking/tracing program in place helps us stop the spread before it gets started and keeps it from escalating.
Where can I find TCU's current case count and how often is it updated?
ST: It's on TCU's COVID-19 microsite and it's updated every weekday before 5 p.m. As we get new case information throughout the day, we adjust that total.
Where does the data for TCU's case count come from?
ST: For students who test at the TCU Health Center, those numbers come directly from our health center staff on campus. We ask all faculty and staff as well as students who test off campus to call our hotline (817-257-2684) to self-report.
For the TCU COVID-19 case count posted online, what is considered an "active" case?
ST: An active case is anybody who has not met the Centers for Disease Control and Prevention criteria for recovery. We have what we call "TCU Care Coordinators." They work for TCU and follow up with people who have tested positive to connect them with resources and work with them for the duration of their illness. They can connect employees with Human Resources for leave or benefit information. They can connect students with Campus Life to provide any kind of support that they may need — for example, if they're taking classes online and need technology assistance while they're isolating.
At what point is an "active" case removed from TCU's case count?
ST: Cases are removed from the "active" case count list once they have met the CDC's criteria for recovery. So for someone who tested positive but didn't have symptoms, that's 10 days symptom-free or two negative tests in a row at least 24 hours apart. And then for someone who did have symptoms, it has to be at least 10 days after symptoms first appeared and they have to be fever-free for at least three days with improved respiratory symptoms.
Does TCU's case count only include people who are physically on campus?
ST: No. We include everyone within the TCU community who reports their positive COVID-19 test result in our case count.
What is the difference between "direct" and "indirect" on-campus impact?
ST: "Direct" means there is a potential exposure to campus—somebody who was on the TCU campus within 48 hours of their symptom onset. "Indirect" refers to a member of the TCU community who tested positive but hasn't been on campus during their illness, so there shouldn't be any exposure to the TCU community itself. That could include students, staff and faculty as well as any workers associated with contractors with a presence on campus. Our contractors have informed us if one of their employees who has been on campus tested positive, and we publish that data as well.
Why is TCU including positive test results for those with indirect on-campus impact?
ST: There are several reasons. It is important for us to know about indirect-impact cases so we can provide them with support and services as well as prevent further spread. It's also important for people to know that there's spread within our community. We're trying to provide our community members with the data that's available for their own awareness. If they know how many cases we have, it's helpful with their decision-making and encourages them to take extra precaution.
Is TCU doing contact tracing?
ST: Yes. If somebody calls the hotline to report a positive COVID-19 test result or someone tests positive at the Health Center, we take all of their information and find out with whom they have been in close contact. A TCU care coordinator will work with them, who will assign contact tracers to follow up with their close contacts and inform them of their potential exposure; if needed, we will provide instructions for how to quarantine for 14 days. A close contact would be anybody who was within 6 feet of the COVID-19 positive person for more than 15 minutes in the 48 hours before their symptom onset. We look for everybody they came into contact with during that two-day period, and we will then call all of those people and follow up with them.
If I call the hotline to report my positive COVID-19 test result, will you give out my name?
ST: For HIPAA purposes, we do not release the name of the individual who tested positive unless they give us permission to do so. When our contact tracers call, they inform the close contact: "You were at this location and you were around somebody who tested positive for COVID-19. Have they made you aware of your potential exposure?" And sometimes the close contact will say, "Yes, I've already spoken with them." If they haven't already been informed, then we will give them a little bit of information about where they were and what that potential exposure was like, but we don't release the personal information of the sick individual unless they give us permission to do so. It is helpful for our tracing if they do give us permission. It is more challenging when you can't say their name, but we will respect that request.
Is there a way to find out if I've been exposed to someone who tested positive for COVID-19 and had "direct on-campus impact"?
ST: Our contact tracers will follow up with people who are close contacts. If it's an employee, we will work with supervisors to determine who was there each day within a potentially affected location to discover who may have been exposed. We are proactive and contact people if there is potential exposure, but if someone has question about exposure or they thought that they may have been in contact with somebody who has COVID-19, then they can call our hotline (817-257-2684) and we can follow up with them just to be sure.
Is the contact tracing process the same for someone who tested positive and had "indirect on-campus impact"?
ST: Yes. If we have students who test positive for COVID-19 who are off campus, we will work with their close contacts to get them tested and quarantined as well.
What should I do if I get a positive COVID-19 test result and I've been on campus recently?
ST: Call the hotline — 817-257-2684.
Do I need to report a positive COVID-19 test result if I haven't actually been on campus but I've been in the community near campus?
ST: Yes, please go ahead and report it to us so we that we can connect you to support services through a TCU care coordinator.
What additional precautions can I take to protect myself when I'm on campus during this pandemic?
ST: Follow the CDC, state and local guidelines. The main things you can do are wear face coverings, stay 6 feet away from others, wash your hands frequently, practice good hygiene and avoid large gatherings, especially if indoors.