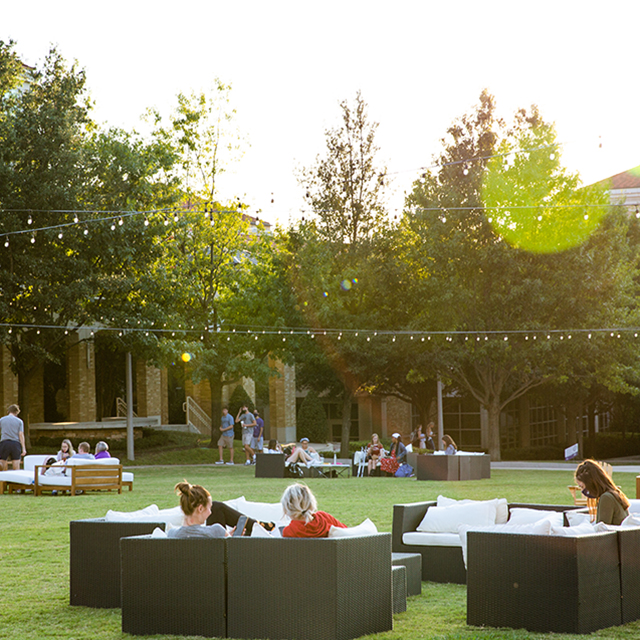 New 'Community Commons' Give Students A Safe Place to Gather
October 2, 2020
TCU students now have new spots to hang out and connect with fellow Horned Frogs. Three new outdoor areas in the expansive Campus Commons area have been transformed into the Community Commons – places for students to meet, engage and have fun. There, students will be able to interact safely in-person – bringing a sense of community and energy to the Campus Commons that has been sorely missed since the beginning of the pandemic – all while physical distancing.
"The pandemic has been hard on all of us in so many ways. As humans, we have an intrinsic need to be in community with each other," Chancellor Victor J. Boschini, Jr. said. "Social distancing protocols have made that 'togetherness' a real challenge — but we are constantly seeking new ways to help our students connect during this unprecedented time."
Activities in the new Community Commons outdoor spaces debut Oct. 1 with "Giant Yard Games on The Green," featuring oversized games of cornhole, chess and checkers. Friday night includes a food truck and an outdoor movie — Ferris Bueller's Day Off. And on Saturday, students will enjoy an ice cream truck while watching the Horned Frogs and Longhorns on the video board.
The Community Commons space is divided into three new venues:
Town Square
Near the BLUU, additional outdoor furniture augments the seating outside Chick-fil-A and a stage on the brick circle to host live music, DJs and open mic nights. Plans also call for hosting local vendors in an open-air marketplace from time to time.
The Living Room
In the center of the greenspace, six outdoor living rooms invite students to engage and connect with fellow Horned Frogs in comfy small group settings. Rustic furniture, Adirondack chairs and propane fire pits under a canopy of string lights provide the perfect setting to relax with old friends and new.
The Green
The free-flowing open space in the upper part of the commons leaves plenty of room for socially distanced activities, such as yard games, wellness events, yoga, mini golf and events with theCrew. The area also can accommodate food trucks as well as a giant LED video board for game days and movie nights.
"We're getting so much good feedback from students about what they're enjoying and what they need, and we're just trying to respond the best way we know how — more space and more opportunities for interaction," Brad Thompson, assistant director of Student Activities, said. "We're hoping different student organizations and academic departments will use their imaginations about how they can use the space. We're giving people somewhat of a blank canvas, and we're excited to see how they use it."
The rest of the Commons' (physically distanced) social calendar is filling up fast:
Oct. 5: Open Mic Night, main stage, 6 p.m.
Oct. 6: Netflix Night, The Living Room, 6-8 p.m.
Oct. 7: Flu Clinic, Town Square, 8 a.m.-4 p.m.
Oct. 8: theCrew Arcade, Town Square, 5-7 p.m.
Oct. 9: Food Truck Friday, 6-8 p.m. and Movie Night with theEnd, 8 p.m.
Oct. 10: TCU vs. Kansas Game Watching Party, time TBD
Oct. 12: Open Mic Night, main stage, 6 p.m.
Oct. 13: Mini Golf Course on The Green, 6-8 p.m.
Oct. 14: theCrew Event, Town Square, 5-7 p.m.
Oct. 15: Caricature Artist, The Green, 6-8 p.m.
Oct. 16: Food Truck Friday with Heim BBQ 6-8 p.m. and Movie Night with theEnd, 8 p.m.
To book Community Commons space for an academic department or student organization, contact Brad Thompson at j.b.thompson@tcu.edu.
Stay up-to-date with events - https://studentactivities.tcu.edu/commons/