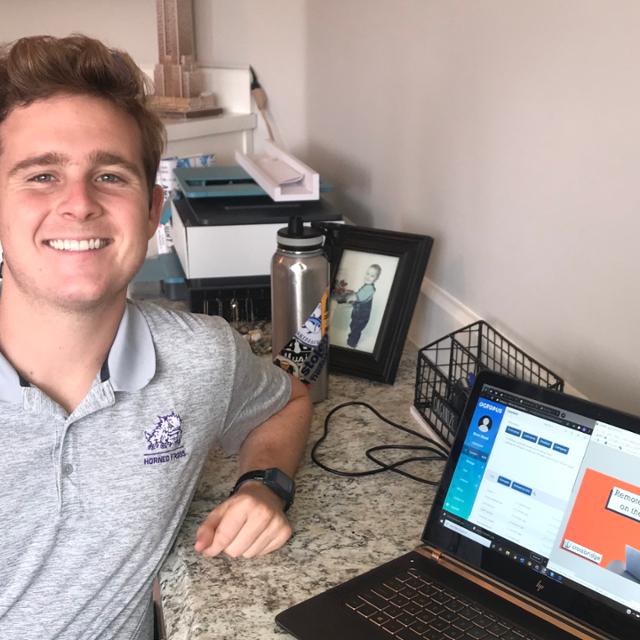 Pandemic Disrupts, but Doesn't Derail Student Internships
July 18, 2020
When the global coronavirus pandemic first swept across the nation, spring classes weren't the only learning experiences forced online — many internship opportunities also went virtual.
"When things went online this spring, we immediately transitioned our Intern Scholarship Program guidelines to allow for virtual and remote internships, and we also extended the eligibility requirements to allow graduating seniors to apply for internship funds as we knew their full-time job search or offers may be impacted," said Mike Caldwell, executive director of TCU's Center for Career & Professional Development. "Overall, we approved summer scholarships totaling just over $150,000 for 128 TCU students and recent grads. So for spring and summer, our internship numbers were closely in line with previous terms."
Founded in 2013, the Intern Scholarship Program provides TCU students with financial support to secure and complete local, national and international internship opportunities. Funded by generous donations from foundations, programs and individuals, the program has provided upwards of $2 million to support 1,200-plus students completing internships in 30 states and 30 countries.
Caldwell, who took the reins of the career center a year ago, said he's been impressed with TCU students' ability to continue to secure outstanding jobs and internships during the pandemic. "They have demonstrated tremendous resilience, adaptability and perseverance during these challenging times. They are both building and demonstrating the skills that employers need for the economy and workforce of the future."
Practicing resiliency
Rising junior Nolan Dearborn continued with his summer plans to intern with Crossbridge Global Partners Inc., a nearshore technical staffing company based in Yorba Linda, California — 10 minutes from his home in Orange — but the pandemic curtailed some of his opportunities. "Thankfully, it's a small enough organization where we've been flexible to adapt; however, it's not the same caliber of experience that I would've gotten under the expected circumstances. A part of my internship was going to be a business trip to our offices in Mexico to discuss strategic partnerships, conduct research and expand our resources," he said.
As a business development/technical operations intern, Dearborn — who knew the company CEO from church and had kept in touch — works primarily in client development, organizing and scheduling meetings with potential new clients, helping with onboarding and ensuring clients get the most from Crossbridge's services. He also helps connect software developers and engineers in the company's Mexico offices with its U.S. clients' talent acquisition teams. And he's put his technical skills into action automating tasks within the organization. He works from home two days a week and reports to the office the other three.
Dearborn will complete his internship in August with more resiliency than when he started in May.
"Holding your ground when nothing seems to be going your way is a strength that I could not be more thankful for being able to develop this summer," he said. "The biggest takeaway is that you must be willing and eager to learn in any situation. You have to humble yourself in a way that removes your ego, allowing yourself to grow."
Dearborn is majoring in business information systems and philosophy.
"My current goals are to utilize technology in a way that truly empowers and improves the lives of the underprivileged. Not many people combine technology with humanitarian action, and I want to take strides in that direction."
Learning to lead
From the beginning, incoming senior Lauren Casby knew her summer internship as a social media manager for the Fort Worth Vaqueros amateur soccer club would be virtual, but amid the pandemic, her part-time work blossomed into full-time hours.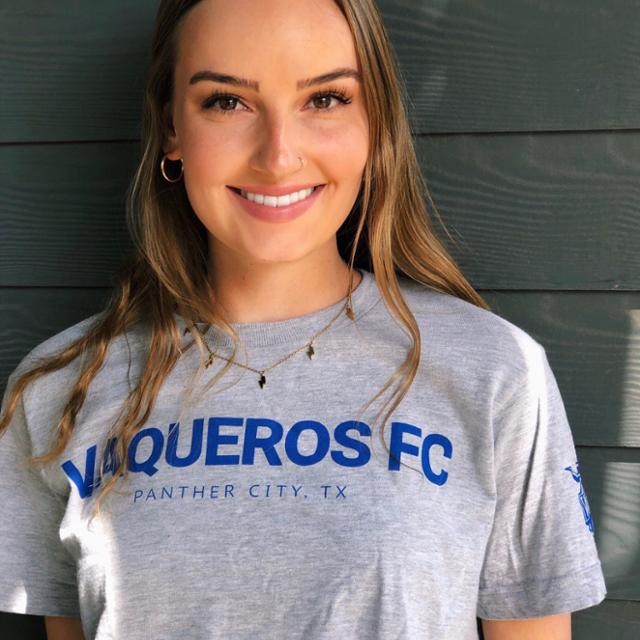 "When I first talked with the GM, he let me know that I could do everything virtually, should I want to go home to Denver, or if I were to find another job. That made it a little easier once everything started to close due to COVID-19," she said. "At first it was going to be more of a part-time internship and I was hoping to do something else as well, but with everything that went on, it became more full time."
Casby, a marketing major/Spanish minor, found the internship thanks to a lead from Kelsey Gentry, associate director of the Alcon Career Center in the Neeley School of Business. Her primary responsibilities are posting and creating content on different social media platforms.
"There have definitely been adjustments," she said. "Because it is a soccer team, their summer season was cut at the beginning. This forced the team to transition to esports until they were given the clearance to play in person again — which was not until very recently."
But Casby hasn't had any trouble with the virtual aspect of her internship. She and her boss discuss ideas and plans regularly via phone and Zoom.
"The biggest impact this internship has had on me is pushing me to lead as an intern," she said. "I have been given a lot of freedom and independence. I am not told exactly what to do; I am given more general ideas of what they are looking for, and I go from there. After being an intern for a few months now, I already feel more confident in my skills and ability."
Following graduation in 2021, Casby plans to pursue a career in the sports or cosmetics industries. "I have a strong passion for both," she said. "There are many different areas of marketing, but my main interests are in social media, advertising, promotion and brand management."
Pivoting in the pandemic
When COVID-19 began shutting campus down in the spring, the Center for Career & Professional Development, rated #8 Best Career Services by the Princeton Review, accelerated its efforts to transition its resources into virtual formats. "The job market has changed so much in just the past two to three years with things like video interviews that we were in a pretty good position to move a lot of our programs and services online," Caldwell said. "We already utilize several technology platforms to continue career support for our students, alumni and employers."
Throughout the spring and summer, the center has continued to provide 1-to-1 student career consultation appointments, virtual employer programs and easy access to job and internship postings and announcements. The staff added resources to prepare students for video/virtual interviews and increased access to virtual Q&A sessions. In addition, Neeley's Alcon Career Center team built new online resources to connect alumni with students and provide additional student support resources.
"We are currently planning a hybrid mix of services, programs and events for students this fall," Caldwell said. "We are exploring options to provide students with networking connections with employers — in-person, if possible — while also working to develop effective virtual programs. Since spring, we also are meeting regularly with our key employer partners to hear how they are responding to this new job market and ways that we can keep our TCU students connected to their organizations."
Perhaps a silver lining is that the uncertainty of 2020 has reinforced the value of early preparation, Caldwell added. "Start the career process early, build those connections, engage often. That hard work can result in strong outcomes."