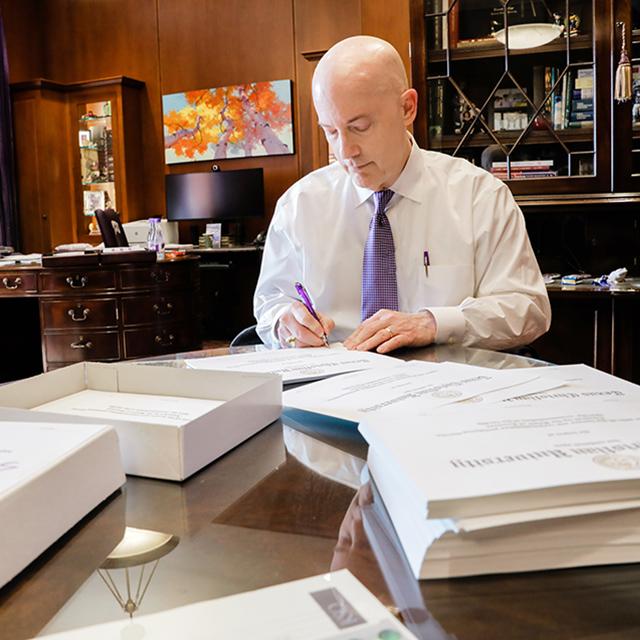 Celebrations Are in Order for the Spring Class of 2020
May 4, 2020
Chancellor Boschini has put his purple pen to work.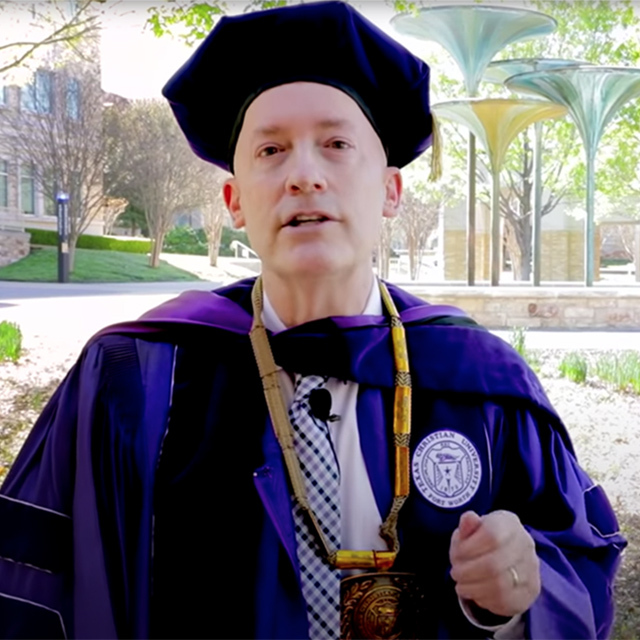 In keeping with a longstanding TCU tradition, the chancellor is hand signing each one of the 2,000+ diplomas that will be mailed to graduates in the Class of 2020, who completed their degrees online after the coronavirus pandemic shuttered classrooms over spring break.
The personal touch is especially poignant this year.
Through a series of "Candid Conversation" videos, the chancellor has expressed deep regrets to the graduating seniors who would be normally be gathering in Ed and Rae Schollmaier Arena on May 9 for commencement. In a March 27 video, he donned his academic regalia and announced that TCU will hold an in-person commencement ceremony on Saturday, August 8, with many of the same traditions of a May commencement, including the popular Senior Toast dinner.
"We're going to give you one last look at TCU," Boschini assured viewers. "One last long conversation with those kids you met freshman year. We're gonna try to give you one last discussion with one of your favorite professors."
Response to the announcement has been resoundingly positive. About 750 Horned Frogs have already RSVPed to the Senior Toast, set for August 7.
The August 8 commencement ceremony will follow the format of past exercises, with programs at 9 a.m., 1 p.m. and 5 p.m. in Schollmaier Arena. Since summer classes and programming have transitioned online, this event will mark the first large gathering on campus in several months. The days leading up to commencement will be filled with related activities and photo opportunities, including the John V. Roach Honors College laureate ceremony on Friday afternoon.
One TCU tradition for graduating Horned Frogs, however, is already in the books.
Senior Sunrise, a chance for students to gather and watch the sun come up over Amon G. Carter Stadium on the last day of the semester, was presented through TCU social media this year, making it possible for students and an even wider array of Frogs to share the moment without setting a clock.
Alumna Taylor Baxter commented, tagging TCU friends: "We actually get to see the sunrise now!"
Speaking of "the Carter," the stadium will be aglow in a special purple light on May 8, as a special tribute to commemorate the 2020 senior class.
For information and updates about the upcoming graduation activities, visit Commencement.tcu.edu