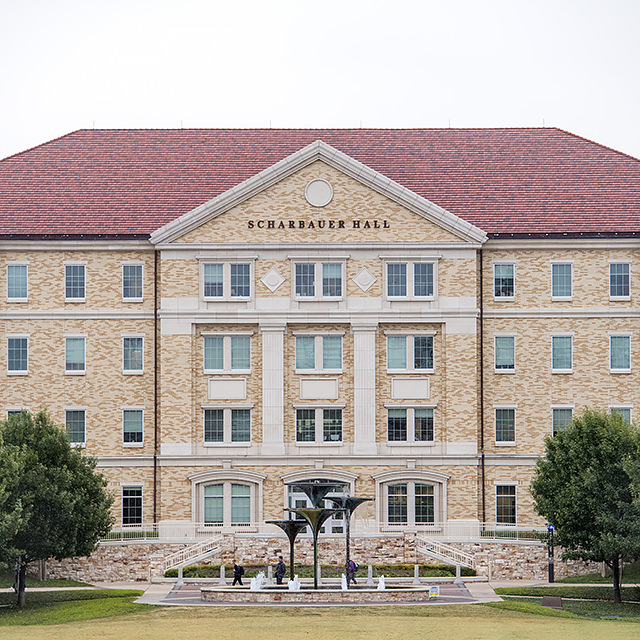 TCU Experts Respond to COVID-19
April 17, 2020
COVID-19 continues to dominate news coverage and headlines worldwide and TCU faculty are offering their expert opinions to news media on a variety of subjects related to the global pandemic. Below are highlights of coverage from April 6 to April 15.*
*For previous stories, read coverage from April 5.
April 15, 2020 – #AskReuters, "How is COVID-19 affecting small businesses?"
Reuters news organization asked the questions, then rounded up a dozen experts for answers, including Michael Sherrod, the William M. Dickey Entrepreneur-in-Residence at the TCU Neeley Institute for Entrepreneurship and Innovation. Stay tuned for a full recap of this event in TCU This Week on Monday, April 20.


April 14, 2020 – BeautyIndependent.com, "Will the lipstick effect hold in this economic downturn?"
Leonard Lauder, chairman emeritus of Estée Lauder, coined the term "lipstick effect" to describe the uptick in lipstick sales in hard economic times. Research by Sarah Hill, professor of social psychology in the College of Science & Engineering, concludes that while looking good in past recessions may have caused women to be more appearance-conscious to "compete" for fewer affluent men, COVID-19 has restricted interactions, thereby tamping down mating pressures and lessening the lipstick effect that occurred in previous times of financial distress.


April 13, 2020, MSN.com, Caller Times, "COVID-19 and Holy Week: Texas faith leaders spread message of hope, renewal"
Lance Pape, associate professor at TCU-affiliated Brite Divinity School, says that the pandemic has a story it is telling about isolation, death and fear. He says that "Easter has a counter-story to all three of those things. It's telling a story about community, it's telling a story about life, it's telling a story about the courage to live that comes from trusting God."


April 13, 2020 – Mmegi online, "Of leaders, politicians and the electorate will"
Like other countries, Botswana has struggled with the impact of declaring a state of emergency over the COVID-19 pandemic. At stake is whether politicians care for their electorate or place the interests of their party and its leader before the will of the people. A research paper by Erik Kojola, assistant professor of sociology in AddRan College, notes that U.S. legislators don't always respond to public opinion or the will of their voters. However, he adds popular opinion may play a larger role in shaping the positions of elected officials when there are clear signs of a major shift about what the public strongly feels about one side of an issue.


April 9, 2020 – Fort Worth Star-Telegram, "TCU going online-only for summer courses during coronavirus crisis, with a twist"
The Star-Telegram's Drew Davison covered TCU's announcement to continue online classes through the summer. Kate Marshall, distance learning director in the Koehler Center for Instruction, Innovation, and Engagement, explains that hybrid courses "offer students an interactive experience with faculty members and their peers as they progress through the course." Also included is a quote from Teresa Abi-Nader Dahlberg, provost and vice chancellor for academic affairs, in her letter to students.


April 8, 2020 – Fox 4 News, "Doctors vs. The Internet"
Clips from the TCU and UNTHSC School of Medicine's Facebook live chat series, "Doctors vs. The Internet" were featured on Good Day and Fox 4 News. Follow the medical school's series on their Facebook page, with topics including coronavirus myths vs. fact, how to keep your children active while social distancing, who's most at risk and why and other COVID-19-related health topics.


April 7, 2020 – WWL Radio, "Front-line health care workers need everyone's support right now"
Newell Normand with WWL Radio, based in New Orleans, reached out to Amy Anderson, assistant professor in Harris College of Nursing & Health Sciences and TCU and UNTHSC School of Medicine, to discuss the extraordinary challenges health care professionals are facing in the battle against COVID-19.


April 7, 2020 – Medium.com, The Maynard Institute of Journalism Education's "Best Practices Series: Race and COVID-19"
The Bob Schieffer College of Communications' Jean Marie Brown, assistant professor of professional practice, discusses how coronavirus reporting has the potential to expose systemic inequities in health care and prompt a larger conversation about how society responds to racially aggressive behavior, like actions and discrimination aimed at members of the Asian American community. "It's not enough to report the numbers, journalists need to probe for reasons," she explains. "They need to develop coverage that reflects the systemic issues that color American society."


April 6, 2020 – WFAA-TV, "Changes for College Admissions"
Heath Einstein, dean of Admission, discussed how COVID-19 is impacting the TCU campus and how the admission team is adapting and connecting with students in new ways.


April 6, 2020 – Dallas Observer, "DFW University Students Face Virtual Reality as They Prepare for Online Graduation"
Kristen Queen, interim director of the School of Music, tells the Observer that the transition to online learning will challenge everyone involved: "Sometimes it will feel seamless, while other times it will be bumpy and bizarre. We must all exercise grace and patience with one another, especially under stressful and unpredictable times." William Gibbons, associate professor of musicology and associate dean of the College of Fine Arts also contributed to the story.