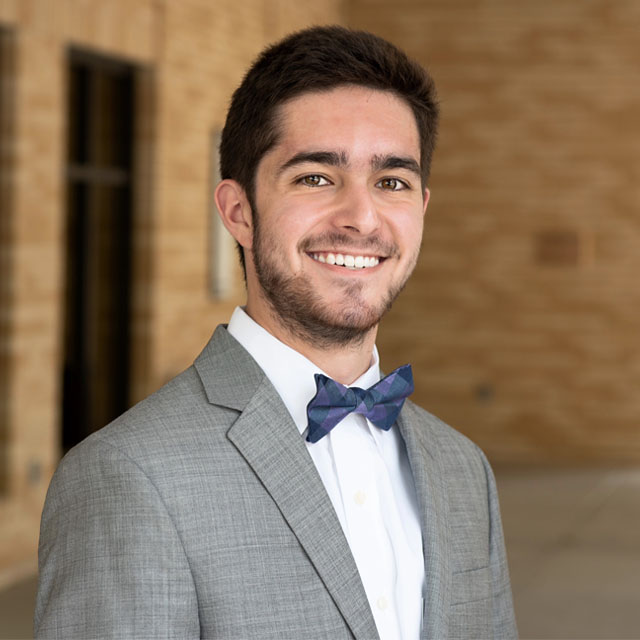 Undergraduate Serves as Lead Author on Published Research
April 9, 2020
Senior chemistry major Tim Schwartz was recently first author of a paper  published in  the peer-reviewed scientific journal  Dalton Transactions  in February 2020.  He  was  scheduled to present  the  findings at the annual American Chemical Society Meeting & Expo, a special symposium for outstanding research carried out by undergraduates, before its cancellation due to COVID-19.   
The paper, "Electronic influence of substitution on the pyridine ring within NNN pincer-type molecules," is co-authored by Kayla Green, associate professor in the Department of Chemistry & Biochemistry, and Marianne Burnett, Ph.D. '18.  The research focuses on a new way to decorate, or manipulate, a molecule's reactivity. Research revealed that, depending on the decoration used, the behavior of the molecule could be tuned and  controlled. Green said they believe the discovery can be used for catalysis or even therapeutic applications.
"This brings attention to TCU at the national and international level and  highlights the success of our teacher-scholar model," Green said. "The paper is published in a great journal and is being read by leaders in our field, who have  already  reached out to us upon its publication." 
Schwartz began working with Green's research team his sophomore year. Although undergraduate students play a vital role in the research underway in the chemistry department and often coauthor papers, Green explained that graduate students are typically lead authors because of the time and experience needed to start and finish a project. 
"While undergraduates are somewhat often  co-authors  on papers, it is atypical for them to be first author," Green, said. "Moreover, to publish in a journal of high quality and impact is also hard to achieve. Tim has done both!" 
Research publication is critical to attracting funds for future work, Green  continued. Current departmental research is made possible by the Science and Engineering Research Center and other internal grants from TCU, as well as funding from National Institutes of Health for Green's lab specifically. Success like this is  also a way to reach prospective researchers.  
"Although Tim was trained for his project in my lab, I see that he has grown so much from his freshman year to now because of the investment  made in him by  so many faculty and staff across campus," said Green. "TCU is a special place because of this support system."