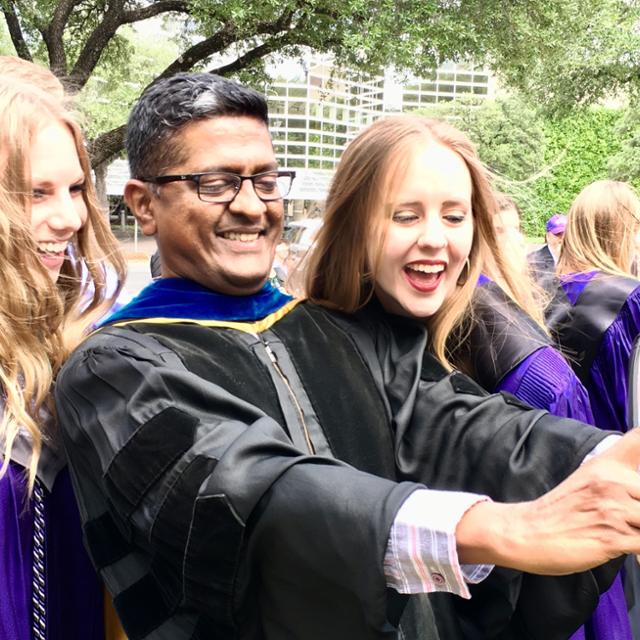 Wassenich Award Winner Shows Students How to Learn
September 23, 2020
To prepare Horned Frogs for a world where information increases at an exponential pace, Giridhar Akkaraju, Ph.D. equips his students with tools to acquire relevant information when necessary and to critically analyze it when appropriate. Along the way, he tries to instill a sense of wonder and excitement.
"As I tell students in my classes, I can't 'teach' them anything — but I can show them how to learn," said Akkaraju, professor and chair of the Department of Biology in the College of Science & Engineering and this year's winner of the Wassenich Award for Mentoring in the TCU Community.
Created in 1999, the annual award recognizes and encourages faculty and staff who surpass job descriptions to mentor students through college and beyond, and who serve as role models in their personal and professional lives.
"There is a line from the Bhagavad-Gita, an important Hindu scripture, that states (roughly translated): 'Do your duty without regard to the fruits of your actions.' I try to do my job to the best of my ability, keeping that philosophy in mind," Akkaraju said.
After earning a BS in biology from the University of Bombay and a Ph.D. in molecular genetics and biochemistry from the University of Pittsburgh, Akkaraju was a postdoctoral fellow at UNT Health Science Center and then UT Southwestern. He joined the TCU faculty in 2002.
"I was excited by the thought of working in a liberal arts institution. My education prior to this had been entirely technical, and I felt I could nurture my interest in the humanities at an institution like this by interacting with colleagues in fields like religion, history and political science, among others," he said.  
And the "single-minded focus on providing the best of what we can to our students" has kept him among Horned Frogs ever since.
Akkaraju — who teaches cell, molecular and developmental biology, virology and an honors seminar called The Biology of Cancer — said students are the best part of his job. "They keep me engaged in my field of research and let me transmit my love of biology to them. In return they keep me up to date on the latest trends, memes and music."  
The biologist has interests in a broad range of fields. Through his collaborations, Akkaraju has published in journals in his own field of biology as well as physics and chemistry. His current areas of focus include viral pathogenesis, targeted therapies for cancer, anti-inflammatory therapies for neurological disorders such as Alzheimer's disease, and nanomaterials for therapeutics and diagnostics.
Looking ahead, Akkaraju isn't sure what's on the horizon — and that's how he likes it. "The mystery is what keeps me going," he said. "I am still in the learning phase of my new role of the chair of the department of biology. I love learning new things, so that is exciting to me."
More about Dr. Giri Akkaraju
Go-to morning beverage: Coffee, two cups.
Favorite course to teach: Virology. Viruses are cool! (SARS-CoV-2 notwithstanding.)
Favorite food: Dessert
Favorite book: Desert Solitaire by Edward Abbey and Siddhartha by Hermann Hesse. I am currently reading World War Z by Max Brooks, which eerily presaged the current epidemic.
Favorite show or movie: My favorite science fiction movie is 2001: A Space Odyssey, directed by Stanley Kubrick. This past summer, I re-watched all of Breaking Bad.
Favorite band: Pink Floyd. I discovered them in 1980 and still haven't outgrown them.
Favorite way to unwind: Cooking
Hobbies: Cooking and travel
Are you a pet person: I love dogs.
Favorite place on campus: My lab!
Surprising fact: I love to play the drums (djembe style). I often take them on road trips and play along with whatever is on the playlist in the car, much to the chagrin of my long-suffering wife! 
Thing you've missed most during the pandemic: Traveling. I have a growing list of countries I would like to visit when released!
What you love most about the TCU community: The support, inspiration and caring I have received from my colleagues.