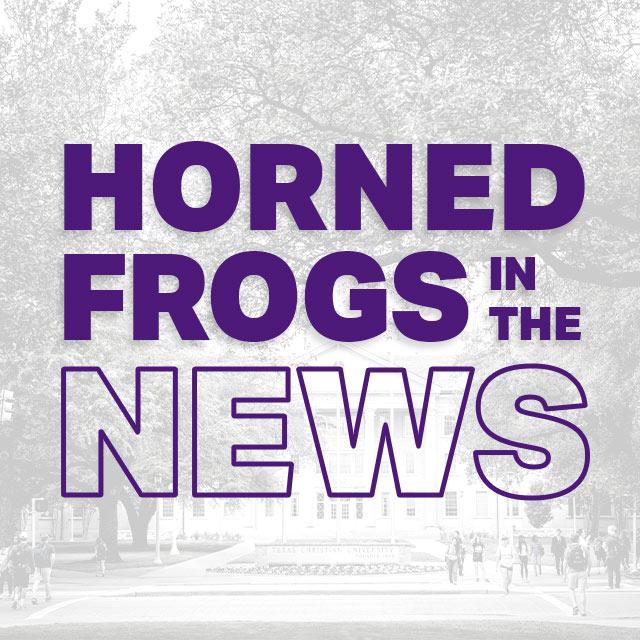 Horned Frogs in the News, Sept. 21-Oct.6
October 8, 2021
From the recent crashing of Facebook to an all-female changing of the guard, TCU and its faculty and alumni are being featured in the news. Check out the latest roundup of newsworthy Frogs.
INSTITUTIONAL
Best Colleges In Texas 2021
Oct. 5, 2021
University Magazine
Ranked No. 6 in Texas, Texas Christian University is a private research university in Fort Worth, Texas. TCU admissions are more selective, with a 48% acceptance rate and a 70.2% early acceptance rate.
Fort Worth could become home to environmental museum, but it needs to fight for it
Oct. 2, 2021
Fort Worth Report
An effort is underway to bring leaders together to enhance sustainability and environmentalism, and to do it in Fort Worth. The center does not yet have a chosen facility, but representatives from UT Arlington, Tarrant County College, TCU and Texas A&M University all are involved in EcoPlex and are in talks about hosting the center. TCU professor and EcoPlex Advisory Council member Becky Johnson said there would be a draw to EcoPlex because there already is such a strong museum culture in the city. "I think most of the country doesn't think of Texas as environmentally forward. They think of us as an oil state," Johnson said. "So, I think the opportunity to showcase some of the things that we're doing right and putting that in Fort Worth would really shine a pretty interesting light on Fort Worth, and help us take the credit for the things that we really are doing."
FACULTY
Facebook outage: Social media and policing
Oct. 5, 2021
CBS 11
Virtually every large North Texas police department has a Facebook account that provides public safety info, community alerts and neighborhood outreach; it is a big tool. Thousands access those pages. Criminal Justice Professor Johnny Nhan specializes in social media and police. He said the Facebook outage offered a quick reminder of the value social media provides to police departments, specifically when police are facing urgent circumstances. "In terms of the effectiveness of policing for extended periods of time, detectives use that as a vital tool to identify suspects who they associate with, establish a timeframe for certain events. In that sense, they also monitor social media. It has now become a marketplace for stolen goods," he said.
Redistricting leaves booming Fort Worth out of the Texas Senate, again
Oct. 5, 2021
Fort Worth Report
James Riddlesperger, TCU political science professor, was not surprised that Fort Worth doesn't have a resident in the Senate because of its competitive elections. "Instead of packing Democrats, like they can in those other cities where those districts are not just solidly Democratic but overwhelmingly Democratic, in Fort Worth, you can't do that because Democrats are dispersed across the county," he said.
Texas House committee approves newly-drawn map that Includes major change for Tarrant County Republican
Oct. 5, 2021
KTVT
TCU Political Science Professor Jim Riddlesperger said the county remains largely Republican, but is becoming more Democratic. "Tarrant County is diversifying very rapidly. It's becoming more Democratic each election, and though the Republicans remain in control, they're all very well aware of that. It's a marginal county, and it could go either way."
Hallowed changing of the guard gets an all-female cast at Arlington
Oct. 5, 2021
The New York Times
For 84 years, Army soldiers have performed the changing of the guard at the tomb at Arlington National Cemetery. Last month, for the first time, it was carried out by three women. The changing of the guard was an important moment in military history, one that showed that women are serving "in the most revered positions," said Kara Dixon Vuic, LCpl. Benjamin W. Schmidt Professor of War, Conflict and Society in 20th-century America. "These are the rituals that the nation holds dear. Some might call it militaristic and some might say it represents the best of us. But to have women at the heart of it, whatever your perspective is, is important because it shows that women are at the heart of these debates now."
Facebook outage affecting small businesses that use platform to advertise products
Oct. 4, 2021
WFAA
Going off-line has been a serious wake-up call for people and businesses who have made Facebook a part of their everyday lives. "If there is only a purchase option through Facebook or one of their associated platforms, then today's downtime means there's no business purchase options," said Brandon Chicotsky, assistant professor of professional practice in the TCU Neeley School of Business. "Moving forward, Facebook is likely going to create contingencies to ensure this does not happen again."
How to evaluate sources of journalism, identify fake news
Oct. 4, 2021
Fort Worth Star-Telegram
In a time when Facebook feeds are filled with wild headlines, questionable news stories and angry aunts ranting about a post that just doesn't look real, how can you determine if what you're reading is legit? Chip Stewart, professor of journalism, talks to his students about how to be informed news consumers each semester, and we asked him to share some advice as part of the Star-Telegram's project called The Source: Trust & Transparency in Local News. "Find out who is funding your news," he said. "If you're not paying for it, if you're not subscribing, you are the product not the consumer."
How to evaluate a reporter's work and online news sources
Oct. 4, 2021
Fort Worth Star-Telegram
Chip Stewart, an attorney and journalism professor at TCU, said news consumers should double check what publications they're getting their information from by doing a quick Google search or glance around the website.
Episode 140 - What If We Lose Faith in the Dollar? with John Harvey
Oct. 2, 2021
realprogressives.org
In this episode of the "Macro and Cheese" podcast, John Harvey, professor of economics, talks about the current state of the dollar. "In order to come up with a scenario where there isn't faith in the dollar, you can't just say that," he said. "You must also tell me what currency is going to take its place."
Social Media and the First Amendment
Oct. 2, 2021
LinkedIn
The UNO Social Media Lab hosted a prominent Zoom webinar panel of journalists, lawyers and professors to examine the future of free expression during a global pandemic, social division and technological change. Chip Stewart, journalism professor, says congressional hearings may "shed some light" on the impact of social media. "I think it would be incorrect to say the platforms had no involvement in the organizing of these rallies and the ultimate violent turn they took," Stewart says. "I don't think that was by any means intentional, but... I also think it's pretty easy to overstate how much role the platforms maybe had in that kind of organization."
Fort Worth Black business and medical districts recognized
Oct. 1, 2021
Fort Worth Star-Telegram
Historical markers to honor the two Black business districts were unveiled Friday. Lisa McBride, associate dean of diversity and inclusion at the TCU and UNTHSC School of Medicine, said the event was emotional. "We're standing on the shoulders of their greatness and the sacrifices that they made," she said. McBride said she's continuing to work to diversify the medical field.
live
Oct. 1, 2021
Fort Worth Magazine
There is a way to buy original digital art, similar to the way one would purchase an original painting or sculpture -- a nonfungible token. Nick Bontrager, associate art professor, has helped some of his students enter the cryptocurrency space. Not only does it save the artist time and money, he says – it's also an ideal way to make a transaction during the COVID-19 pandemic when non-contact exchanges may be preferable. "For the first time in an artist's career, they can create something on their laptop or computer and not have to say, 'Oh, now I have to find a print shop to turn this digital painting into a piece of canvas or paper so I can sell it on Etsy," Bontrager says. "By not leaving their room, they can offer it for sale and have the worldwide buyers looking at their artwork that they've created and potentially buying and collecting it, which is fantastic."
Perspective | A draft congressional map lays out one future for Texas. But there is a better path.
Sept. 28, 2021
Post Outlook/The Washington Post
Max Krochmal, associate professor of history, co-authored a column in The Washington Post. "With Texas the second-most populous state in the union, these district lines will have a major effect on which party controls the House of Representatives over the next decade," he writes. "A closer look at Texas's past reveals the state's potential to foster a very different brand of politics, pointing it toward multiracial, multiethnic democracy instead."
Why has Fort Worth ISD's enrollment dropped almost 14% over 5 years?
Sept. 27, 2021
Fort Worth Report
Fort Worth is a growing city approaching 1 million people. That growth, though, is not translating to the number of students attending the city's largest school district. Jo Beth Jimerson, associate professor of educational leadership, pinpointed several potential causes for Fort Worth ISD's enrollment drop. They range from the pandemic and shifting populations to the perception of schools and parents wanting a better fit for their children. "You have a lot of different reasons that aren't mutually exclusive, but sometimes there's some intersections of those kinds of things happening," Jimerson said. This drop is happening as the number of people who are generally at an age to begin having children has increased across Fort Worth, said Kyle Walker, director of TCU's Center for Urban Studies. Walker analyzed the trend using the Census Bureau's American Community Survey.
Fort Worth project looks to create 'radically inclusive city'
Sept. 26, 2021
Fort Worth Report
Like most of the country, Fort Worth's history is marked with moments that segregated, hurt or even killed people of color. "Fort Worth was created as a fort, a military encampment, designed to keep native groups at bay and make the land safe for Anglo settlement and extraction," Max Krochmal, associate professor of history, said. Chancellor Victor J. Boschini, Jr. charged its Race & Reconciliation Initiative with studying TCU's own relationship with slavery, racism and the Confederacy. "What we want to do is take stock of our archives and records, secondary sources, and see whether we can paint more complete pictures to know how we arrived to where we are," Frederick Gooding Jr., chair of the project, said. Gabriel Huddleston, associate professor of education and director for the Center for Public Education and Community Engagement, said the center was hired by a transformation group to do program evaluation for a city-wide initiative. "The reason that we're doing that is because they're very much concerned with really getting at the heart of what Fort Worth community members are wanting to do in terms of talking about racial healing and ways that Fort Worth can be transformed," Huddleston said.
RSVP: Discussion with Star-Telegram Community Advisory Board
Sept. 21, 2021
Fort Worth Star-Telegram
Earlier this year, we asked three readers who are deeply engaged in the issues affecting Dallas-Fort Worth and Texas to become our inaugural Community Advisory Board. These volunteers meet periodically with the Star-Telegram Editorial Board to discuss concerns in their communities and offer their perspective as part of our deliberations. Dr. Brian J. Dixon is a psychiatrist and social-justice advocate who's an assistant professor of psychiatry at the TCU and UNTHSC School of Medicine. Among the issues he's passionate about are health care reform and improving mental health services.
ALUMNI
Deon Richmond AKA Rudy's Friend Bud from 'The Cosby Show' Has Fraternal Twins with Tamara Rachelle - Meet Her
Oct. 4, 2021
AmoMama
Deon Richmond, the young man who played Rudy Huxtable's best friend Bud on "The Cosby Show," grew up to be a happy family man who shares fraternal twins with his partner, Tamara Rachelle. Deon Richmond is an actor who began his career as a child star. Richmond's acting career began in the '90s; however, the child star became a professional star after bagging a degree at TCU.
STUDENTS
Say Goodbye to Ramen: Bryn Carden Shares 5 Easy Meals to Get You Through College
Oct. 4, 2021
The USB Report
Many university students embrace the ease of instant noodles for every meal when living dorm life, but what if instant noodles weren't the only most leisurely meal to make in the dorms? Bryn Carden, a TCU student studying finance with a real estate concentration, loves everything related to health and wellness. She collects her favorite recipes, changes them up and in this article, she shares her top five easiest meals that any student can inexpensively make in a college dorm.
ATHLETICS
Former TCU track star turned body builder part of school's 2021 Hall of Fame class
Sept. 25, 2021
Fort Worth Star-Telegram
Roy Williams '01 loved being part of the team that won TCU's first NCAA indoor relay title in 2000. Williams added another lifetime accomplishment by being inducted into TCU's Hall of Fame. Along with Williams, TCU recognized fellow track and field athletes Michael Cannon '86 and Nolan Brawley '64, who was the "vintage" inductee; swimmer Jamie MacCurdy Kizer '02; football player Victor Payne '02; and longtime athletics administrator T. Ross Bailey '76 in the newly created "special contributor" category.