"I don't know if I'm the oldest undergrad in the school, but I think I'm up there," said Steven Enright. He is not only an undergraduate student in criminology and criminal justice, but also a seasoned law enforcement officer and TCU Police commander.
His story starts in 1975 when he was an undergraduate student at TCU. He moved to Fort Worth from Chicago and fell in love with it, but he "lacked a certain maturity," Enright said, and struggled as a first-time college student. Eventually, he decided the best route for him at that time was to go into the workforce.
Moving from job to job for a while, Enright ended up working for a two-way radio communication company. Many of his clients were public municipalities and public service organizations, so he befriended several police officers and firefighters in the community. At times, he would go out on ride-along trips and learn what they did for a living. He really enjoyed the ride-along experiences – especially with the Fort Worth Police Department reserve program.
Enright would go on to apply to the police academy for a full-time position and worked for the city of Fort Worth as a police officer for 32 years. From patrolling to gang unit and undercover stints, Enright did it all. He also conducted a lot of surveillance work and apprehension of felons.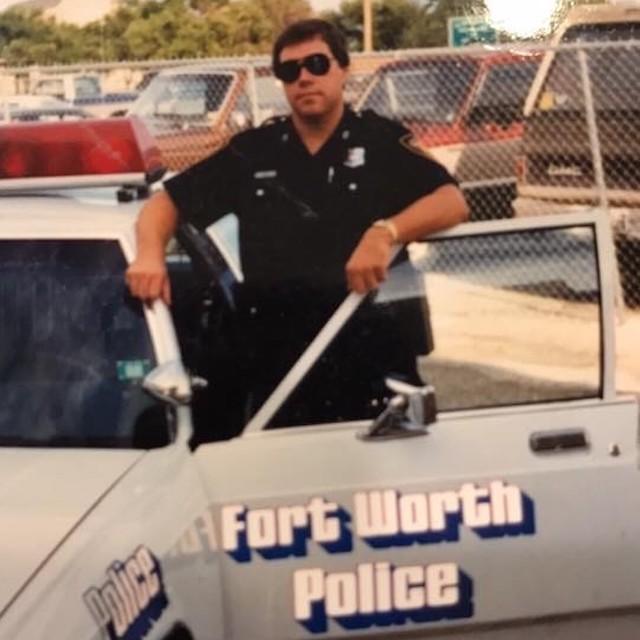 Eventually, he became a detective and then a detective supervisor. As he progressed up the ranks, Enright became the official police spokesperson for the department for several years. He was the media liaison and the face often seen on camera. As the conclusion of his career came near, he thought he was done and was not going to put on another badge. That was until his former commander gave him a call and encouraged him to come to TCU.
To teach and protect
Enright knew TCU Police had several former Fort Worth officers in their employ and has always had a love for TCU. In fact, both of his sons have ties to the university. His eldest son was enrolled in Starpoint School, and his youngest son, who has Down syndrome, was in the first-ever class of what's now KinderFrogs, where he learned for several years.
Enright became a full-time TCU police offer in January 2019. He was a patrol officer for the first year and a half on the midnight shift. Enright said it was a fun transition getting to know the campus and the students.
"Here, we're not actively pursuing city-wide crime," said Enright. "What we're doing is protecting the community."
Many students who may have never had any interaction with the police. The officers on campus want the contact they make with students to be favorable, so they'll go back to them in the future if they need support.
"The TCU police department is a teaching entity as well as an enforcement entity and protection entity," said Enright. "The greatest thing here is that when you're driving down the street, people wave, they smile, they say hi, they talk to you."
A chance to start again
When Enright returned to TCU, he said he'd always felt very disappointed for never truly applying himself as he should have while he was a student. The one thing that he wanted more than anything was a TCU degree.
"I sure would like to finish the thing I started 35 years ago," thought Enright.
After some encouragement from his wife, Enright talked to his supervisors and suggested a plan. He would take some classes in the mornings and nights and adjust his schedule where needed. He received full support and enrolled for his first semester back at college.
There have been many changes to the academic system since Enright was last enrolled in TCU, so some of his credits applied and some didn't. He is grateful to his advisers for guiding him through the process. He appreciates how professional and how accommodating they are, especially the professors.
"They give of themselves so much," said Enright. "There's nothing they won't do. During office hours, outside of office hours, they text me, email me, meet with me."
He had no idea the thirst he had for knowledge and these experiences he had in the beginning really set the tone for his TCU experience.
"I'm an old guy, and these 18-, 19- and 20-year-old students accept me," said Enright, "and they speak to me readily and happily. They ask my opinion, and I ask their opinion. And it's such a great dialogue between us. I can't tell you how much it means to me."
Leading on
The next step for Enright is to enroll in the Leadership, Executive & Administrative Development (LEAD) program. LEAD is the first professional law enforcement development program of its kind and is designed to be convenient and practical for working law enforcement professionals and will, eventually, allow Enright to earn his master's degree.
"Who knows where I'll go," said Enright. "I don't have any plans to retire anytime in the near future, and one of the reasons is because of the academic opportunities that I'm being afforded. It's wonderful."
Enright explains what makes his job with TCU Police rewarding is the distinct and very definitive light that they see in people.
"We're here for you, here to help you, to assist you, to make your life a safe and happy, livable life," said Enright. "And you ask anyone who starts in the police profession or ends in the police profession, 'why did you go into the police profession?' and they'll say, 'because I really wanted to make a difference. I really want to help people.'"