Kelly Phommachanh builds a future as she honors her past
Working on a Ph.D., mentoring Asian Pacific American students and traveling all over the country teaching dance meld seamlessly for first-generation student Kelly Phommachanh.
Born in west Texas to Lao refugees just 24 years ago, she has the boundless energy of a teenager. Talk to her for a few minutes and you'll learn she's an old soul, with a global outlook fueled by gratitude.
"I hold many intersecting identities," she said. "I'm here because people believed in me and because of what my mom and grandmother endured as refugees. When I was 16, I'd stress over a chemistry test. At 16, my mom was running for her life."
She never forgets the legacy that her Laotian grandmother passed on to her: a passion for performing and preserving traditional Lao dance and music.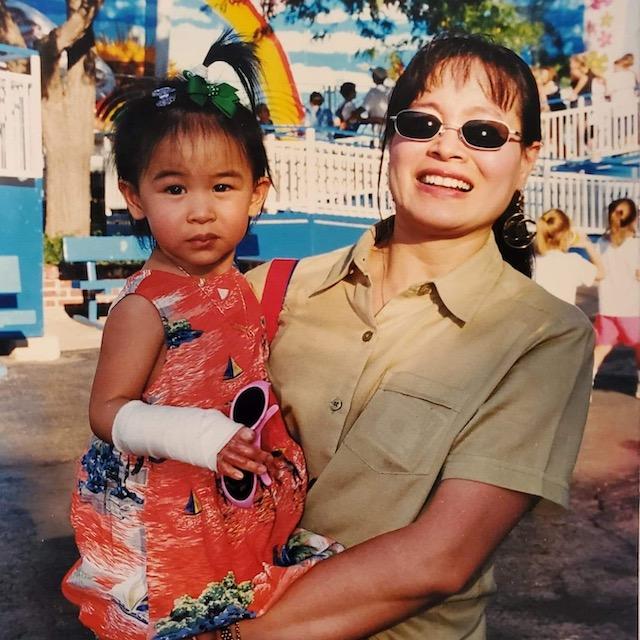 "My mother was a young traditional Lao dancer thanks to my grandmother, who loved the arts," Phommachanh said. "Mom was in a refugee camp in Thailand, then came to the United States when she was sponsored by a church in Clovis, New Mexico."
One of her aunts fell in love with a "Lao cowboy," she said, and the family settled in Amarillo. Her parents met while working in a Thai restaurant.
"I take such pride in my family lineage," Phommachanh said. "I think of the weight and impact — what my being here at TCU means to my family."
Passing it On
Performing and teaching dance connects her deeply to her heritage.
"I love this art form," Phommachanh said. "It has shaped my identity of being a Lao American woman and the daughter of refugees. It's a beautiful feeling to know this classical art form has been passed down to me, and now I can pass it to others."
Besides a cultural link, she also considers dance an important form of self-care.
Originally, Phommachanh wanted to be a burn care pediatrician. Her right arm and hand bear scars from a scalding accident from when she was a toddler. Emergency skin grafts and physical therapies were provided free of charge from Shriner's Hospital in Galveston. She said she has forgotten the pain, but not the gift. She serves as one of the hospital's patient ambassadors to this day.
When peers at school bullied her because of her burn scars, she avoided exclusion by becoming a joiner of clubs. She jokes that it was trauma response that propelled her to leadership positions at Palo Duro High School.
As a teen in 2016, Phommachanh became involved with the Lao Heritage Foundation based in Washington. D.C. The foundation preserves Lao culture by exposing students to traditional Lao music, dance, culture, language and food. She taught dance at camps in Minneapolis, San Diego and Washington D.C.
As an undergrad at the University of North Texas, she realized that being a medical doctor was not her path. Her science classes just didn't click, even after being a high school honors student.
That's when Phommachanh discovered a passion for other "helping professions" through her classes in sociology, rehab, global leadership and counseling. Extracurriculars also had a big influence in directing her to student affairs. She was president of the Asian-Pacific Student Empowerment Committee and served in student government and university programming.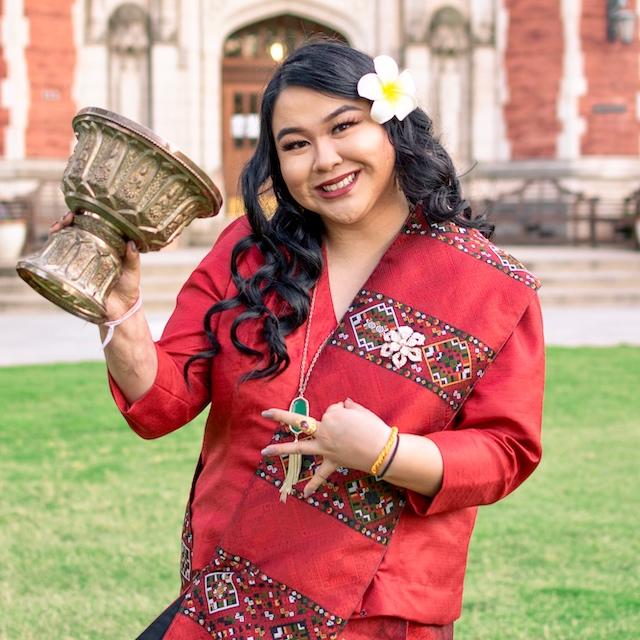 "I had developed so many different skills through these opportunities," she said, "I decided to try to pursue graduate school at the University of Oklahoma for a career in education."
At OU she served as an Asian American Programs & Services graduate assistant in the Multicultural Programs Office, where she honed her skills in student advising, mentorship and student programming. She recalls crying along with students who were navigating a hunger strike.
Her passion for caring for students led her to TCU to study for a doctorate in education.
Phommachanh's dissertation explores the effects of how intergenerational trauma has affected first-generation southeast Asian students and their persistence through higher education.
"I'm interested in the studies on different cultural family traumas: the Secret War in Laos, the Vietnam War, the Khmer Rouge in Cambodia, and even the displacement of Hmong families," Phommachanh said. "I know I'm not alone in my struggle as a first-gen student. There's so much data that must be dissected and desegregated, not lumped together as the experiences of all Asian Americans. Our histories are so vastly different."
Specificity of identity is important to Kelly. She proudly points to TCU's intentionality in the design of its new multicultural center – complete with ceramic color tiles representing all the international flag colors of its students – and the new student-produced mural.
"TCU is a sort of purple Disneyland, and was a bit of culture shock at first, but I'm so grateful to have connected with the AAPI faculty and staff here," Phommachanh said.
'Big Girl Dream'
In her next two years at TCU, Phommachanh's goal is "to leave TCU better than when I first came, in terms of helping incoming students feel a sense of belonging."
In the future, she says her "big girl dream" would be to become U.S. Ambassador to Laos.
"I want to bridge the gap between Lao America and current day Laos," Phommachanh said. "There are 'invisible' issues that our Lao communities face: disparities in health care, housing and education. Statistically, Lao American communities still face hurdles getting their kids to graduate high school."
Phommachanh cofounded the nonprofit DFW Lao Heritage, a sister organization to the Lao Heritage Foundation. The programming started with just 20 kids and quickly won the hearts of North Texas Lao families. Classes shifted to Zoom lessons during the pandemic, but she was able to connect with Lao Americans all over the country.
Phommachanh laments the lack of awareness about the fact that from 1964 to 1973, Laos was the most bomb-ravaged nation per capita on the globe.
"The Secret War in Laos isn't taught in history books," she said. "President Obama was actually the first president to set foot in Laos and acknowledge the loss in 2016."
While Phommachanh is passionate about education and hopes to work in student affairs or in the diversity, equity and inclusion sector, she has not ruled out a career in public policy.
"It's so humbling and beautiful to see that I'm part of a generation and movement that is trying to build a better life for ourselves and our families while still trying to honor our past, our history," Phommachanh said. "I'm a lifelong learner. And I just want to do right by my people."