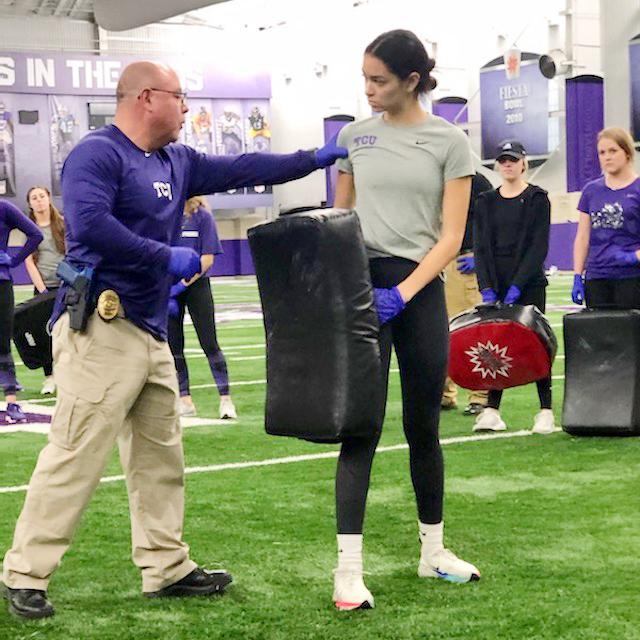 The TCU Department of Public Safety is providing self-defense training upon request, and this act of service was showcased on Martin Luther King Jr. Day.
"On a true day of service, the public safety team gave their time to train about 40 of our student-athletes from the TCU equestrian team in an effort to teach them vital self-defense skills," said Adrian Andrews, assistant vice chancellor for Public Safety.
The department is holding self-defense classes throughout the year upon request.
"I received an email from the equestrian team wanting a class. They reserved the location, and we brought the training to them," explained Sgt. Richard Martinez of the TCU Police Department.
He said it was a successful training day.
"Our student-athletes did an awesome job. They looked like they were having fun and had a lot of questions," he said. "Those girls are tough, if I may add."
Haley Schoolfield, director of the equestrian program, said the team loved the event. She credited her graduate assistant – Hannah Gillmore – with its initiation, following the thought that it would be helpful and provide team-building.
"They learned, they laughed and they gained confidence in their ability to defend themselves in a difficult situation," Schoolfield said. "We are grateful that TCU PD was so willing to work with us to empower and educate the women of TCU Equestrian."
Officials said the training is very similar to what they teach the police officers.
"They were taught how to find and apply pressure points, how to execute strikes and how to get away from being grabbed from any angle," explained Andrews. "They were even instructed on how to successfully get away from someone who had them pinned on the ground. Our equestrians performed brilliantly."
Andrews encouraged all to download the TCU safety app, FrogShield, and provided these reminders: "Always be aware of your surroundings," he said, "and if ever attacked, scream and fight as if your life depended on it."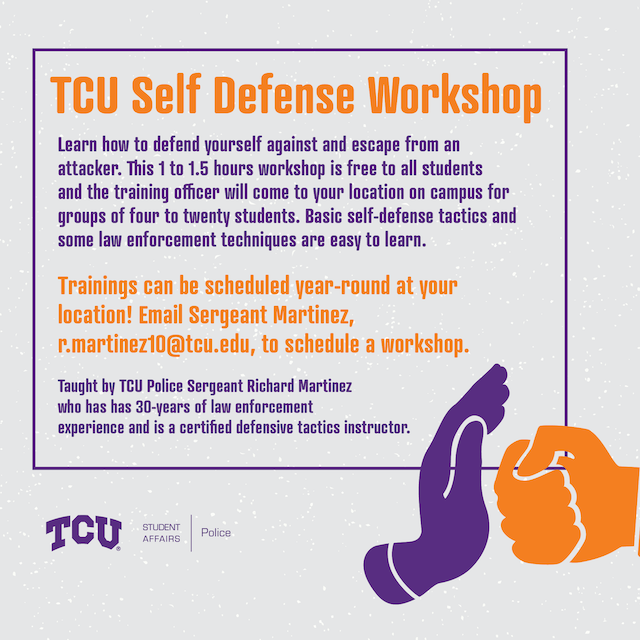 To request a training, contact Sgt. Richard Martinez.