When it's time to celebrate, it's time to raise a glass. For TCU's 150th anniversary, a special edition wine – actually two – will commemorate the occasion. Saarloos + Sons winery in California's Santa Ynez Valley has created a cabernet sauvignon and a sauvignon blanc to commemorate the university's Sesquicentennial.
The winery is operated by the Saarloos family – as in Kirk Saarloos, TCU's head baseball coach. His brother, Keith, now runs the winery, a fourth-generation business that's truly a family affair. It's only fitting they would be the creator of TCU's commemorative wine.
"Every one of our wines is an estate wine, which means we grow the grapes, we pick them and we bottle the wine," Keith Saarloos said from the winery, located in Los Olivos. "We consider the grape the body, the wine its soul. Our family's wine is from our blood, sweat and tears."
Normally Saarloos wine is only sold at the winery or direct. But an exception is being made for the TCU 150, which will be available in limited quantities at the TCU Campus Store by spring.
"TCU supports my brother, and our family loves this school so much that I immediately said, 'Let's do it,' when we were asked," Keith said. His daughter Brielle will attend TCU in the fall. "It's an unbelievable honor."
It was also an honor for June Naylor Harris '79, longtime local food writer and wine enthusiast, to sample and provide tasting notes.
"Getting to do a tasting was a treat and privilege," she said. Both wines "blew her away."
Of the sauvignon blanc, she provided these tasting notes: A medium-bodied wine with smooth balance of mineral and acidic tones, softened with notes of stone fruit, honeydew and fresh herbs. Pair this wine with soft cheeses, from goat and feta to green peppercorn brie with grapes and granny smith apples; smoked salmon and salty nuts; Thai-spiced shrimp and herb-grilled chicken.
Of the cabernet sauvignon, her tasting notes: Rich and bold with moderate acidity, this lush wine exudes deep, dark fruit tones with earthy notes and just a hint of spice and herbs at the finish. Lovely tannins and solid structure throughout. Pairs well with spice-rubbed beef tenderloin and lamb skewers with rosemary-blackberry glaze; grilled game, such as venison or elk; charcuterie boards with aged hard cheeses, cured meats and berries; and dark chocolate truffles.
"I wasn't surprised by the quality," she said. "This is wine-making with a lot of integrity. These are really versatile wines and a consummate California white and red."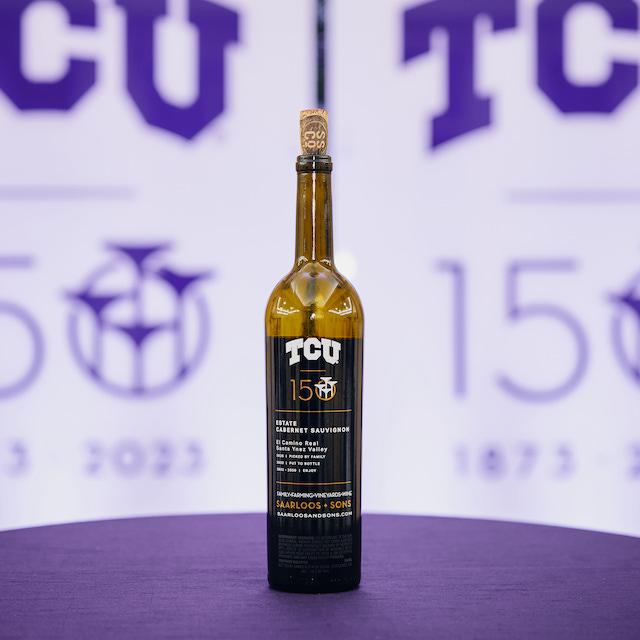 The bottle labels are also special and were created by TCU partners using a special edition, gold anniversary crest, which is reserved for limited use. The back of the bottle includes the primary 150th mark in addition to details about the wine.
"This is a really special year," said Creative Director Kris Copeland. "Not only do we get to create materials that celebrate 150 years of our history, but we're also creating the artifacts that future generations of Horned Frogs will look back on."
According to Patricia Mansfield, general merchandise manager at the Campus Store, sales will launch in late February, with limited quantities available. Those purchasing will have an opportunity to make a gift to Lead On: A Campaign for TCU. The price for the red is $119, the white $69.
"They should be a big hit," said Naylor Harris. "Once people get a taste, they're going to want to have some at home."