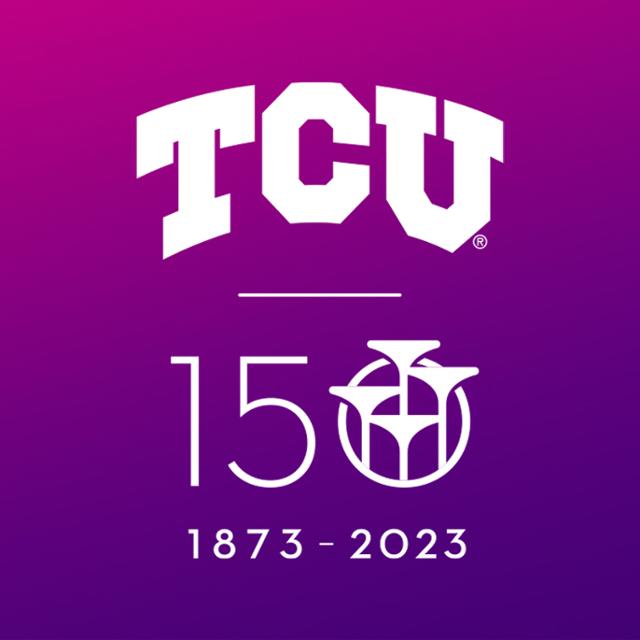 *Editor's Note: This story includes weather-related event updates.
It's a moment 150 years in the making. Join us for TCU's Sesquicentennial opening celebration, featuring a week of Texas-sized events on campus for all Horned Frogs, friends, neighbors and family.
Light Fort Worth Purple
Jan. 23-29
Fort Worth is going purple. Downtown and other parts of Fort Worth will be lit purple in celebration of TCU's 150th. We invite other businesses, residents and all fans to join in displaying your purple lights!
College of Fine Arts Presents: A Sesquicentennial Fine Arts Spectrum
Monday, Jan. 23 – 7 p.m.
The College of Fine Arts will host A Sesquicentennial Spectrum to creatively celebrate the past, present and future of TCU. The performances in the Van Cliburn Concert Hall at TCU will include music, theatre and dance, as well as highlights from design, art and fashion merchandising. Beforehand, a Special Exhibition in the Moudy Gallery curated by first-year art history graduate students will feature work from the Dickinson's collection, alumni and generous supporters of TCU, and the Fine Arts Building will host a curated lighting display by the Department of Design and a fashion exhibit by the Department of Fashion Merchandising. This event is free, but tickets are required.
Immersive TCU Experience
Tuesday, Jan. 24 – Friday, Jan. 27
BLUU Ballroom
The Story of Us: An Immersive TCU Experience will be a walkthrough of all things TCU inside the BLUU ballroom. It will showcase TCU's past and present through immersive video content, sound and physical artifacts – including TCU Football's 2022 Vrbo Fiesta Bowl Trophy! All Horned Frogs are invited to take part in this experience, which is free and open to the public. Doors open following the 150th Drone Show Tuesday night. Check the TCU calendar for hours.
Horned Frogs Basketball
Tuesday, Jan. 24 – Wednesday, Jan. 25
Cheer on your TCU men's and women's basketball teams in Schollmaier Arena for anniversary-edition games during our 150th kick off week. The men's team will take on the University of Oklahoma Jan 24, when halftime will host a presentation featuring a recognition of the TCU football team's historic season. The women's team will face Iowa State Jan. 25. Visit GoFrogs.com for details and ticket purchase opportunities.
TCU Night at the Rodeo
Thursday, Jan. 26
Dickies Arena
This special TCU Night at the Rodeo will host Horned Frogs at the city's iconic Fort Worth Stock Show & Rodeo with discount tickets and, undoubtedly, a lot of purple. TCU students, faculty and staff are able to purchase half price tickets to the rodeo, and anyone wearing TCU branded items will have free access to the Stock Show grounds. Visit FWSSR [ed: link removed] for details.
Rec Center Celebration
Friday, Jan. 27 – 9 a.m. to 5 p.m.
TCU Rec Center
Celebrate the 20th Anniversary of TCU's University Recreation Center with various activities, including sports competitions, stress reduction activities, fitness classes, a polar plunge and more. Enjoy food, fun and party favors as the TCU Rec celebrates 20 years and helps kick off TCU's 150th.
150th Drone Display*
Friday, Jan. 27 – 7 p.m.
TCU Campus
Get your cameras ready as more than 200 drones will fly over campus, creating a spectacle in itself during the evening 150th Drone Display. The best viewing locations will be on the Campus Commons.
New Walking Tour of TCU
January – December 2023
A historical walking tour around campus will launch during the January 2023 opening week, featuring various landmarks across the TCU campus with an audio recording. Signs with QR codes will be placed around campus and Horned Frogs will scan the code for a link to listen to an audio recording about the building or landmark. The tour is accessible via TCU's interactive campus map.
Connecting as a Community
Horned Frogs know how to connect as a community and celebrate our achievements – so be on the lookout for additional ways to connect and engage during the 150th year. Have a question about how your organization or department can participate? Email the 150th Planning Committees at 150@tcu.edu.
Check the TCU online calendar for additional details and updates.