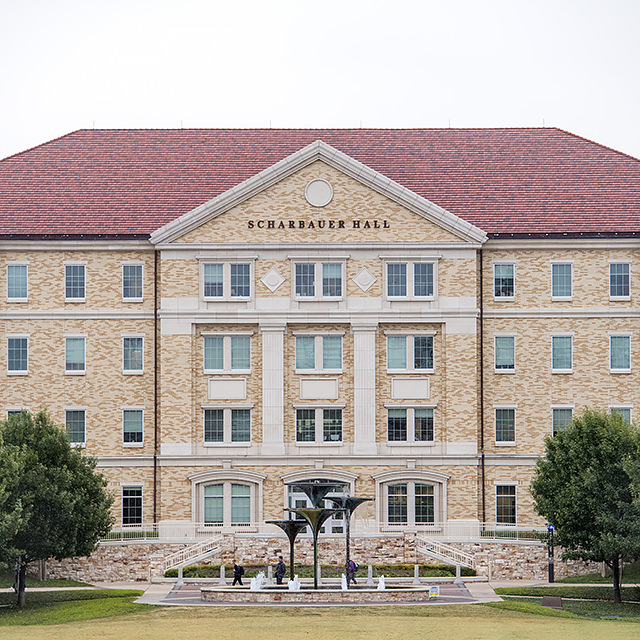 TCU Experts Weigh in on Global Pandemic
May 8, 2020
In the News: TCU faculty and staff share expertise with local and national media
Here's the latest roundup of TCU experts weighing in on COVID-19
The COVID-19 pandemic has an impact on nearly every aspect of our daily lives. From oil prices to home-schooling, daily news coverage and headlines worldwide cover a variety of subjects related to the global pandemic. TCU faculty and staff continue to play an important role by offering their expert opinions to news media. Below are highlights of coverage up from April 16 to May 6. Click here for previous coverage.
May 6, 2020 – WFAA, "WFAA Celebrates Nurses Day"
Suzy Lockwood, associate dean for nursing and nurse anesthesia in Harris College of Nursing & Health Sciences, was the guest on the morning news program that celebrated Nurses Day. Lockwood said, "TCU Nursing has always had a really strong reputation in the community for producing nurses. I think part of what people have learned now about nursing is it truly is the heart of caring. They really have been able to see the important role that nursing can play in times where families aren't able to be there. We are seeing an increasing number of students applying to our nursing program."
May 6, 2020 – WBHM, "Some Sheriffs Say They Won't Enforce Alabama's Coronavirus Order"
Blount County Sheriff Mark Moon knew he'd catch heat when he wrote on Facebook last weekend that he wouldn't enforce the order Governor Kay Ivey put in place to slow the spread of the coronavirus. The law had loosened previous restrictions to allow some retailers to reopen, while keeping others closed. Law enforcement officers have some discretion when applying the law. But sheriffs occupy a unique position, according to Emily Farris, associate professor of political science. "They view this role as particularly special in trying to protect people from intrusions from either the federal government oftentimes and also state governments," Farris said. Farris said sheriffs can be more "eager" to enforce certain laws than others. A Republican sheriff might take a hard line on immigration, or a Democratic sheriff might crackdown on guns.
May 3, 2020 — Killeen Daily Herald, "Backroads: Pioneers went from mullein to mail-order rolls as 'rest rooms' rose in county"
An article chronicling the history of toilet paper, including the shortages of the pandemic, references the findings of Rebecca Sharpless, TCU women's history professor who studied blackland prairie farm women in Central Texas. "As countrywomen began coming to town in increasing numbers, (city) townswomen reacted in some areas to make their visits more comfortable," she wrote in Fertile Ground, Narrow Choices. This encouraged rural women to remain downtown longer to shop, thereby increasing business.
April 30, 2020 — Fort Worth Business Press, "Yes, we're open! Restaurants, retail inch their way into new world"
As businesses re-open after the pandemic shutdown, business owners are unsure whether consumers are willing to risk venturing out without the virus being contained. Yash Bhagwat, assistant professor of marketing in the Neeley School of Business, predicts young consumers will be ready to return to bars and restaurants, but large gatherings as well as gyms, movie theaters and international travel may still be off-limits. "Their spending will likely be local as they are still hesitant to travel, which is good news for the restaurant industry," she said.
April 29, 2020 — KTVB 7,"What falling gas prices means for Idahoans"
Richard Denne, director of the TCU Energy Institute and Hunter Enis Chair in Petroleum Geology, who has been analyzing the gasoline situation around the country, gave both good and bad news if gas prices in Idaho continue their downward trend. He estimated a $400 annual savings per individual in gasoline expenses but since people aren't driving as much, gas tax revenues could drop roughly $30 million for Idaho Transportation Department road projects. "Obviously if consumption is more than that, then the drop will be less," he added.
April 29, 2020 — The Stream, "What to Expect as 12 States Begin to Reopen After COVID-19 Shutdown"
Amy Anderson, an assistant professor at the Harris College of Nursing & Health Sciences and the TCU and UNTHSC School of Medicine, warned against becoming too relaxed as states begin re-opening following coronavirus shutdowns. "If we go back to work and there is no increase [in COVID-19 cases], people could become complacent about social distancing and think it's not dangerous," Anderson said. "It's important to maintain our vigilance."
April 28, 2020 – D Magazine, "Where Have All the Massage Parlors Gone? Sex Trafficking in the Era of COVID-19"
Vanessa Bouché, associate professor of political science, has been studying the issue of human trafficking for more than a decade. The article is a conversation about the state of sex trafficking in Dallas, how it has been impacted by the coronavirus pandemic, and how she is creating new employment opportunities for survivors.
April 28, 2020 – 360 West magazine, "A New Direction"
Cameron Schoepp, professor of art, had been working for a while with his partner, Terri Thornton, on a new exhibit space in their quiet neighborhood. COVID-19 gave them the push they needed to put the finishing touches on it just in time to exhibit the art of four graduate students. The students would have had solo thesis exhibitions on campus, but the pandemic called for a new approach.
April 27, 2020 – WBAP, "What can parents do to make home-schooling easier on everyone?"
Marla McGhee, professor of education and director of the Center for Public Education, was live on the air with Brian Estridge to provide some advice for parents who have been forced into home-schooling during the pandemic. "The first thing," she said, "is that it's a challenging time for everyone. Almost overnight educators have had to switch from a school-based to home-based education. We need to give ourselves a little bit of grace."
April 27, 2020 – Just Security, "Broadcasters and Trump's False Information on Coronavirus: What Role for the FCC?"
Joel Timmer, associate professor of radio, TV and digital media, wrote about the role the Federal Communications Commission should play with the inaccurate or misleading information President Donald Trump has been documented to provide. Free Press, an organization formed to promote internet and press freedom, filed an emergency petition with the FCC urging the agency to investigate the spread of false information about the coronavirus. The FCC dismissed the Free Press petition.
April 24, 2020 – KRLD Radio, Morning News Program
The price of oil plunged below zero on April 20, a first for the oil industry. Richard Denne, director of the TCU Energy Institute, professor of professional practice and Hunter Enis Chair in petroleum geology, discussed the situation on KRLD. "Oil contracts were due on Tuesday [April 21], and a lot of the players who deal in those contracts didn't want to take possession of that oil as there was nowhere to store it. They were willing to pay people to take possession of the oil."
April 24, 2020 – CNN, "Students face tough choices as May 1 deadline looms"
"Texas Christian University was one of the first schools to extend the [May 1 decision] deadline to June," CNN reporter Annie Grayer wrote in a CNN.com article. Heath Einstein, dean of Admission, said, "We felt really strongly that during this period of crisis, when students' and families' lives were being upended that we, as an institution, wanted to do everything in our power to alleviate rather than add on any stress to the decision-making that's inherent in the college selection process."
April 20, 2020 – MSN and Star-Telegram, "2 congressmen want Americans to be able to sue China over virus"
U.S. Congressmen want to sue China over the coronavirus as well as the ensuing economic crisis. Jim Riddlesperger, professor of political science, said, "It's a symbolic attempt to blame China for the virus itself," adding that "it's a political ploy."
April 20, 2020 - KXII New 12, Texoma, "U.S. oil prices drop below zero, experts explain why"
The price of oil plunged below zero on Monday, a first for the oil industry. Experts say it's because America is running out of places to store oil. "Most of this is due to the virus and the demand drop because of the virus," said Richard Denne, director of the TCU Energy Institute. He says because millions of Americans are not driving as much they don't need the gas they normally would, so the demand for oil right now is low. He says while this is great for the consumer and retailers it's the employees who will be paying the price and eventually there will be long-term effects. "On March 13, there were 407 rigs in Texas; as of two weeks ago, which was the last official count, there were 262 rigs. So that's a significant drop of 145 rigs," Denne said.