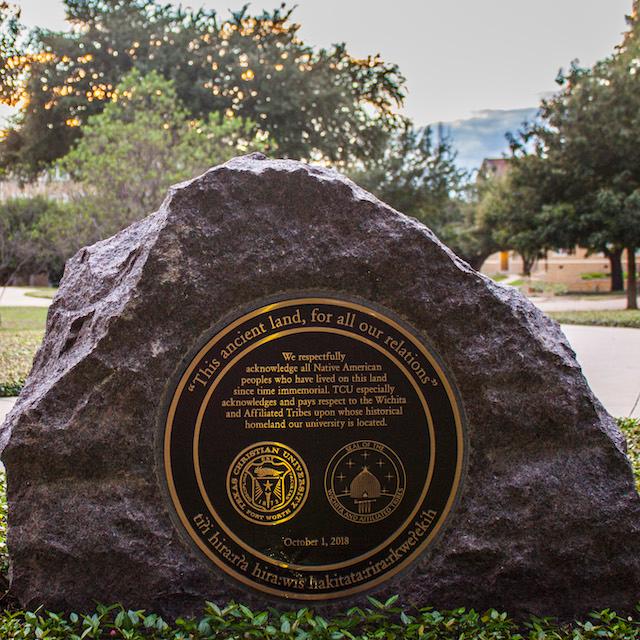 TCU is introducing the Four Directions Scholars Program, a full scholarship that will be awarded to two first-year undergraduate students who are citizens of a federally recognized tribe. Coinciding with TCU's Native American and Indigenous Peoples Day, applications will open Oct. 2 for students entering TCU in fall 2024.
"The Four Directions Scholars Program is evidence of TCU's commitment to Native American nations and communities," said Jonathan Benjamin-Alvarado, chief inclusion officer. "The scholarships are connected to the university's five-year initiative, Finding Ourselves in Community, that will embed learning outcomes to help students better understand themselves and others to foster a more inclusive community at TCU."

The Four Directions Scholars Program is rooted in the cardinal directions – north, south, east and west – and reflects the interconnectedness of all. The scholarships will be accompanied by programming that will address students' intellectual growth as well as their spiritual, emotional and physical growth.
"I am thrilled that TCU is honoring the relationships we have built with Native American nations and communities with these scholarship opportunities," said Scott Langston, interim Native American Nations and Communities liaison. "These scholarships will help us achieve our goal to increase access to all that TCU has to offer and to contribute to Native students emerging as tribal nation leaders upon graduation."
Two four-year scholarships, consisting of full tuition as well as room and board, will be given annually, pending recipients' meeting the university's eligibility requirements for receiving financial aid. Recipients also will receive support while at TCU by participating in a mentorship program. The scholarship is open to incoming first-year undergraduate students who are citizens of a federally recognized tribe.
Along with proof of tribal citizenship, applicants must submit an essay demonstrating their connection to and involvement with their nation and culture and an explanation of how they hope to use their TCU education to contribute to their respective nations or other Native American peoples and communities. Two letters of recommendation are required, one from an elected or employed leader of the applicant's nation and one from someone familiar with the applicant's involvement with their or other Native American communities and cultures.
For the past eight years, TCU faculty and staff have worked with Native American nations and communities to develop respectful and reciprocal relationships, enrich courses and programs and empower Native Americans on campus. Among those accomplishments are TCU's annual campuswide symposium to build relationships with Native communities and raise awareness about Native issues, with more than 1,000 participants.
TCU's campus sits on ancestral homelands of the Wichita and Affiliated Tribes, who lived here for generations before being forcibly removed. Since 2015, the university has been working with Native Americans across the Dallas/Fort Worth area, Texas and the United States. Collaborative programming includes sponsoring Native American-focused workshops, lectures and other campus activities as well as developing curriculum informed by and in dialogue with Native American communities so that students learn from, not about, Native Americans.
TCU has declared the first Monday in October as Native American and Indigenous Peoples Day; added courses to highlight Native perspectives; created a Native and Indigenous Student Association with Langston as faculty advisor; developed TCU's Missing and Murdered Indigenous Women's scholarship; dedicated a monument in 2018 acknowledging the original inhabitants of the land where TCU now resides, especially the Wichita and Affiliated Tribes; and adopted a university land acknowledgment supported by an accompanying web page.