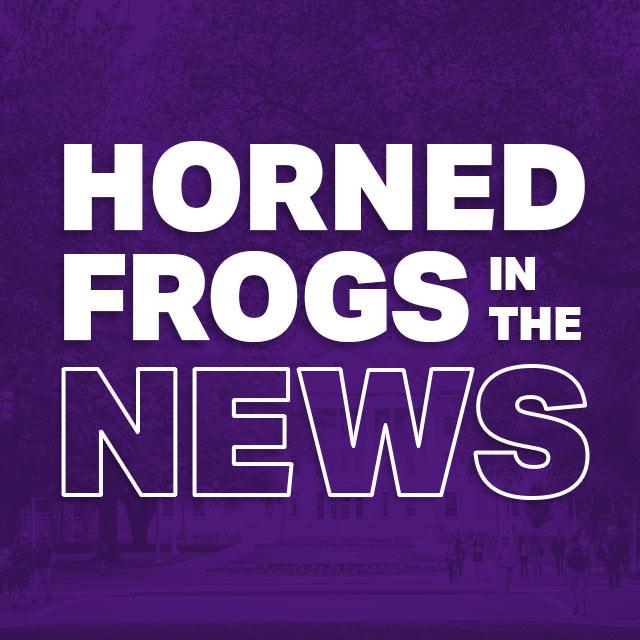 Horned Frogs in the News Roundup, July 13-20, 2020
July 22, 2020
Horned Frogs continue to make the news both locally and nationally. From commentary on politics to robots in nursing, check out the latest roundup of newsworthy Frogs.
Fort Worth M.D. School faculty member wins award for excellence in teaching and innovation
Fort Worth Business Press
07/13/2020
Amber Heck, associate professor at the School of Medicine, was chosen as the 2020 recipient of the International Association of Medical Science Educators (IAMSE) Early Career Award for Excellence in Teaching and Innovation.
How the pandemic scrambled Democrats' campaign to retake statehouses
Vox
07/14/2020
With the 2020 election on the horizon, political science professor Jim Riddlesperger offered his insights on the role that Texas – and its demographically diverse voters – will play on Nov. 4 and beyond.
As US rescinds plan to change visa policy, a look at what the risk of deportation meant
Caravan Magazine
07/14/2020
Assistant professor of political science Emily Farris reflected on the ramifications of the Trump administration's announcement that international students would be deported if they were unable to take in-person classes in the fall due to the coronavirus pandemic.
Can Evangelical Women Help Turn Texas Blue?
Reform Austin
07/16/2020
Political science professor Jim Riddlesperger ruminated on the potentially major role of Evangelical women in the upcoming 2020 election.
Campus counseling model concerns in the age of COVID-19
University Business
07/16/2020
Eric Wood, director of the TCU Counseling & Mental Health Center, penned an opinion piece on how the already-frayed model of college campus counseling needs to be revamped in light of the coronavirus pandemic.
How Robots Are Revolutionizing Nursing
Texas Monthly
07/16/2020
Harris College Lecturer Linda Harrington reflects on how technology could help ease the burden of gofer-like tasks for already overstressed nursing staff. "The status quo of nursing as it exists right now, I don't think it has ten years," she says. "I'm not sure if it has five."

Three Medical Professionals to Join the Heritage Foundation as Visiting Experts
The Heritage Foundation
07/20/2020
Amy Anderson, assistant professor of professional practice at Harris College of Nursing & Health Sciences and the TCU and UNTHSC School of Medicine, joined The Heritage Foundation as one of three new visiting experts. She will continue to help the organization respond to the COVID-19 pandemic.