Near-term actions include the addition of historical markers establishing a memorial statue of Dr. James Cash, American businessman and the first Black student-athlete at TCU and the first Black basketball student-athlete in the Southwest Conference, and permanent signage contextualizing the Founders' statue.
Texas Christian University's Race & Reconciliation Initiative (RRI) released the First Year Survey Report following nine months of intensive exploration, uncovering documents and artifacts, and hosting public forums and town halls. The report covers the founding years, 1861-1891, the integration of TCU, 1941-1971 and a snapshot of recent years 1998-2020.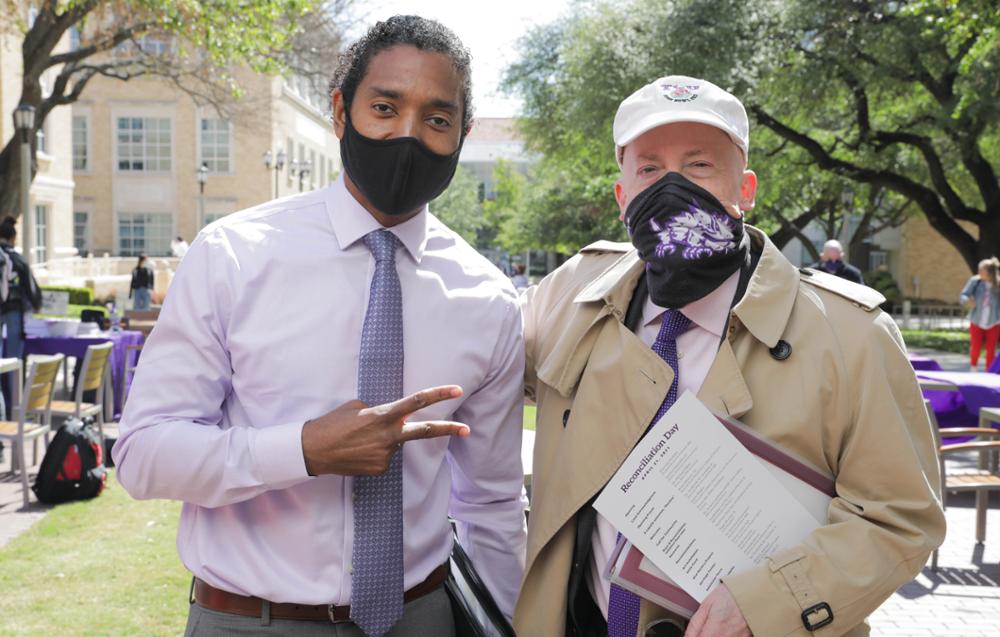 "I am grateful to the students, faculty and staff who contributed to this independent academic endeavor to fully uncover the university's history and am particularly grateful to Dr. Frederick Gooding, Jr. for chairing this initiative," said TCU Chancellor Victor J. Boschini, Jr. "This arduous journey required the utmost integrity in our analysis process but was also a personal journey for many RRI committee members. I extend my deepest gratitude for your dedication to completing the report."
Race & Reconciliation Initiative committee recommendations were unanimously approved by the Board of Trustees and will be implemented, which will strengthen the diversity, equity and inclusion initiatives (DEI) at TCU with the shared mission of forging a more inclusive university for future generations.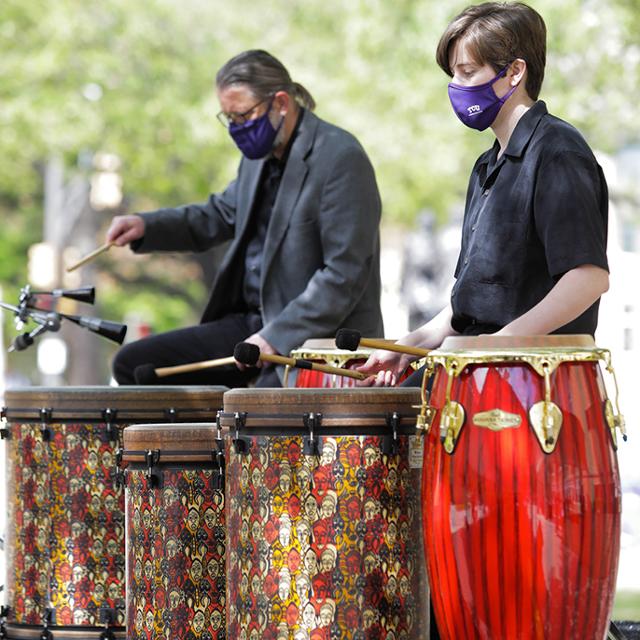 "Broad, cultural change takes time and a willingness to walk in your truth," said Dr. Gooding, associate professor of African American Studies in the John V. Roach Honors College and chair of the Race & Reconciliation Initiative. "Our RRI journey has spurred unprecedented engagement through reconciliation-focused working groups, virtual town halls, countless campus conversations, and enriching student and professor collaborations like our Reconcile This! podcast."
In past years, TCU students, faculty and staff have called on the University to research and share the complete history of the institution. In July, Chancellor Boschini, with the full support of the Board of Trustees, announced the study of the University's history, appointing Dr. Teresa Dahlberg, Provost and Vice Chancellor for Academic Affairs, as the sponsoring office. In his announcement Chancellor Boschini noted, "It is now time to rely on academic expertise to delve even more deeply into our history and the ways it continues to impact us today."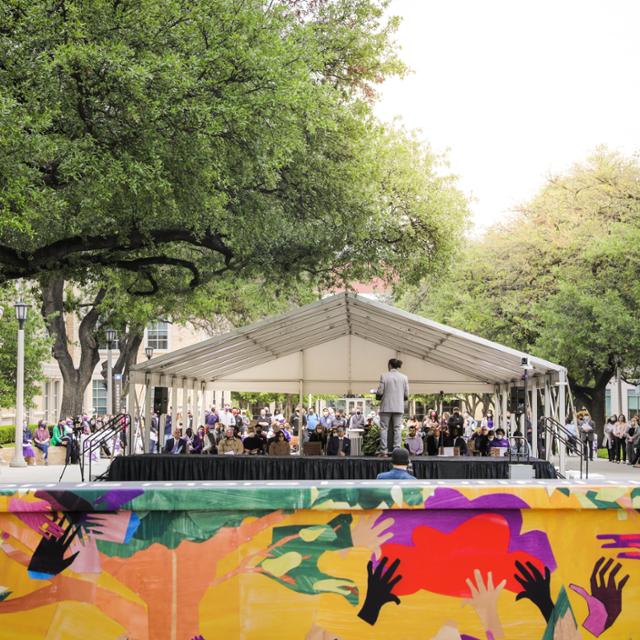 Through the RRI, TCU is aligned with more than 75 universities worldwide as part of the Universities Studying Slavery Consortium, a movement designed for sharing research and strategies. TCU is the second university in Texas to join the international movement that is also addressing contemporary issues, such as race and higher education, inequality, and the complicated legacies of slavery on campuses, in communities, and our world.
First-Year Report Actions and Results*
Installation of Race & Reconciliation signage next to the Founders Statue to signal the commencement of the RRI
Contextual signage addressing TCU's history of slavery, racism and the Confederacy, to be installed facing the Founders Statue
Commitment to install a memorial statue of James Cash, Ph.D., the first Black student-athlete at TCU and first Black basketball student-athlete in the Southwest Conference
Created with the Student Government Association, the TCU Unity Cord that symbolizes our shared humanity, along with the TCU purple we all share as collective contributors to TCU's legacy. (Graduates this May will wear this cord.)
Installation of artwork (by Assistant Professor Dan Jian and students in Drawing II course) in response to the work of the RRI in the Intellectual Commons
Installation of RRI history of desegregation exhibition in Mary Couts Burnett Library
Commencement of RRI oral history project, led by RRI Postdoctoral Fellow Sylviane Greensword, Ph.D.
Working with student leaders, redesigned Heritage Center in the Brown-Lupton University Union to prominently reflect TCU's history of Black Indigenous People of Color among our campus community
Reshaped TCU Admission tour to prominently reflect TCU's Black Indigenous People of Color history among our campus community
Launched podcast Reconcile This! to offer engaging, informative, personal discussions from voices across the campus involved in the work of race and reconciliation
Established a series of Virtual Town Hall Meetings to focus on critical issues of race and racism, the impact of these on society, and consideration of solutions
Instituted "Running the Race" series, providing monthly face-to-face conversations at the TCU family table in gathering spaces that engaged students, faculty and staff
*To see a full listing of the committee's recommendations, go to Race & Reconciliation Initiative.
BACKGROUND:
The Charge of TCU's Race & Reconciliation Initiative:
Review, understand and transparently share information about the University's historical connections to racism, slavery and the Confederacy
Convene events and opportunities for dialogue on these issues
Make recommendations for how best to acknowledge TCU's historical relationship to slavery and its legacies and work toward reconciliation and healing.
To study and reflect on the institution, its founders, traditions and named structures on campus, notably the Addison and Randolph Clark Founders statue, which acknowledges their role as founders rather than glorifying their past as Confederate soldiers before founding Texas Christian University in 1873
Historical Findings of the First-Year Survey Report
The Founding Years: TCU, Slavery, and the Confederacy, 1861-1891
The father of TCU's founders owned slaves, the details of which are in the full report. TCU's founders did not own slaves, but their upbringing did expose them to slavery and racism that the University acknowledges.
The University's founders were Confederate soldiers who believed they fought for their family's survival and against "invaders from the north."
Slave labor did not build, nor further the growth of, the University.
Randolph explained that he and his brother intended to devote their lives to running a school that was influenced by neither church nor state; instead, they embraced the purpose of character building, studying the Bible and training students for a "complete human life, physically, intellectually and spiritually," enabling students to find themselves and choose their life's work.
TCU's founders were Christians who believed in educating men and women when most educational institutions in America were not as progressive towards promoting educational equity for women.
This civilian violence [in Fort Worth and other areas south of the city] played a leading role in intimidating those in Texas who dissented from the Confederacy, those who favored the United States government, and those who challenged the racial hierarchy that placed Whites at the top, and people of color at the bottom of the social order. The solution to Texas's violent problems, according to contemporaries, beyond better policing, prosecution of criminals and weapons regulation, was to improve education. Addison and Randolph Clark, like many educated Americans of the nineteenth century, believed that education could turn youth into stable, ethical and productive citizens, whereby Texans would then use enlightened reason to settle their differences and obey the law instead of allowing their violent impulses to range freely. Yet, such illumination did not extend to non-White individuals.
Transition to Integration, 1941-1971
Several decades before TCU officially desegregated its entire campus, a small number of Black students had partial access to a TCU education. The first evidence of any Black person taking classes at TCU occurred in 1942-1943, during the Second World War. TCU obtained government contracts to provide "background training for naval & marine officers, soldiers and for airplane pilots."
Next to soldiers, teachers were among the first Black people to enroll in educational opportunities supported by TCU in the 1950s. Such opportunities were limited, usually not transcribed, and done reluctantly, according to President Sadler.
On January 29, 1964, the TCU Board of Trustees moved to racially integrate the entire campus, the seventh (out of eight) of the Southwest Conference universities to desegregate. The first full-time Black undergraduates were admitted in the fall of 1964. All students in the first Black undergraduate class departed TCU after only one year.
With the slow pace of integration, Black student-athletes faced significant challenges at TCU. Student-athlete James Cash needed police escorts for some of the out-of-state games he would play for the Horned Frogs.
Allene Jones, one of three Black students admitted to the nursing program in 1962 and the first Black faculty member in 1968, recalled, "Except for the integration, TCU generally tried to operate on a Christian principle, not being overtly, outrageously racist. When you have a school like TCU with a Christian base, you have all these other people coming in who have different attitudes, and then they have pressure from the government or whoever. I think this helped them make up their mind [to hire me]."
Reconciliation Day
To announce the full report and the new actions taken on TCU's campus, the RRI committee marked "Reconciliation Day" on Wednesday, April 21, 2021, through an event adjacent to the Mary Couts Burnett Library and the Clark Brothers Statue. The event featured:
11 a.m. – Contemplation through spoken word and musical performance
Noon – Commemoration of research, recommendations, and results
1 p.m. – Celebration through fellowship and recognition
Race & Reconciliation Initiative Overview
The Race & Reconciliation Initiative is an academically-based, historically-focused initiative designed to investigate and document TCU's relationship with slavery, racism and the Confederacy. Through the RRI, TCU is aligned with more than 75 universities worldwide as part of the Universities Studying Slavery Consortium, a movement designed for sharing research and strategies through semi-annual gatherings. Ultimately, the RRI helps the university embrace an active role in reconciliation and healing in our community.
About Texas Christian University
Founded in 1873, TCU is a world-class, values-centered private university based in Fort Worth, Texas. The University comprises 10 schools and colleges offering 116 areas of undergraduate study, 72 master's level programs, and 38 areas of doctoral study. Total enrollment stands at 11,379, including 9,704 undergraduates and 1,675 graduate students. The student/faculty ratio is 13:1, and 87 percent of TCU's 717 full-time faculty members hold the highest degree in their discipline. TCU consistently ranks among the top universities and colleges in the nation, and the Horned Frog family consists of more than 94,874 living alumni. For more information, please visit TCU's website.